Tamyra Mensah-Stock is arguably the biggest star in USA women's wrestling right now.
She thrilled the nation when she beat Nigeria's Blessing Oborududu 4-1 in the 68kg gold-medal match at Tokyo 2020. She outscored her opponents 34-5 during that week to land the USA's second-ever woman to win a wrestling gold medal after Helen Maroulis at Rio 2016.
The Chicago-born grappler's Olympic debut has been a long time coming too.
Despite winning the 68kg category at the 2016 U.S. Olympic Trials, she failed to qualify her place at the Olympic Games. She still travelled to Rio, but had to settle for a role as a training partner for her teammates.
But Mensah-Stock bounced back hard from that heartbreaking experience. She won bronze at the 2018 World Champs, before becoming the 68kg world champion a year later in Kazakhstan.
But how well do you know the former Wayland Baptist University star?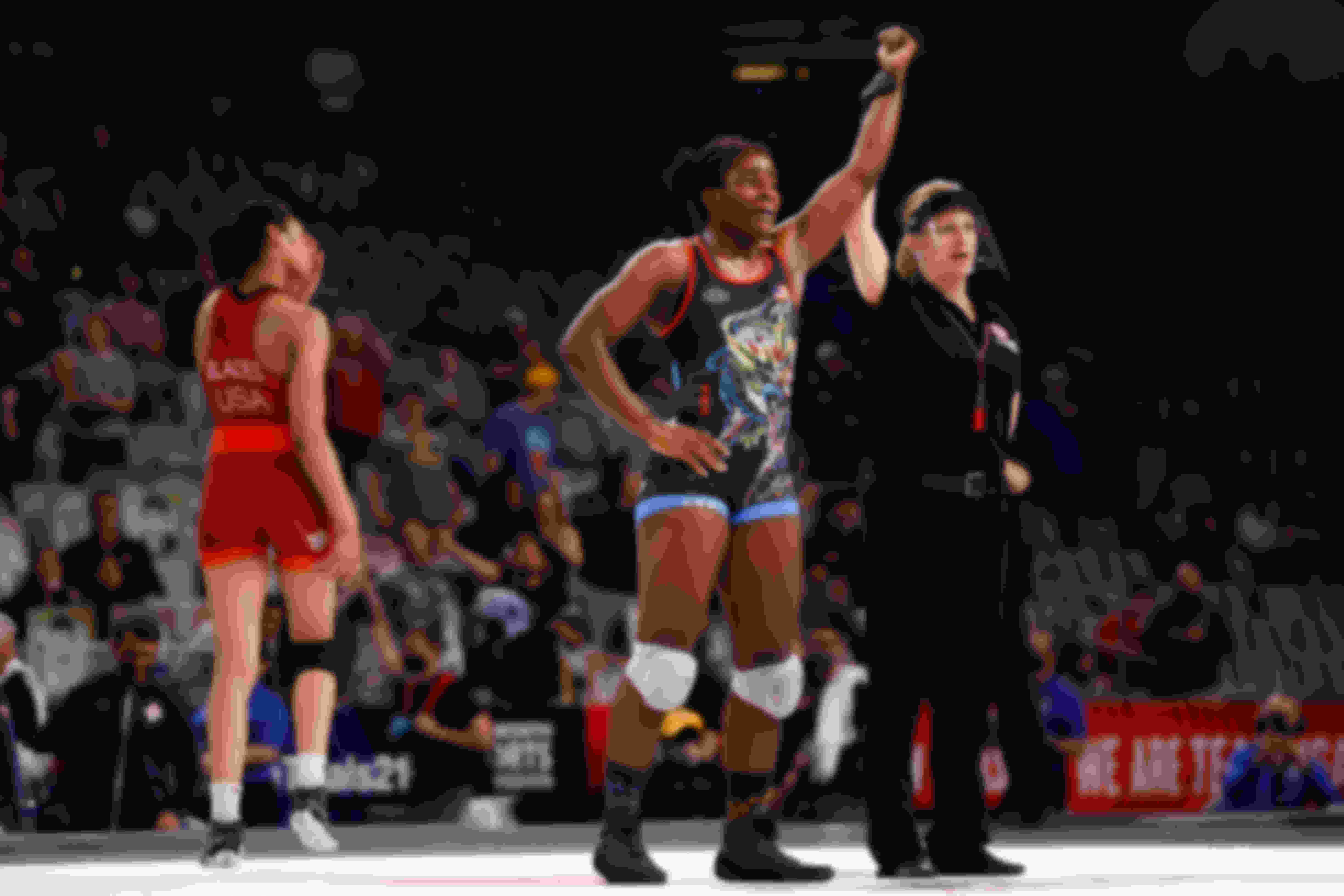 Tamyra Mensah-Stock (2021 Getty Images)
1 - Mensah-Stock finding confidence through wrestling
To look at Mensah-Stock today is to look at a confident and composed athlete who embraces life. But that wasn't always the case.
At high school she was bullied, and was anything but self-assured.
But then she started wrestling, and discovered her inner power.
"I didn't really stand up for myself," she told Team USA. "But wrestling allowed me to go, 'You know what? I'm strong. Forget you. You can back off. I know who I am. I'm confident, I believe in myself, and I am capable of so much, and you do not have the right to bully me."
Despite those problems being a long time ago, the memories continue to drive her success on the mat today.
"That's one of the things that drives me to continue, is because I want to encourage young women, young men, Black women, Hispanic, whatever the case may be. I just want to encourage them because I know insecurity is a big thing."
2 - A reluctant start on the wrestling mat
It seems strange to think that a world champion didn't even used to like their sport.
At school, athletics was Mensah-Stock's choice of sport. She competed in the 200m and 400m sprints, as well as the triple jump and long jump.
Her twin sister Tarkiya, who was on the school wrestling team, convinced Tamyra to join her for a practice at the request of the wrestling coaches who thought she would be suited to the sport. But the track star was reluctant.
"In track and field, I was that person that wore makeup when they ran, had earrings, a perm, looked super cute," Tamyra continued. "I had no idea what she was talking about."
She gave wrestling a go, but wasn't impressed with the sport initially.
"There were people putting their sweat on me," she said. "There were people touching all over me, they were touching my face, they were knocking each other down, trying to knock me down. It was just so aggressive."
But she stuck with the sport for one month until the first meet. She won, and decided to hang around.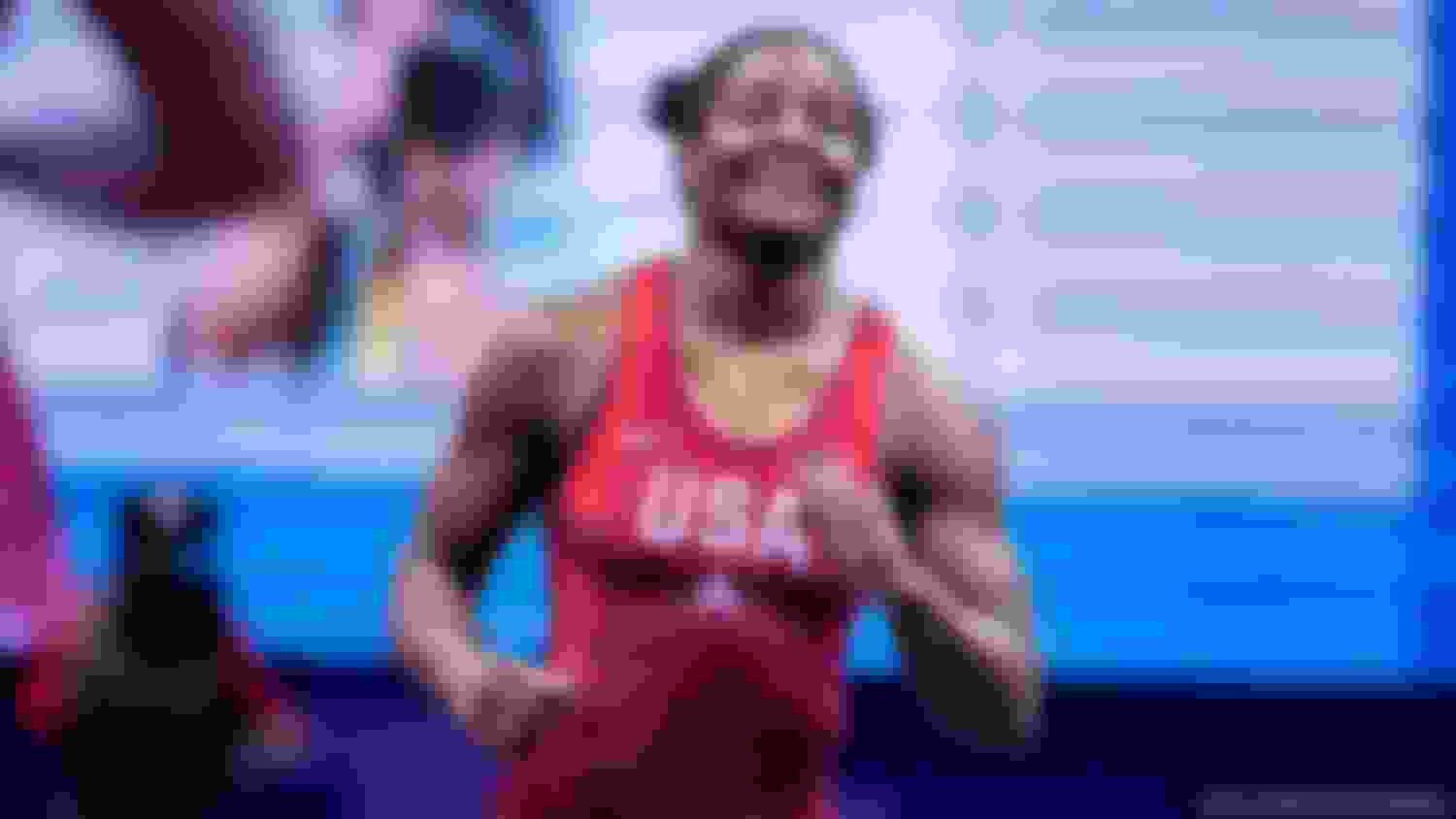 Tamyra Mensah-Stock competes at the Ivan Yariguin Grand Prix on Jan. 28. 2019 in Krasnoyarsk, Russia. (Copyright: United World Wrestling)
3 - Almost quitting after a tragic accident
Even after competing in the sport for some time, Mensah-Stock thought about quitting at certain points.
Her father died in a car accident after leaving one of her high school meets in Louisiana, and she initially blamed the sport for taking him away.
Time eventually helped to heal the wound. Every time she takes to the mat now, she competes for the ones she has lost, including a college teammate, her uncle, and her grandfather.
"All of these people were just so proud of me just being in this sport, and they were encouraging, and they were happy about it," she said. "I didn't quit because I knew they wanted me to keep going.
"I wanted to stop so many times because I felt like all this pain wasn't worth it. They're looking down on me and going, 'You better not quit — I believed in you. Keep my dream in you alive, please.'"
4 - Pescatarian diet for the American
When most people think of wrestlers, they imagine big, burly, meat-eating athletes.
While Mensah-Stock cuts an incredibly powerful figure, she does it on a meat-free diet. She is also allergic to some very healthy foods that are a staple of many athlete's diets.
"I'm a pescatarian, so my diet is limited. I'm allergic to shellfish, avocados, and tree nuts, so I eat accordingly. Salads, pasta, fish, vegetarian meals, and such."
Whatever the world champion is doing, it's working.
5 - Zombie alter ego
Kobe Bryant had the Black Mamba, Katinka Hosszu has the Iron Lady, and Mensah-Stock's alter ego is…. a zombie.
That's right, the USA wrestler is a huge fan of zombie movies and always roots for the un-dead! She explains it's because she sees something of her athlete-self in them.
"I like being the hunter," she told Houston Chronicle. "I definitely find pleasure in getting beat up and beating up people."
Away from horror movies, Mensah-Stock is also a huge fan of Japanese Anime, where the cartoon characters turn into superheroes.
"There are some people who always call me an Anime character because that is something I grew up with," laughed Mensah-Stock. "Watching Dragon Ball Z, I idolized Goku. Being a goofball, he's super lovable and easy to talk to; so loving. But at the same time, he's a powerful force of nature that has to save the world again and again."