There will be a new champion in women's football at the Olympics
After beating Australia and the USA, Sweden and Canada will face off in the Tokyo 2020 gold medal match, with both nations guaranteed a medal.
Sweden won silver in Rio five years ago, and are aiming to go one better this time round.
For Canada it's a similar tale, no matter what happens they have already progressed further than their bronze in Rio, but their eyes are firmly on gold.
"For us, we were clear, we wanted to change the colour of the medal," said Canada head coach Ben Priestman.
"Winners win and we're going into that final to get a gold medal."
And in advance of that final, here's what you need to know.
GettyImages-1331943361 (2021 Getty Images)
Women's football at Tokyo 2020: The road to the final
Sweden
Like their gold medal match opponents Canada, Sweden came into Tokyo 2020 with the aim of improving on silver in Rio 2016, where they were beaten by Germany in the final.
And after reaching a World Cup semi-final, and currently ranking 5th in the world, standing on the podium once again was something well within their reach.
Getting out of a group stacked with the USA, Australia, and New Zealand would never be easy. But Sweden opened their campaign with a thumping 3-0 win over the Americans, before emerging from the group with a 100%-win record and a flurry of goals.
Their impressive form continued into the quarter-finals up against Japan.
Despite a valiant effort from the hosts, Sweden proved too strong and comfortably progressed into the semi-finals with a 3-1 win.
And the final hurdle to get into the gold medal match would prove to be their most difficult yet, as the tightly contested affair with Australia had just one goal in it. That came from Fridolina Rolfö after excellent hold up play from Stina Blackstenius in the area.
Sweden will now have the opportunity to finally clinch the gold they fell short of five years ago.
Canada
The Canadians came into this tournament hoping to better the success of Rio 2016, when they finished third and went home with a bronze medal.
And with new head coach, Bev Priestman, at the helm, they arrived in Tokyo as a breath of fresh air, going unbeaten in the group stage.
With two draws and one win, Canada came through Group E in second place, going up against Brazil in the quarter-final.
It would take penalties to separate the two after a 0-0 draw, and the Canadians came out on top as goalkeeper Stephanie Labbe came up with crucial saves to see her team through.
And the semi-final opponents would arguably be their toughest yet: The USA, one of their greatest rivals, a team they'd only won three times against previously, and failed to beat in over 20 years.
A penalty would be the decider – and it was a momentous moment as captain and women's football top goal scorer, Christine Sinclair, handed the ball to 23-year-old Jessie Fleming to fire the ball past Adrianna Franch in the USA goal.
The history didn't just stop with their opponents, but midfielder Quinn is set to become the first out transgender athlete to win an Olympic medal.
Now there is just 90 minutes, or more, standing between themselves and an Olympic gold.
GettyImages-1331918724 (2021 Getty Images)
Players to watch in the gold medal match
Having made it to the final, both Sweden and Canada have a number of players that have shown just how good they are.
From Sweden's Blackstenius, who has scored four goals so far, to Canada's Fleming, who has demonstrated her maturity with a clinical penalty in the semis, many have stood out.
But there are two players in particular who have been undeniably key to their team's success at the Olympics, and will no doubt play an important role in the final.
Fridolina Rolfö
27-year-old Fridolina Rolfö came into the Olympic Games on the back of a transfer to Spanish giants Barcelona.
And it's safe to say she gave fans of her new team a lot to be excited about.
The tricky winger has tormented fullbacks and centre backs alike as she's rapid playing down the wing and difficult to get to ball off when she drifts in centrally.
Her brace in the 4-2 win against Australia in the group games included an unstoppable screamer, one that she almost bettered in the semi-final, seeing her effort rattle the crossbar.
As well as scoring, she has been a creative spark for her side, coming up with two big assists in their quarter-final tie against Japan.
Perhaps her biggest moment yet, though, has been the goal that secured their place in the gold medal match.
One of the most consistent players so far, Rolfö could well also win Player of the Tournament.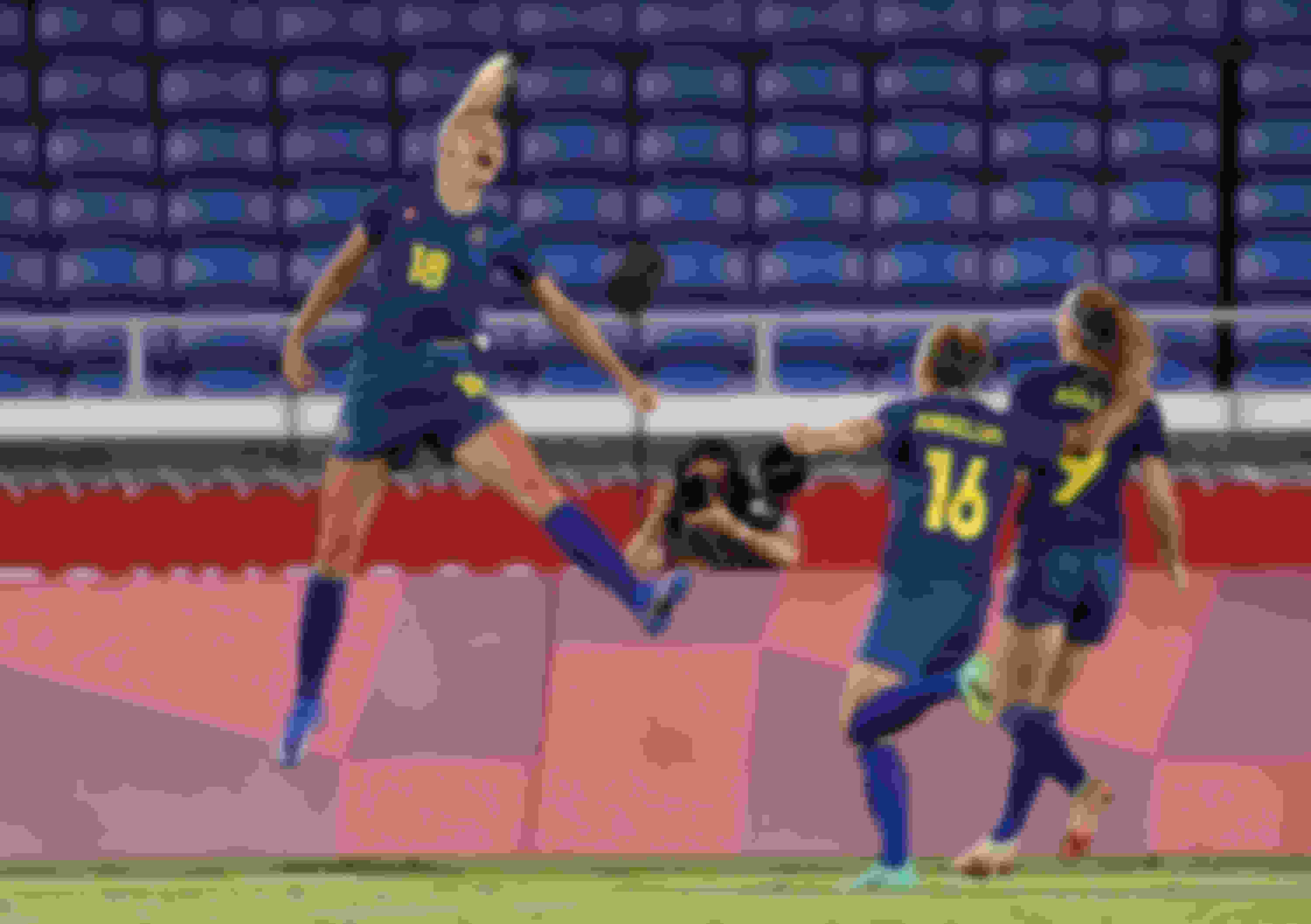 GettyImages-1331942328 (2021 Getty Images)
Ashley Lawrence
26-year-old Ashley Lawrence has perhaps been one of the surprise packages of women's football at these Olympics.
One of the big assets she brings to the Canadian team is her versatility, offering options in defence as well as in midfield - and excelling in both.
Throughout the tournament she has been a figure for Canada at the back, acting as the epitome of a modern fullback.
She has kept dangerous wingers under lock, and is part of the reason Canada have yet to concede in the knockout stages, with her composure and measured approach.
And she's a force going forward too.
Lawrence is an intelligent fullback on the attack and links up well with the players in front of her, knowing when to stay and knowing when to move to open up gaps against the opposition defence.
There are very few fullbacks in this tournament that have had the impact Lawrence has for Canada, and the semi-final saw her earn a staggering 100th cap for her country.
She also registered an assist in their group game against Team GB that earned them a point, and will no doubt prove a critical player in the fight for gold.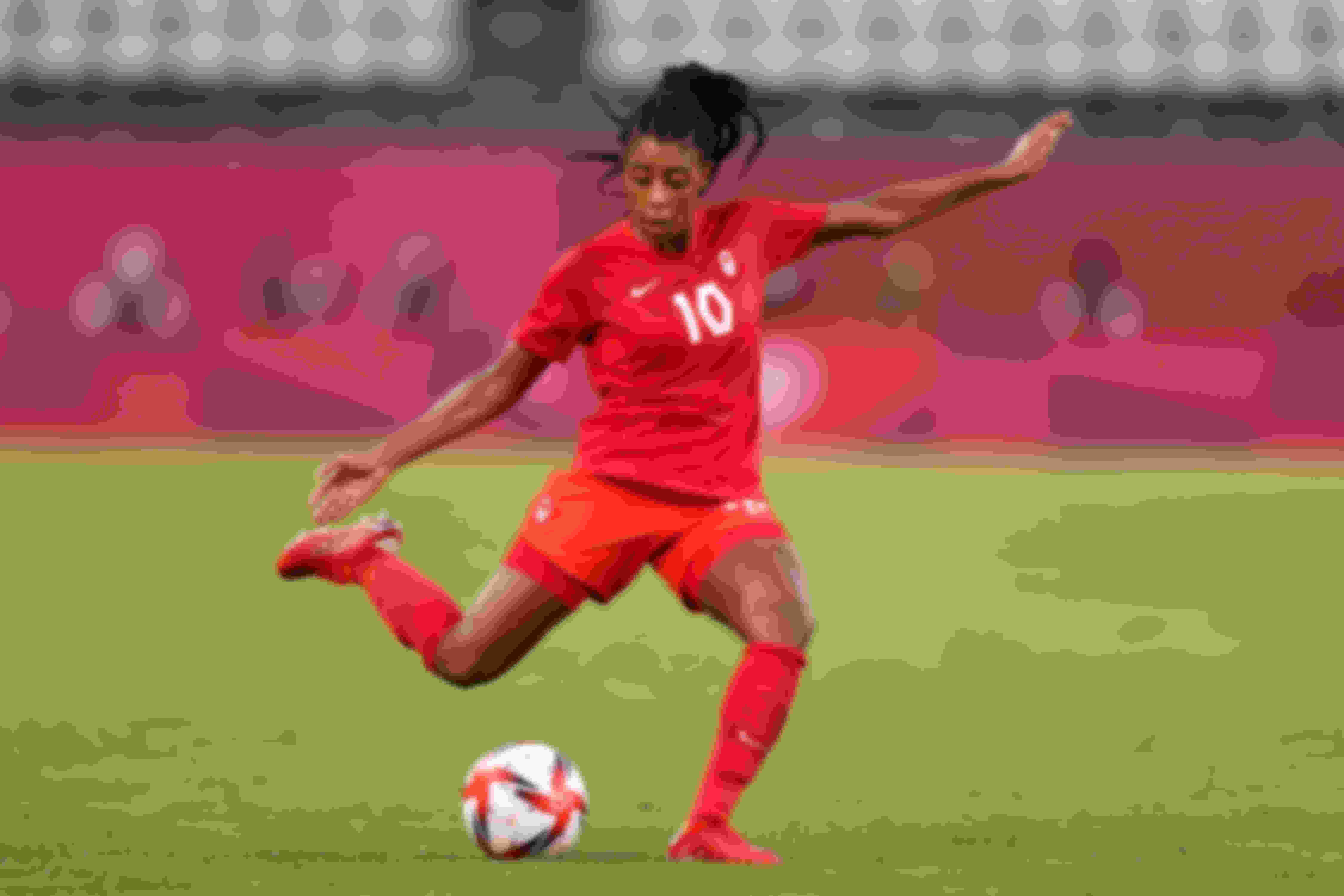 GettyImages-1331916281 (2021 Getty Images)
Watch the women's football gold medal match at Tokyo 2020
The group stages were full of thrills and the quarter-final and semi-final match ups saw the best in the world take each other on.
But now all eyes turn to the final, where Sweden take on Canada.
Action begins at 11:00 JST at the Olympic Stadium on Friday August 6.
You can find out where to watch all the action at the Tokyo Olympic Games by clicking here.
You can read more about football at Tokyo 2020, and all other events from the Games, in the official Tokyo 2020 Olympics live blog.