Shooting is a tense and testing sport that requires immense skill and nerve. Success depends on staying cool under the enormous pressure of Olympic competition.
Tokyo 2020 competition animation "One Minute, One Sport"
We will show you the rules and highlights of shooting in one minute. Whether you are familiar with shooting or want to know more about it, "One Minute, One Sport" explains the sport and how it works. Watch the video below.
"One Minute, One Sport" will show you the rules and highlights of Shooting in one minute
Overview
In shooting, there are three disciplines; rifle and pistol where athletes shoot at stationary targets in a range and shotgun which involves hitting moving targets.
With the exceptions of the St Louis 1904 and Amsterdam 1928 Games, shooting has featured on every Olympic programme since the first modern Games in 1896. Women's events were added to the schedule at Los Angeles 1984.
In rifle and pistol, participants aim at a target with concentric circles, with those closer to the centre earning more points. There are four gun types and three distances: 50m rifle, 10m air rifle, 25m rapid fire pistol and 10m air pistol. There are also three shooting positions: kneeling, where the athlete goes down on one knee and rests the gun on the other knee; prone, where the athlete shoots while lying down; and standing. Some events include all these positions.
Shotgun is the art of shooting at a flying target known commonly as a clay target. There are two varieties: trap, where the targets are thrown a long distance from a single trap; and skeet, where targets are thrown from traps on the left and right.
At Tokyo 2020, 10m air rifle, 10m air pistol and clay trap will be included as men's, women's and mixed events.
While physical fitness is important, athletes require deep reserves of mental strength. Victory may hinge on a single shot.
Event Programme
50m Rifle 3 Positions (Men/Women)
10m Air Rifle (Men/Women)
25m Rapid Fire Pistol (Men)
25m Pistol (Women)
10m Air Pistol (Men/Women)
Trap (Men/Women)
Skeet (Men/Women)
10m Air Rifle Mixed Team
10m Air Pistol Mixed Team
Trap Mixed Team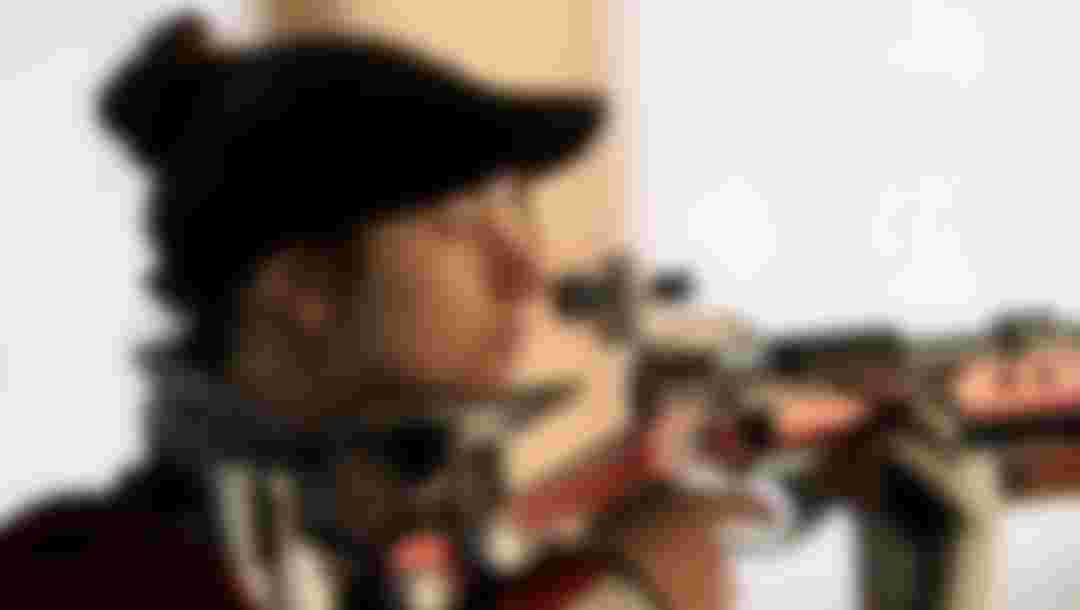 Essence of the sport
Aiming for victory
Despite the small targets, shooting has considerable spectator appeal. The tension prior to firing, the exhilaration of a successful shot and the dramatic changes in ranking caused by even the slightest inaccuracy all make for a compelling experience.
In 50m rifle 3 Positions events, 40 shots are taken from each of the kneeling, prone and standing positions. These events have a time limit of 2 hours 45 minutes for the main competition which decides the eight finalists, who then compete for medals over one hour. It is a supremely rigorous challenge and competitors are said to lose up to two kilograms in weight by the end.
The 25m rapid fire pistol is an event involving successive rapid fire in the standing position over short periods of eight, six and four seconds. No automatic function is used, and all shots require the trigger to be pulled manually.
The 25m pistol is an event for women only in which the target is aimed at with one hand from the standing position. The event comprises 60 shots, split evenly between rounds of precision shooting and rapid shooting. This is a test of athletes' ability at both formats.
Clay shooting requires instant judgment and sharp reflexes. Trap is about hitting randomly released clays while moving between five shooting stations arranged in a line. Participants take two shots at each target.
Skeet sees competitors aiming at clays in a range of directions using a total of eight shooting stages. A total of 25 targets are released and, unlike trap, there's one shot per target. The shape of the range and wind direction are among the factors for athletes to consider.
Outlook for the Tokyo 2020 Games
Mixed events widening interest
Shooting is a global sport with athletes from around 100 countries typically participating at the Games. The biggest medal winner overall is the USA with China and Republic of Korea performing strongly. At London 2012, Republic of Korea gained three gold and two silver medals while the USA also topped the podium on three occasions.
Italy achieved notable success at Rio 2016. As well as two golds in the men's 10m air rifle and 50m rifle 3 Positions achieved by Niccolò Campriani, Italian shooters also won a gold and three silver medals in men's and women's skeet.
Other recent prominent athletes have included Christian Reitz (Germany), who won gold in rapid fire pistol at Rio 2016, and Gabriele Rossetti (Italy), who won gold in men's skeet.
With mixed events included in the Tokyo 2020 programme, new stars may well emerge.
Trivia
When their dominant eye is opposite to their dominant hand. It is difficult to make an accurate shot if your dominant eye and hand are not on the same side. Closing one eye while shooting would reduce accuracy so some athletes with their dominant eye and hand on opposite sides use an eye patch.