Rhythmic gymnastics is one of three disciplines in the sport of gymnastics. The others are artistic gymnastics and trampoline. Female athletes perform expressive and acrobatic moves with the aid of handheld apparatus — a hoop, ball, pair of clubs and ribbon.
Tokyo 2020 competition animation "One Minute, One Sport"
We will show you the rules and highlights of rhythmic gymnastics in one minute. Whether you are familiar with rhythmic gymnastics or want to know more about it, "One Minute, One Sport" explains the sport and how it works. Watch the video below.
"One Minute, One Sport" will show you the rules and highlights of Rhythmic Gymnastics in one minute
Overview
Rhythmic gymnasts are scored on the artistry of their performances — which are set to music — and the skill with which they execute difficult manoeuvres with the handheld apparatus. The sport's uniqueness lies in this combination of musical interpretation with the risk of throwing the apparatus several metres into the air and losing sight of it while performing leaps, turns or acrobatic routines, then catching it. Rhythmic gymnasts are athletes possessing immense strength, speed, skill and flexibility, but they are also artists capable of profound and expressive beauty.
It could be argued that rhythmic gymnastics has its origins in Ancient Egypt, where aesthetic expression of the human form was encouraged. However, its roots lie in 19th and early 20th century ideas of movement and aesthetics. The first World Championship was held in Hungary in 1963, the same year rhythmic became an FIG discipline.
Rhythmic gymnastics became part of the Olympic programme at the Los Angeles 1984 Games, with the group event added at Atlanta 1996. Since then, the discipline has grown in popularity throughout the world.
Performances are held on a 13m x 13m mat, with different formats for individual and group competitions.
Individual gymnasts perform four times, using each piece of apparatus once. Each performance must be 75 to 90 seconds long. In the group event, a team of five gymnasts performs twice using multiple apparatus at the same time. Each performance must last between 2 minutes 15 seconds and 2 minutes 30 seconds. Going over or under these times results in a 0.05-point deduction for each second.
The music played during performances also plays a significant role in establishing a mood and style. Music with vocals is allowed for one performance per group and for two performances per individual.
Event Programme
Individual all-around competition (Women)
Group all-around competition (Women)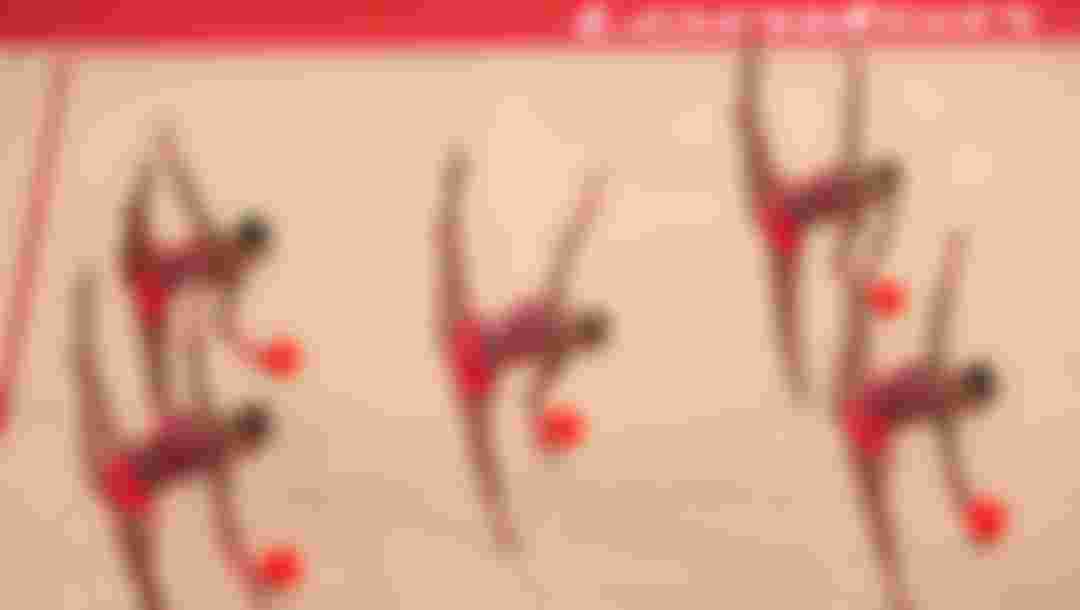 Essence of the sport
Concentration, coordination and control
Speedy and skilful manipulation of the apparatus is at the heart of rhythmic gymnastics.
Athletes must keep their wrists in constant motion to move the six-metre long satin ribbon in free-flowing arcs. Point deductions are imposed if the ribbon touches the floor or becomes tangled. The hoop, made of plastic or wood, can be thrown high into the air and caught, used for rolls over the body or on the floor, or rotations around the hand or other parts of the body. Any vibration of the hoop in the air is penalised.
For performances using the small rubber ball, elegance and lyricism rather than dynamic movements are required. As well as throws and catches, gymnasts roll the ball along their arms or back with grace and flow.
Gymnasts also use clubs 40 to 50cm in length and weighing 150g each. Precision and coordination are paramount during complex handling moves such as twirling one club while throwing the other. Drops carry penalty points.
In the individual all-around event at Rio 2016, Margarita Mamun of Russia took the gold after a close-fought competition with her teammate Yana Kudryavtseva, who took an early lead but dropped a club at the end of her performance. This mistake gave Mamun the chance to come back and win.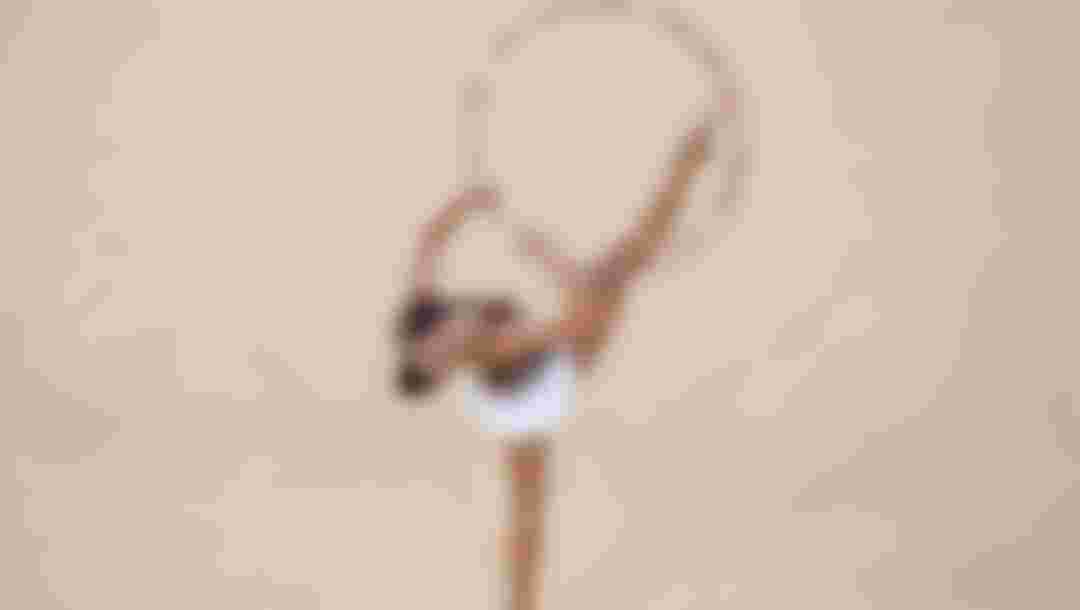 Outlook for the Tokyo 2020 Games
Full of Eastern promise
Drawing on the European traditions of dance and ballet, it is little surprise that countries from that continent are the powerhouses in rhythmic gymnastics. Russia, with its dominance in artistic sports, has long led the world. In both the individual all-around and group events, Russia has taken gold at five successive Games, from Sydney 2000 to Rio 2016. Furthermore, Yevgeniya Kanayeva topped the podium at both the Beijing 2008 and London 2012 Games. Other countries that regularly win medals include Belarus and Ukraine.
At Tokyo 2020, identical twins Dina and Arina Averina aspire to carry on Russia's golden tradition, mastering their high difficulty routines on the Olympic stage. Also aiming for the podium is Linoy Ashram, Israel's most successful rhythmic gymnast.
Trivia
The shoes have no heels.
They are half-shoes which cover only the front half of the foot. The heel area is left bare.