From dynamic airborne rotations to clean entry into the water – all in less than two seconds.
Tokyo 2020 competition animation "One Minute, One Sport"  
We will show you the rules and highlights of diving in one minute. Whether you are familiar with diving or want to know more about it, "One Minute, One Sport" explains the sport and how it works. Watch the video below.
"One Minute, One Sport" will show you the rules and highlights of Diving in one minute
Overview
There are two Olympic Diving events:
Springboard: In which athletes use a three-metre duralumin diving board to generate bounce so that they can perform acrobatic manoeuvres in the air; and
Platform: In which athletes dive from a 10-metre-high fixed platform.
Dives are differentiated by the direction the diver faces for take-off, the direction of somersaults and twists performed, and whether the dive starts from a handstand. Scoring is based on factors including the beauty of a diver's movements, which combine three types of rotation (straight, pike and tuck), and the lack of splash upon entry into the water. Synchronised diving is additionally scored on how well two divers match each other's movements. Points are deducted from a perfect score of 10.
Deciding whether an entry into the water is good or bad is part of the sport's appeal to spectators. At Olympic level, the world's top divers create almost no splash at all, just bubbling foam on the surface. Such a clean entry is called a 'rip entry'.
Event Programme
3m Springboard (Men/Women)
10m Platform (Men/Women)
Synchronised 3m Springboard (Men/Women)
Synchronised 10m Platform (Men/Women)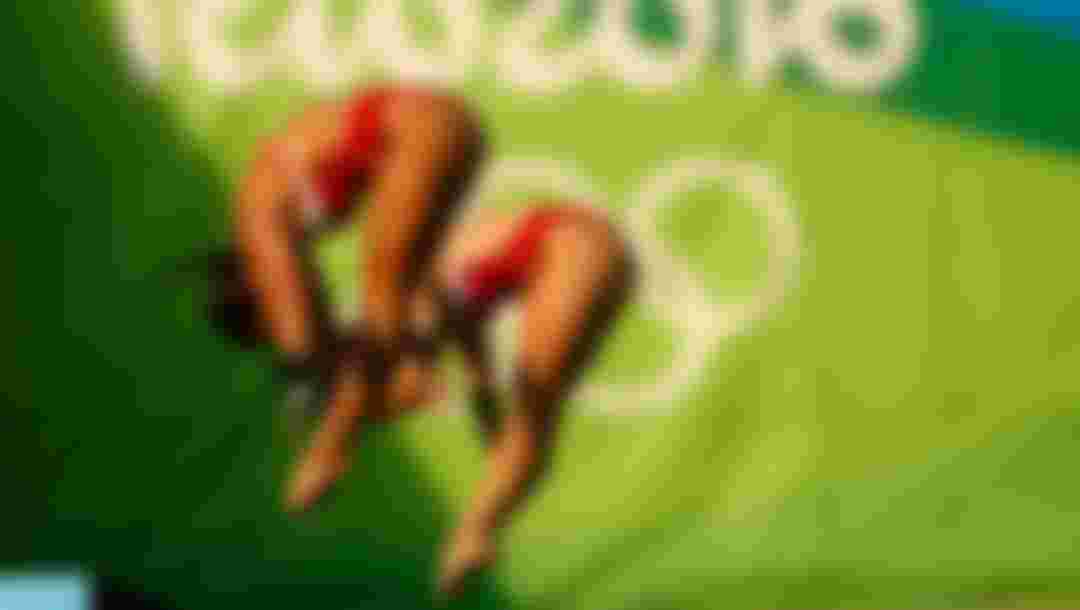 Essence of the sport
Competitive to the very last dive
In the past, one-and-a-half to two-and-a-half rotations from take-off to entry were standard for the three-metre springboard event. However, modern divers utilise the bounce provided by the springboard to leap even higher into the air, allowing them to complete three-and-a-half to four-and-a-half rotations and sometimes three twists before reaching the water.
Since platform divers don't benefit from any bounce from the board or height from their take-off, they must complete a series of small, fast revolutions before they enter the water. Consequently, top-ranked divers in the platform discipline tend to be shorter and more powerful, whereas springboard divers may be taller and leaner.
In both springboard and platform events, men and women seek to gain the highest total score for six and five dives respectively. The leaderboard can change dramatically as a diver who leads right up to the final dive may find themselves pushed out of top spot.
The platform event at the Beijing 2008 Games provided an example of this sort of drama when an Australian diver Matthew Mitcham took first place only after the sixth and final dive, scoring the highest single score in Olympic history to displace a Chinese rival who had led throughout but finished with an imperfect entry. Each dive may only last an instant but the competition is thrilling to the very end.
Outlook for the Tokyo 2020 Games
Intense competition bringing ever more complex dives
The USA dominated diving from as far back as the St Louis 1904 Games, but China began to emerge as a powerhouse during the Los Angeles 1984 Games for women and the Barcelona 1992 Games for men. At Beijing 2008, the country dominated seven out of the eight medal events. In an era when dives with two-and-a-half to three-and-a-half rotations had become the standard, Chinese divers pushed the level of difficulty to four-and-a-half rotations with almost no splash on entry.
The Tokyo 2020 Diving competition promises to be highly competitive as the USA has been regaining some of its former strength, along with Italy, Great Britain and Australia. To illustrate the level of competition across the world, Great Britain, the USA and China captured the gold, silver and bronze medals respectively in the men's three-metre synchronised diving competition at Rio 2016.
Divers will continue to produce ever higher and faster dives with more rotations and more beautiful water entries, adding to the unique spectacle offered by this engaging and exciting sport.
Trivia
Cedar, which has relatively little elasticity. Today's springboards are made from aircraft-grade aluminium, which generates a large amount of bounce.