Wheelchair rugby is a thrilling and intense spectacle popular with Paralympic spectators all over the world.
Tokyo 2020 competition animation "One Minute, One Sport"
We will show you the rules and highlights of wheelchair rugby in one minute. Whether you are familiar with wheelchair rugby or want to know more about it, "One Minute, One Sport" explains the sport and how it works. Watch the video below.
"One Minute, One Sport" will show you the rules and highlights of Wheelchair Rugby in one minute
Overview
Wheelchair rugby is a mixed gender team sport. It was invented in 1977 by a group of Canadian quadriplegic athletes, who were looking for an alternative to wheelchair basketball that would allow players with reduced arm and hand function to participate on equal terms.
Contact between wheelchairs is permitted, and is in fact an integral part of the sport as players use their chairs to block and hold opponents.
This degree of contact is at the heart of wheelchair rugby's appeal. The result is a noisy and exciting spectacle, with frequent punctured tyres and even wheelchairs flipping over. Indeed, wheelchair rugby was originally called 'murderball' because it is such a combative sport. Players need to be robust, with speed, strength and stamina, as well as having excellent ball-handling skills and the ability to think quickly and play tactically.
The aim of the game is for each team of four players to carry the ball over their opponent's try line. For this to count, two wheels of the chair must cross the line and the athlete must be in control of the ball, which may be held in their lap. From when they gain possession, a team has just 40 seconds to score a try. Players can pass or roll the ball in any direction but kicking it is not allowed. They must dribble or pass the ball to another player at least once every 10 seconds, making time management an important tactical aspect.
Wheelchair rugby is played on a 28m x 15m court. The court is divided into two halves, with a centre circle and a try line at each end. A match consists of four eight-minute quarters, with the clock stopped every time there is a stoppage in play. In the event of a tie, extra periods of three minutes are played until the tie is broken.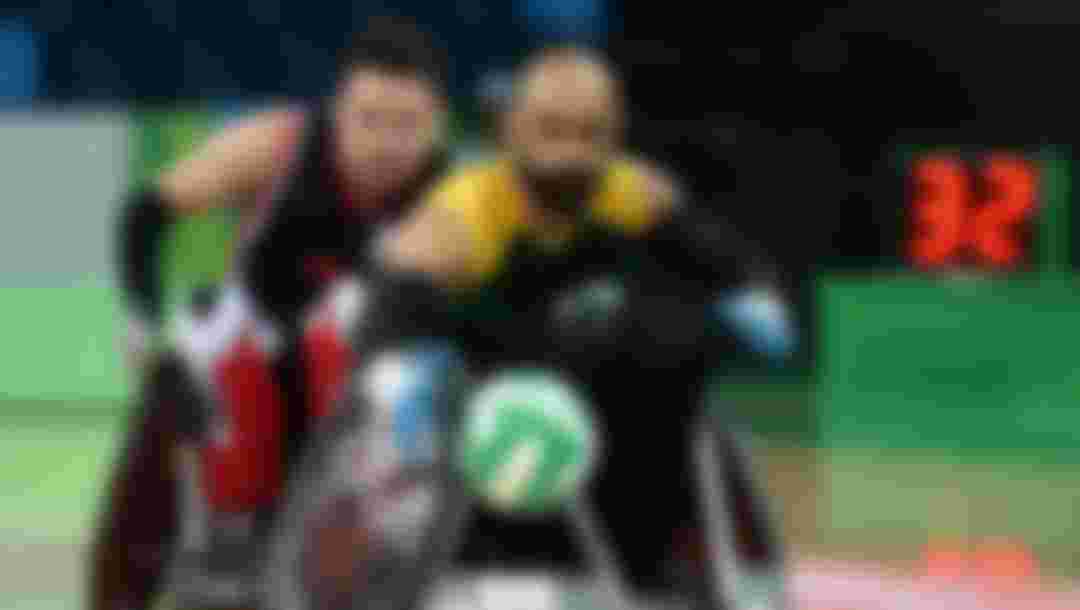 Essence of the Sport
Points for players
Every wheelchair rugby player is assigned a point value based on their functional ability, from 0.5 for a player with the least physical function through to 3.5 for the most physical function. A squad comprises of a maximum of 12 players and, during play, the total on-court value for each team of 4 four cannot exceed 8 eight points. Teams fielding female players also receive an additional 0.5 point allowance for each female player.  
This unique system means that players with minor impairments (high-pointers) can compete alongside those with more serious impairments (low-pointers).  
There are two types of competitive wheelchair, and each provides a rough indication of the role played by its occupant.
Offensive wheelchairs have a round bumper so they can move through narrow spaces and get around the opposing team's defence and are used primarily by high-pointers.
Defensive wheelchairs have a long bumper protruding from the front for use in stopping opposing players' movement, for example by running into or snagging their wheelchairs. These chairs are used primarily by low-pointers.
Outlook for the Tokyo 2020 Games
Aussies rule
Wheelchair rugby first appeared in the Atlanta 1996 Paralympic Games, when it featured as a demonstration sport. Its debut as a full medal sport followed at Sydney 2000, when the USA beat Australia 32-31 to win the gold medal.
Only five countries — Australia, the USA, Canada, New Zealand and Japan — have won medals in wheelchair rugby. Australia became the first country to win back-to-back golds in 2012 and 2016, while Japan followed up several consistent performances by taking bronze at Rio 2016 with a thrilling 52-50 win over Canada.
The IWRF World Championship was held in Australia in August 2018, and the World Wheelchair Rugby Challenge was held in Tokyo in October 2019. The World Challenge is an international competition open to the top eight countries in the 2018 World Championship standings, and its results apply to the sport's world rankings. The event attracted attention as a major marker on the road to the Tokyo 2020 Paralympic Games.
One of the stars of Australia's successful team at Rio 2016 was Ryley Batt. He began playing wheelchair rugby at the age of 12 and made history as the youngest ever wheelchair rugby Paralympian when he competed at Athens 2004 aged just 15.
At London 2012 he took his performance to a new level, scoring 160 goals during the tournament as Australia secured its first Paralympic gold in the sport, and claimed a second Paralympic gold at Rio 2016.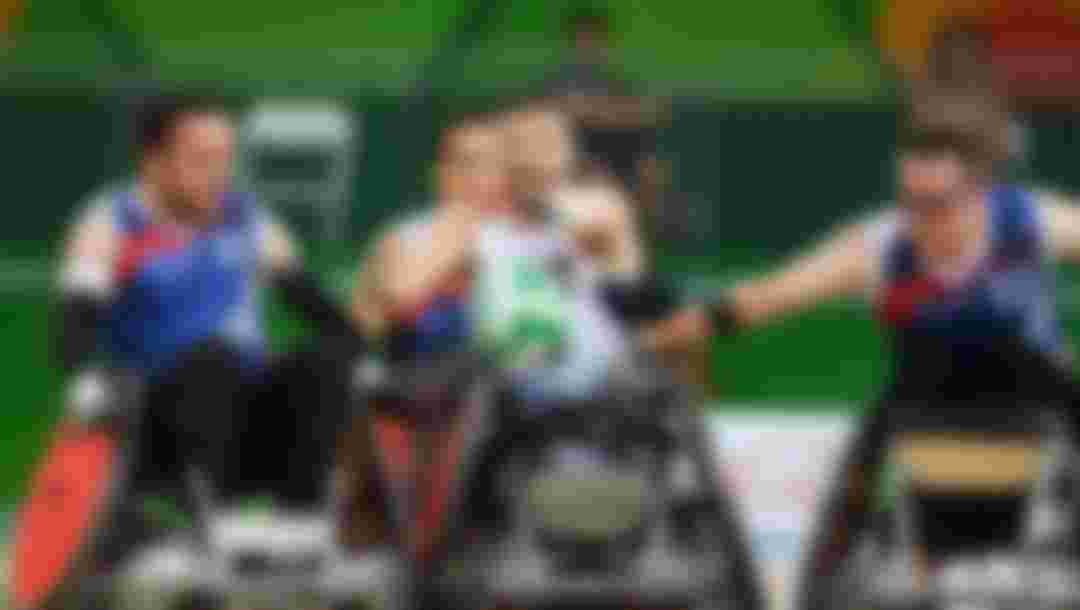 Trivia
Volleyball.
Wheelchair rugby uses a size 5 volleyball with a modified surface to aid grip.