Nicolas-Guy Turbide: 'We all have to find different solutions to deal with the issues we face every day'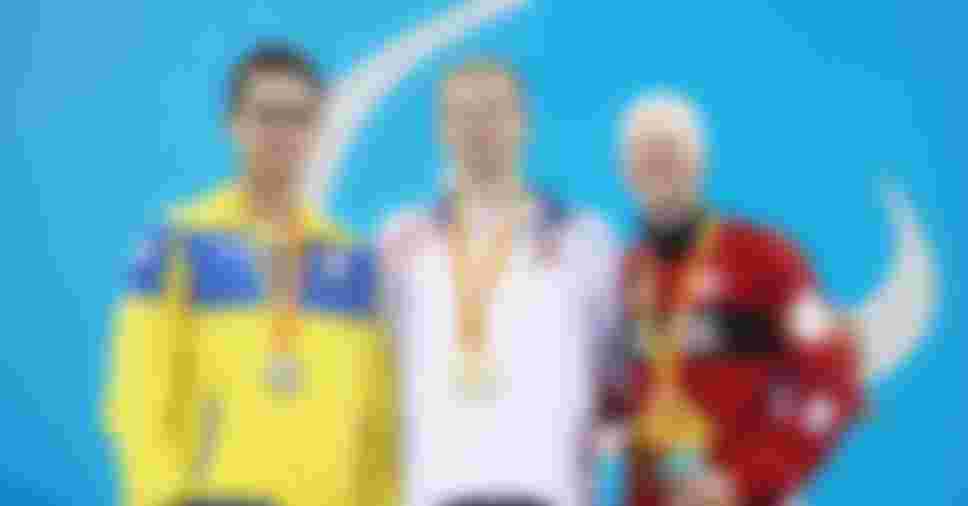 On 24 July, some of the world's best athletes will share their most unforgettable Olympic and Paralympic Games moments during a week-long online summer festival.
The Festival of Olympian and Paralympian Online Experiences, hosted by Airbnb, will allow fans all over the world to take part in over 100 interactive activities hosted by a stellar line-up of athletes including OSAKA Namoi, Yusra Mardini, HACHIMURA Rui, Allyson Felix, and Lex Gillette.
Tokyo 2020 spoke to Rio 2016 Paralympic Games 100m backstroke S13 bronze medallist, Nicolas-Guy Turbide, who is hosting an online experience focussed on dealing with stress. Turbide, who also won a silver medal at the World Championships last year, is a Canadian record holder and three-time Canadian Para-Swimmer of the Year.
Ironically, the first time Turbide attempted to swim he was fearful of the water. But having overcome his fears, he began the long journey to the highest echelons of the swimming world - culminating in a medal at the Paralympic Games.
Having risen to the pinnacle of his sport, the visually impaired swimmer has developed a number of tools to help deal with the stress of elite-level competition. Now he is using the Airbnb experience to share these tools with the world, offering practical advice for coping with the difficulties of everyday life.
Tokyo 2020: What kind of Airbnb experience do you offer?
Turbide: So the experience I decided to do for Airbnb is mostly based on the experience I live as a high-level athlete and the different tips and techniques that I use - in my everyday life, and even to manage the pandemic issue - to handle stress and anxiety. Even in my sport where we compete, or in my everyday life training, unexpected thing can happen.
I think that the pandemic has really shown me how much I have learned, with the help of the sport and the team environment, regarding managing my stress and anxiety. I think it was just a great moment for me and a great occasion for me to share that with everyone.
Although they are tools that I use to compete at the highest level, at the same time they can be used by everybody in their everyday lives.
How does your Airbnb experience work?
I try to work with smaller groups. I think it's just more interactive and more personal for everybody, since our relationship with stress and anxiety is personal. Everyone is different in that sense, and I think it's just more intriguing and interesting. So I try to keep smaller groups and keep it as a casual conversation.
It's not a topic that we discuss openly normally, but I try to make sure that someone feels comfortable talking about how they handle stress and what they think they could improve on. I think just realising that sometimes it's great when you have a tool box that can be used in many different ways. And just making sure that it's a friendly conversation that's no pressure from anybody and we're just having a great chat to get to know a bit more about my story and how I was able to cope with stress and anxiety in my career. And to make sure that we translate that in a way that people can do that in their everyday lives as well.
Why did you decide to get involved with the Airbnb festival?
The Airbnb platform was the perfect gateway to get started. It's a concept that I've been speaking about around many businesses and schools in Canada, in different conferences, and I think Airbnb was the perfect platform to share that with everybody around the world. Especially with what's going on at the moment. Airbnb decided to launch their online experiences, so whether you're in a house, studio - wherever you are in the world, I think it's a good way to bring you the tools that you need.
Some places around the world it's changing and others are staying the same, but we all have to find different solutions to deal with the issues we face every day and I think that it is the perfect platform to do that.
Do you have one practical tip you could share our audience about how to deal with stress, especially at this time?
One of the main things is to have a routine every day. We go more in depth with that in the experience - what does it mean and exactly how to create a routine that's adequate for us. Just having a routine: waking up at the same time every day, going to bed at the same time every day, and making sure that our day is planned, makes such a huge difference. It gives us different goals that we have to achieve every day and it keeps us motivated and makes sure that we stay on track for whatever goal we have.
So we try to focus on that as much as we can, along with many other different tricks and tools that we can add to our tool box.
When did you start swimming and what were your initial experiences like?
When I was around five years old, I really wanted to be involved with golf like my parents. But I started swimming pretty much as a safety measure - in Canada there is water all around us, either lakes, oceans or pools - so just to make sure I was safe around water.
And I completely hated it.
I think that with my disability where I couldn't see the bottom of the pool, the bottom of the lake or the ocean, I was really afraid of what I couldn't see at the time. The water was an environment where I didn't really feel comfortable.
So a couple of years later when I was around nine or ten, I got reintroduced to the sport. And just as a complement for golf, I started competitive swimming.
And that's when I realised I was more interested in beating the person next to me than I was afraid of the pool itself. So I kind of made the transition.
What was your experience at Rio 2016 like?
I'd say it was completely overwhelming! For me, my dream to go to Rio built up in 2012, when I got the chance to participate in my first Olympic trials for the London Games. I was very young at the time and I knew I still had a lot of work to do in the pool to get to that level. But I actually train in a club where we both train Olympians and Paralympians, and we manage to bring athletes of any level to those major competitions.
And in 2012 it happened that two of my teammates qualified for the Games, one for the Olympics and one for the Paralympics. And I think that's when I realised that it's really what I wanted to do and maybe one day I'd be on that team and get the chance to compete on the highest stage.
And four years later in Rio, after all the sacrifices I made just to get there - just putting in the work and making sure I was doing everything to maybe one day achieve that goal - realising that in 2016 was just such a big reward.
And what did it feel like to win a medal at the Games?
I don't see the medal as something other than a reward for the hard work I put down the previous years before that.
And just touching the wall with my vision impairment, I can't see the board, I didn't know my time, I didn't know my position, I didn't know how it went at all. So I had to find a solution.
And so in swimming in Rio there were a couple of lights by the starting blocks and when I touched the wall I realised that I could probably figure out if I managed to get on the podium just with the lights.
And at that moment, all the pressure that I decided to put on myself, just collapsed all at once. And I was so overwhelmed with joy and emotion. Just the satisfaction, and having my family in the stands as well was just an amazing thing.
So just all of those combined made for an amazing experience.
How are the preparations going for Tokyo 2020?
Everyone's plans changed when we knew that the Games were postponed, but we have to be adaptable. For me it was a new starting point, we had to adapt in the moment and create a new plan based on the fact that the Games will be held in 2021 and not in 2020.
I sat down with a piece of paper and made sure that I wrote down exactly what I wanted to do just to prepare myself for next summer.
We recently got access again to a pool in Quebec and I'm so grateful for that. But I'd been out of the pool for a good three months, I had to work at home, figure out solutions with the gear I had, with the coaches… make sure I had a plan and make sure that I would be ready for next year.
Now you are a leader of the Canadian swimming team. What is that experience like for you?
I was a leader on the team for many summers. I started on the team in 2011 and my original national team was for the Parapan American Games in Guadalajara in 2011. I was known as the shy boy who didn't talk at all - I didn't speak a word of English at the time. In Canada we speak both French and English and my first language was French. And I had to learn on the fly. And I guess that the team environment was the perfect way for me to learn a new language.
And years went by, and I guess at one point you realise that you have to be the one that takes over and makes sure that the next generation is stronger and equipped to face everybody else around the world. And to build a great team experience, just like you had when you were younger. So I decided to take that role a couple of years ago.
From being a young boy who was afraid of the water, Turbide transformed himself into one of the greatest swimmers in the world and a leader of his national team. He has dealt with the stress of high-level competition and taken those lessons into his own life. Now he is giving the opportunity to people around the world to learn the tools he has developed through a unique online experience, hosted by Airbnb.
Connect with the world's best athletes like never before. Sign up at Airbnb.com/festival to interact directly with your favourite athletes during the five-day festival of Olympian and Paralympian Online Experiences.
You can watch the following experiences on the Olympic YouTube Channel:
24 July: Opening Act with Colin Jackson, Pita Taufatofua and Tanni Grey-Thompson. 7 p.m. UTC/9 p.m. Madrid/noon LA
25 July: Overcoming hardship with Yusra Mardini. 5 p.m. UTC/7 p.m. Madrid/10 a.m. LA
Life lessons with Olympic gold medallist Allyson Felix. 11 p.m. UTC/1 a.m. 26 July Madrid/4 p.m. LA
Story time with Mary Wineberg. 1 a.m. UTC 26 July/3 a.m. 26 July Madrid/6 p.m. LA
26 July: Become resourceful with Pita Taufatofua. 9 a.m. UTC/11 a.m. Madrid/2 a.m. LA
Cycle the virtual globe with Jonny Brownlee. 3 p.m. UTC/5 p.m. Madrid/8 a.m. LA
27 July: Join a dinner party with Colin Jackson. 11 a.m. UTC/1 p.m. Madrid/4 a.m. LA
29 July: Up your sneaker game with Rui Hachimura. 12:01 a.m. UTC 30 July/2 a.m. 30 July Madrid/5 p.m. LA
Train with Naomi Osaka. 1 a.m. July 29 Madrid time