The Olympic and Paralympic Games Tokyo 2020 plays a crucial role in the reopening of J-Village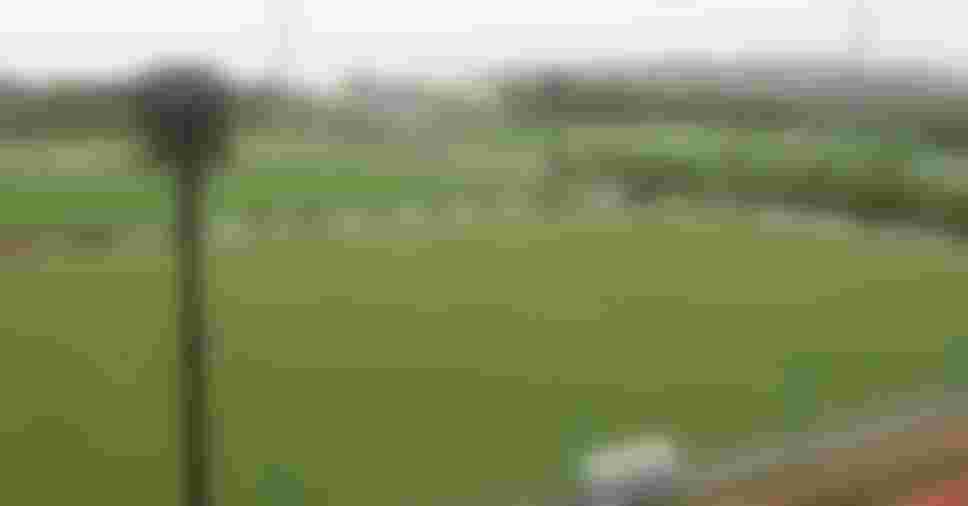 In 1997, Fukushima Prefecture opened J-Village complex: Japan's first national football training centre. After its opening, not only did the Japan's national men's football team but many other professional and amateur teams took advantage of the facility which had boasted 11 football fields with natural grass. However, in the aftermath of the Great East Japan Earthquake and tsunami in March 2011, the facility was forced to cease operations, and had been used as a support base for the disaster of Fukushima daiichi nuclear power plant until recently.
Seven years on, J-Village has undergone a remarkable recovery and resumed its operation as a football training facility since July 2018. We spoke to two people who have special affinity to the region and learn how sport can give people the power and courage to move forward. Tokyo 2020 believes that bringing part of the Games to the areas affected will help contribute to restoration efforts.
Our second interview features Mr Masato Yamauchi, director for management of J-Village. Mr Yamauchi has worked at J-Village since 1999, soon after the facility opened its doors and after J-Village became a crisis response centre for the nuclear power plant accident. He devoted his efforts to restoring the facility and reopening the training centre. On the reopening of J-Village, we asked Mr Yamauchi about the impact of sports on the disaster-affected areas and his expectations toward the Tokyo 2020 Games.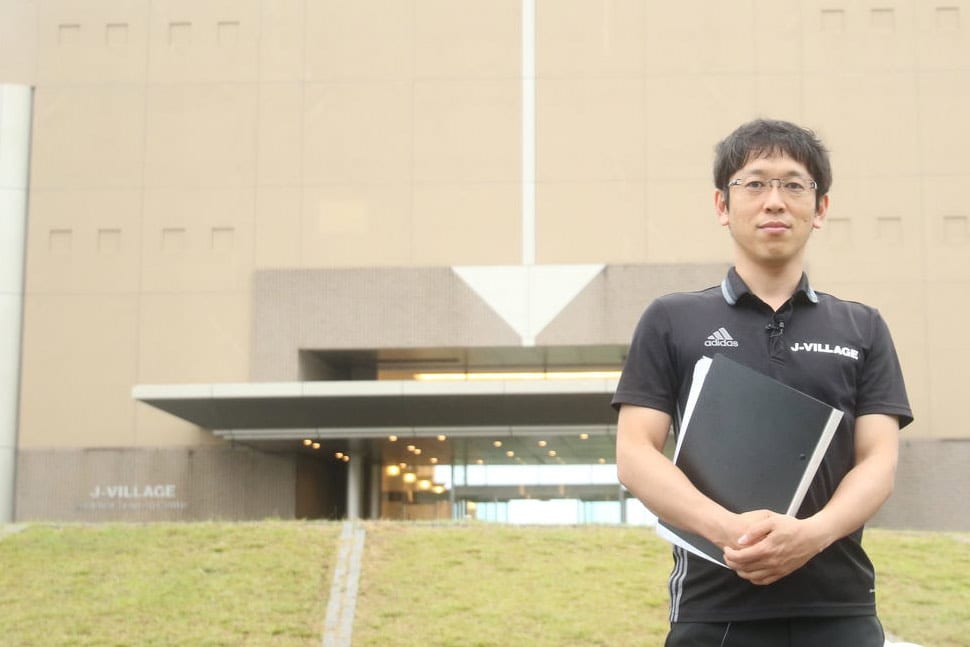 Thoughts on the opening of J-Village in Fukushima
Please tell us first about J-Village.
J-Village is located on the coast of Fukushima Prefecture. The climate in this area is warm for the Tohoku region, and the facility here can be used all year round without being affected by snow in the wintertime. There are eight natural turf pitches, including a stadium with spectator stands, two artificial turf pitches, an all-weather training ground and an indoor training facility for rainy days. Top athletes as well as the general public use the same pitches and the training environment is of the highest quality. The facility was closed for seven years due to being used as a crisis response centre for the nuclear power plant accident, but we have reopened as a football training centre since 28 July 2018. We currently have five natural turf pitches and one artificial turf pitches when we reopened but the entire facility will be fully restored by April 2019.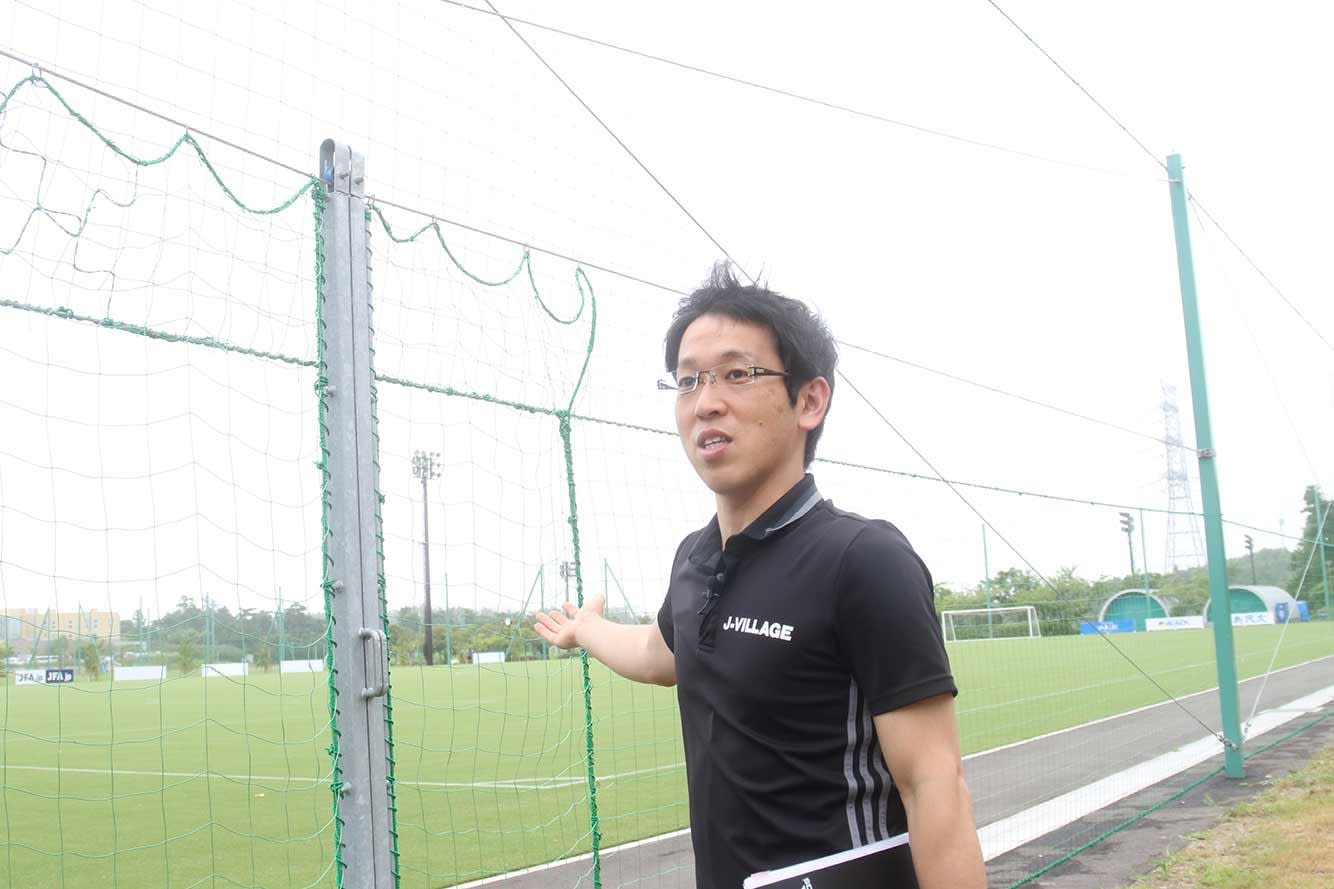 What did you think when you first heard that J-Village would be built in Fukushima?
This entire area used to be mountainous so I was half in doubt thinking, "Can such a facility really be constructed here?" But when I came after it opened and saw the spectacular facility, it was hard to believe this was actually in Fukushima.
The Japan national team training held in 2006 brought excitement to the local community
Many football fans have come to watch the Japan national team and other teams train here, and J-Village has revived the local community since its opening. Could you tell us about the impact J-Village has had?
The excitement peaked right before the FIFA World Cup Germany 2006 when the Japan national team came to train at J-Village. Zico and his players stayed for one week, and we had a total of over 60,000 visitors that week. The population of the town of Naraha at that time was a little over 8,000, so this small town was taken over by football fans. Every day, people crowded around the pitch all the way back to the trees and shrubs. There was excitement and also a bit of chaos, and we had to deal with a lot of things, but we were reminded of the popularity and appeal of football. The local people helped us set up the facility too, so everyone felt they were involved.
Do you have any special memories of the players who trained here?
I remember the Argentina national team who stayed here to train for the 2002 FIFA World Cup Korea/Japan. It was very hot and the star player Gabriel Batistuta asked for some ice. Since we didn't speak each other's language, we used our hands and gestures to communicate. When we finally understood each other, we were both ecstatic!
The Great East Japan Earthquake on 11 March 2011. Chaos. Confusion.
Tell us about what happened at J-Village when the earthquake occurred.
That day, I had the afternoon off so I was at home when the earthquake happened. I wanted to go to J-Village to check on the facility, but the roads were severed and it took me a long time to get there. When I finally made it, the local residents had started to gather at J-Village to seek refuge. But the electricity was cut off and we had limited access to information. Some of the staff who lived on the coast weren't even aware that a tsunami had occurred. There was chaos everywhere.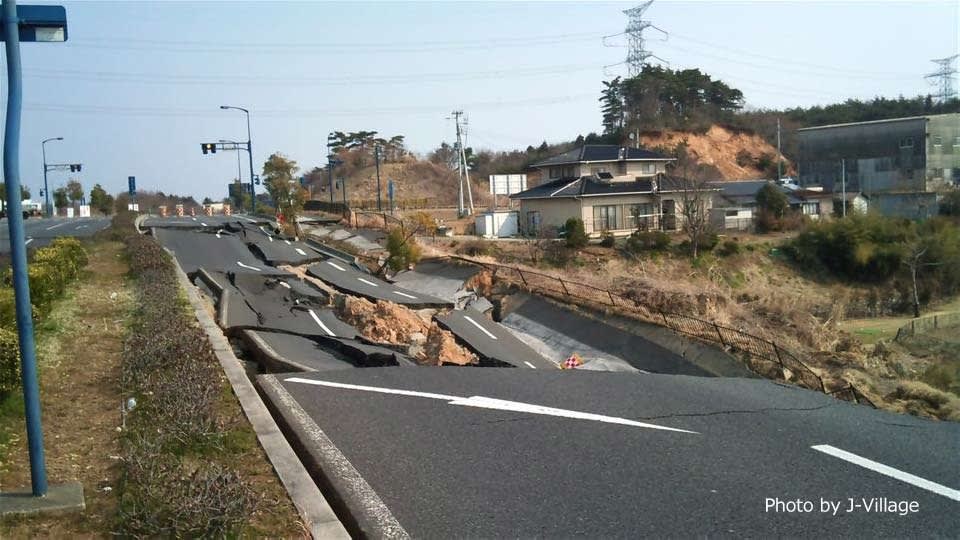 Feeling despair as vehicles treaded on the sacred pitch
The following day, on 12 March, J-Village was designated as an 'evacuation zone' (later designated a 'warning zone') as a result of the accident at the Fukushima Daiichi Nuclear Power Plant, and everyone had to evacuate. What was the situation back then?
I was staying at the evacuation centre, but I was worried about J-Village. I asked a staff working at the nuclear power plant to take me to J-Village. All the J-Village staff had always been told that the pitch is sacred and there is a deity who lingers there, so it is forbidden to enter the pitch unnecessarily, especially wearing leather shoes. So most of our staff had never stood on the pitch. When we arrived at J-Village, I was shocked at what I saw. There were cars and trucks all over the pitches. Our vehicle was also instructed to park on the pitch. I realised that we were going through something out of the ordinary. I remember thinking, "This is the end of J-Village." The staff in charge of maintenance, who looked after the turf and made sure the pitch was in perfect condition, was in tears.
Could you imagine that J-Village would someday be restored to the original state?
There was no way could I imagine how and when J-Village would be restored. It wasn't something that could be easily fixed after some time, and it was clear that the nuclear power plant accident was very serious. I thought even with decades of time, J-Village would not be restored.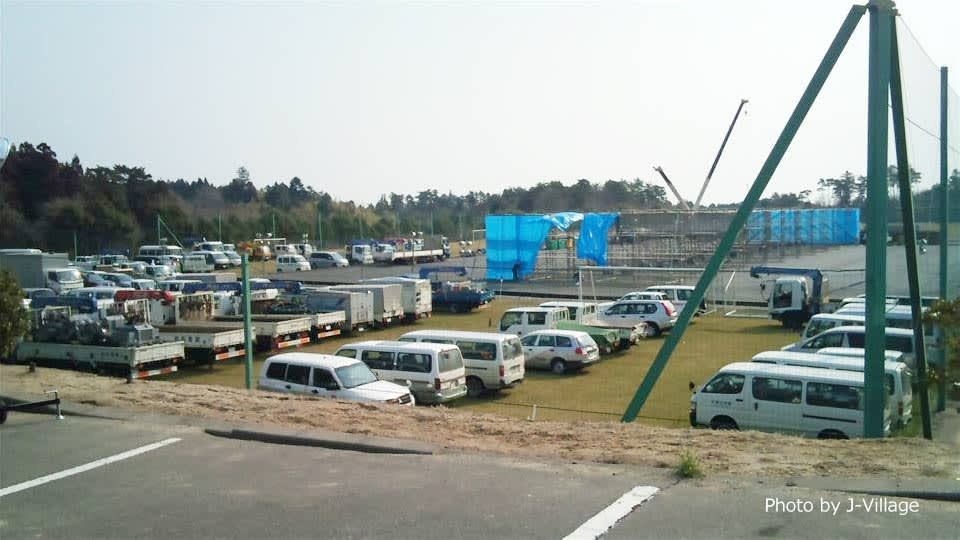 The entire staff was laid off. The decision to come back to J-Village against everyone's advice.
J-Village could not continue business after it became a crisis response centre for the nuclear power plant accident. What happened to you and the rest of the staff?
The hotel staff members were asked to gather on 25 March 2011, and we were all told that day that we would be laid off as of 11 March. A few staff members were given a position in another department or at the Tokyo headquarters. I was also offered a position at the head office, on the condition that I move to Tokyo alone without my family. Our children were very young at the time and I couldn't think of leaving them behind in Fukushima, so I turned down the offer. Mr Toyoharu Takata, who was the vice president of J-Village back then, heard about my decision and he contacted me. He was working on the revival of J-Village and asked me if I wanted to help. I took up his offer.
However, there wasn't a job for me at J-Village since it was closed as a training facility. I took a temporary job with a construction company that was working in and around J-Village. I was supposed to be a contract worker, but the company asked me if I wanted to become a full-time employee. It was a great offer, and my family and friends told me, "J-Village would never be what it used to be, so why go back there? You should accept the offer." Mr Takata also said, "That's a very good offer, " and was happy for me.
However, one of the staff who remained at J-Village and was coaching a football school in Iwaki City wanted me to come back, and I personally wanted to see what happens to J-Village till the very end. Whether the reopening was to be next year or in five years, or maybe never, nobody was certain. But I thought I should see things through and decide later. After debating what to do, I called the construction company to tell them that I would be returning to J-Village.
Little progress, thoughtless remarks. Time to give up?
After returning to J-Village, what actions did you take toward the reopening of J-Village?
The first thing I did was to inform the Fukushima Prefectural Government about our plan to reopen J-Village. At the time, however, we were the only ones who were serious about restoring J-Village to its original form. We made numerous appeals to them, but we made almost no progress. On top of that, there were some harmful stories in the media about J-Village, including some that were false. It was a very difficult time for us, and we couldn't find a way to move forward.
Then in the summer of 2013, Mr Takata, the vice president who was determined to restore J-Village, reached his retirement age and was to step down. Losing a comrade that fought together on this project was a big blow, and thoughts about giving up and quitting started to enter my mind.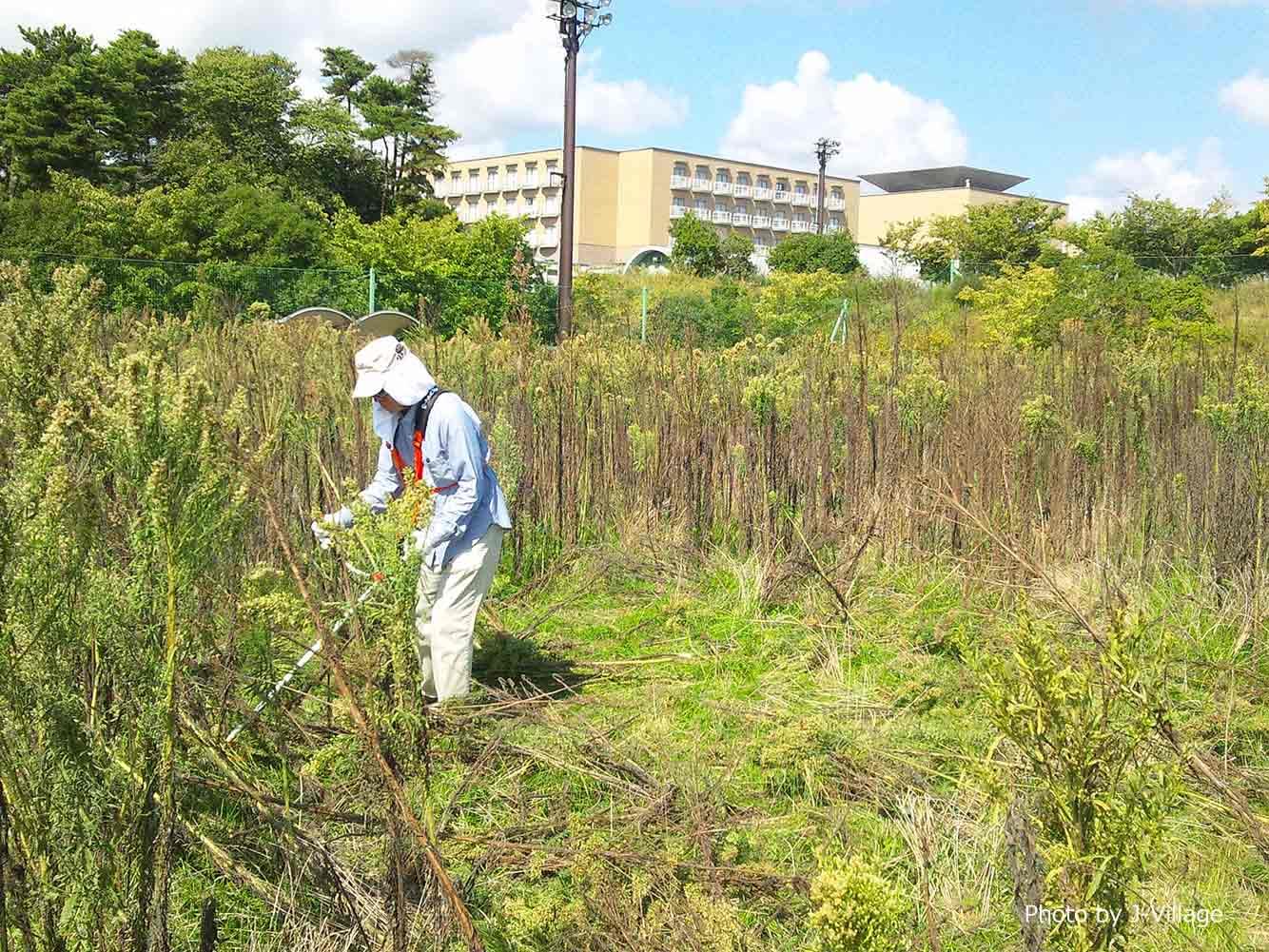 On 7 September 2013, Tokyo wins the bid to host the Olympic and Paralympic Games, and the opportunity to reopen J-Village presents itself.
How did you overcome such a desperate situation?
Tokyo's bid for the Olympic and Paralympic Games in 2020 kept us going. If the Games would be hosted in Tokyo, we expected that Japan's national football team would want to use J-Village again as a training site, and we would have a reason to restore and reopen J-Village as a training centre. In fact, the minute Tokyo won the bid, everyone involved felt that the time had come to reopen J-Village. A restoration committee and a project team were established by Fukushima Prefecture. The project started taking shape, and specific steps were taken toward the reopening of J-Village. I remember spending eight to nine hours a day in heated discussions without a single break.
If Tokyo had not won the bid for the Olympic and Paralympic Games, I don't think J-Village had a chance to reopen. That is how important that decision meant for us.
What specific actions were first taken toward the reopening?
To reopen J-Village, we had to convince everyone that our area is safe. But it was clear that nobody was going to believe our words, "It's safe here so please come."
So we first studied about nuclear power supply and radiation in order to communicate accurate information. The area cleared the criteria and was considered safe, which was a fact we actively posted on our website and social media.
The beautifully restored pitch at J-Village (July 2018)
It took a little over seven years for J-Village to reopen. What are your thoughts as you look back to these years?
Now that I look back, so many things had happened and it seems like it took a long time. On the other hand, when I think of what had happened seven years ago, how devastating the situation was, it's a wonder that we were able to accomplish what we did in such a short period of time. It feels like a long time but also short in a way... It's hard to describe in a few words.
Besides, we still have many issues to tackle. A new hotel wing has been built to increase the number of guest rooms, but we have to secure more staff. It was not easy for us to hire enough staff even before the earthquake. And after the incident, many people left Fukushima. Our challenge is to convince those people to return. That's our biggest challenge.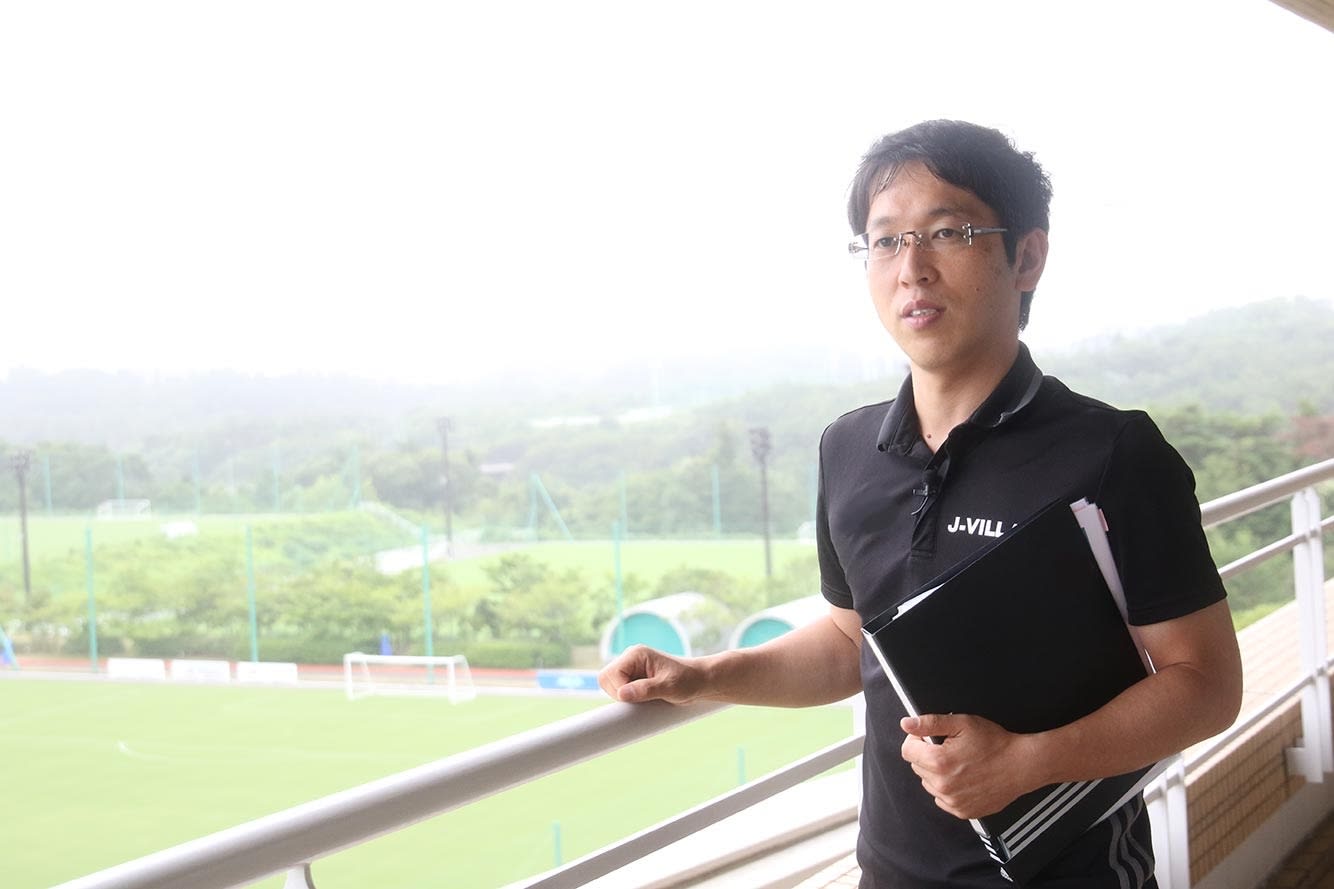 What are your expectations of J-Village towards the future?
Our initial goal was to reopen J-Village, but that is now just a means to our next goal of reviving and promoting the entire area. To achieve this goal, the local people and community must all work together to increase visitors to Fukushima from outside the area. To go one step further, we want to bring back the people who reluctantly had to leave Fukushima. I think it is important that each and every staff member consider what role J-Village can play as we move forward.
I hope that J-Village will be used as a training centre not only for football but also for other sport as well. If we can welcome more people to J-Village, I believe we can help Fukushima overcome the harmful rumours and contribute to the positive impact on the local economy. From a global perspective, if top athletes from around the world would come to train at J-Village for the Olympic and Paralympic Games, the world would learn through them that it is safe to come to Japan and Fukushima, and the positive image will spread. I believe that this is a major contribution sport can make to areas affected by natural disasters.
Mr Yamauchi started working for J-Village shortly after it was opened, and he was instrumental in this year's reopening—an accomplishment everyone thought would be impossible after the damage to the area from the earthquake and tsunami. Mr Yamauchi stressed that Tokyo's successful Olympic and Paralympic bid was a major turning point at a time when he was feeling total despair. The interview reconfirmed our belief in the power of sport and the impact the Olympic and Paralympic Games has on people and society.