The closing time and date for application registrations was 17:00 on 21 December 2018 (JST) . Thank you to everyone who applied.
Completing the application will take approx. 30 minutes.
During the process of entering the required fields, you may save the information you provided on the application.
Support for users with a visual impairment
The Tokyo Organising Committee of the Olympic and Paralympic Games (Tokyo 2020) is offering support to those with a visual impairment who wish to apply to the Volunteer Programme.
Tokyo 2020 began accepting applications for the Tokyo 2020 Games Volunteer Programme on 26 September 2018 and now the programme has been made easier for applicants with a visual impairment. The application deadline will be extended by about a month for those users, to allow for any delays and ensure they are not at a disadvantage.
Tokyo 2020 Volunteer Programme – Support for Users with a Visual Impairment
Please beware of phishing and other cyber crime sites
There are an increasing number of incidents where users are guided to fraudulent websites by clicking on a link contained in an email or a social media site.
Please make sure not to accidentally access a fraudulent website on the Tokyo 2020 Games Volunteer My Page.
We recommend that you access your My Page from this website or bookmark the My Page URL, Japanese only.
Application procedure
Complete a new registration
Read the policy on storing personal information, and agreeing to the terms and conditions
Complete the application form
Confirm email address
Launch of the Games Volunteer My Page
Confirmation before registering your Games volunteer application
Recommended browsers
Browser
System requirements (OS and browser)
Firefox
Windows 7 or newer, macOS
Chrome
Windows 7 or newer, macOS
Android 5.0 or newer
Internet Explorer
Internet Explorer 11 or newer, Windows 10 or newer
Edge
Windows 10 or newer
Safari
macOS, iOS9 or newer
*Please note that using other browsers may result in problems viewing the pages.
Please have an identification document ready
Passport, Japan residence card or Japan driving licence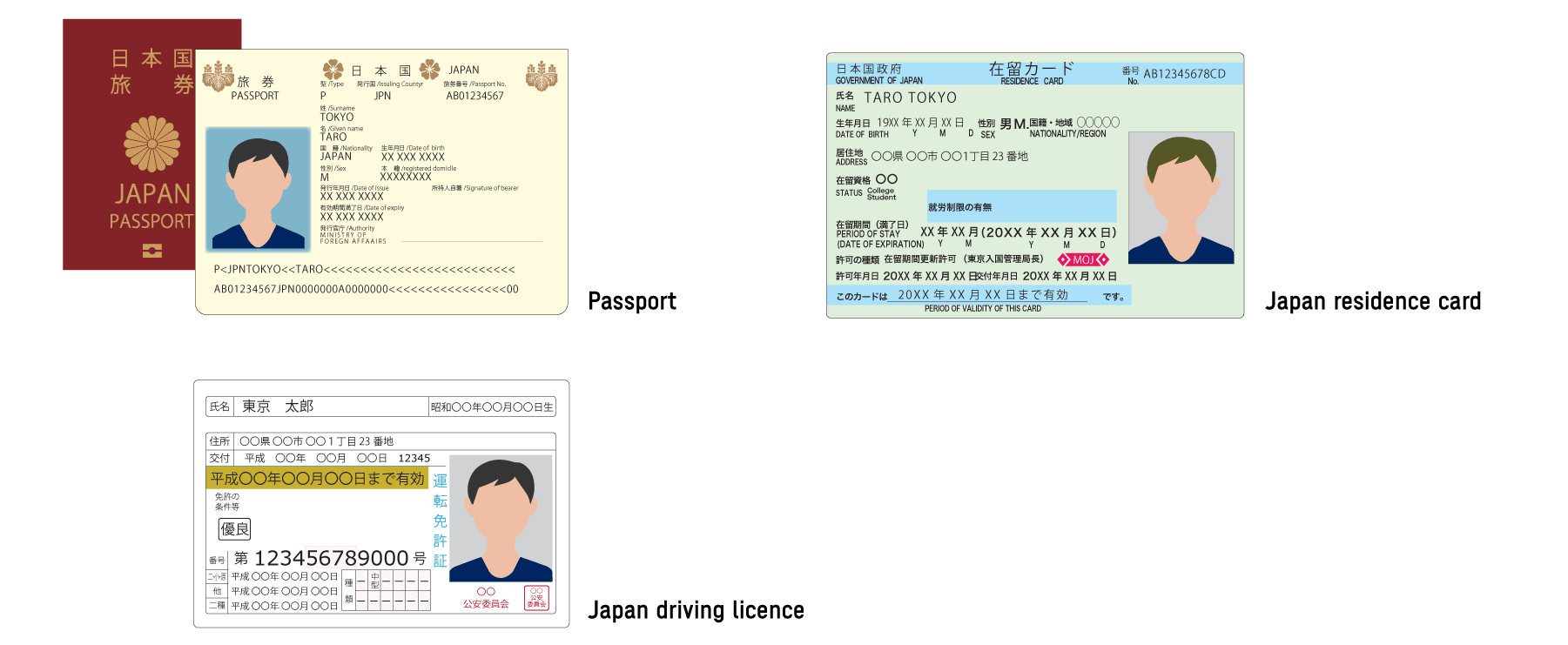 *Please note that the illustration is a simulated image
Image data (JPG, JPEG, PNG or BMP image format)
*This will be used for the photo contained on your ID card
Please also have the following items ready, if available
Results of any TOEFL, IELTS or equivalent English language tests
Results of any proficiency tests in other languages
Information required on the application form
When applying, please complete the following items:
| Items | Details |
| --- | --- |
| STEP1 | Name, gender, date of birth, special requirements or support, etc. |
| STEP2 | Address, contact details, contact details in case of emergency, etc. |
| STEP3 | Volunteering experience, education and/or work details |
| STEP4 | Previous experience in foreign languages and/or sports, possession of a driving license, etc. |
| STEP5 | Preferred type of volunteer activity (period, no. of days, volunteer category), etc. |
| STEP6 | Confirmation of the terms and conditions |
Also, please read through the below dedicated pages in advance if you have any preference for a specialist volunteer category/role, and/or if you have any preferred venue for your orientation session.
How to apply
Please read through the "How to fill out the Tokyo 2020 Games Volunteer My Page" before applying