World No.1 Novak Djokovic confident ahead of Tokyo 2020 campaign: 'I feel ready to perform at my best'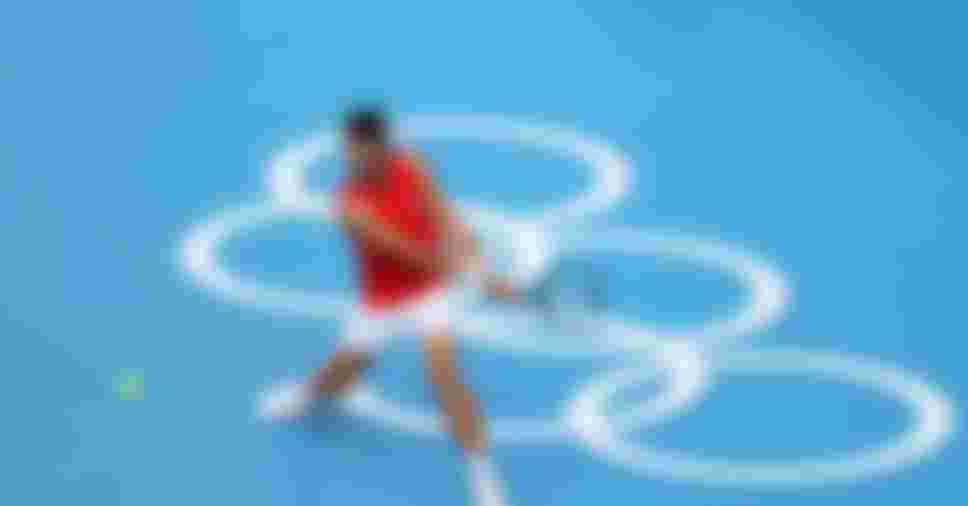 The top tennis player in the world is still on track for the calendar 'Golden Slam', having won all three majors so far this season. He says he feels great both physically and mentally.
Novak Djokovic is in a Tokyo 2020 state of mind.
And the world No.1 is feeling good.
"I feel great physically and mentally," Djokovic said as part of a Team Serbia press conference in Tokyo on Thursday evening (22 July). "I feel ready to perform at my best. I've had arguably the best Grand Slam season in my sport so far - winning three out of three Grand Slams. I could not have better preparation or better lead-up to an Olympic Games than I've had this year."
Djokovic won his 20th Grand Slam at Wimbledon earlier this month, matching Roger Federer and Rafael Nadal with a men's all-time record of 20 major titles.
Both Federer and Nadal withdrew from Tokyo due to injury.
Having won at the Australian Open and French Open earlier this year, as well, he is still on track for the 'Golden Slam' - winning all four majors and Olympic gold in one season - only done once before, by Steffi Graf in 1988.
"I'm not in touch with Steffi... but I have the utmost respect and admiration for Steffi," Djokovic told reporters. He added: "I would like to ask her how she did it."
"Of course for me it's a goal and dream... The champion's mentality that she possesses is definitely something that inspires me. Hopefully I will be able to use that in my upcoming [event]. When I was thinking about her ultimate achievement that she had... [I thought] there's a slim chance that someone could make it again. But right now it seems more and more realistic for me. Of course, that's one of the goals and dreams."
Djokovic says he feels the support of the Serbian contingent, with 86 athletes in Tokyo, behind him. He won bronze at Beijing 2008, but has yet to claim an Olympic gold medal.
"The feeling is different, obviously, as an individual athlete I represent my country anywhere I go," he said. "But being a part of the Olympic Games, being a part of the team, even though I'm by myself on the tennis court, I still feel the team spirit is there. The support of the teammates and everyone involved int he Serbian team is there, so that gives you wings, so to say, to perform your best and try and reach the biggest heights in your respective sport."
MORE: See who the top tennis players will face in the men's and women's draws
Djokovic on 'Golden Slam' chase: 'It's still a very long way'
While all eyes are on history, Djokovic is taking things as he says, with a "cliché:" "One day at a time."
He will open his Olympic campaign against Bolivian Hugo Dellien, the world No. 139. The two have never met.
"Well, look, it's still a very long way to potential achievement, historic achievement. I put myself in a very good position," Djokovic said. "I will take things very slowly and cautiously and focus only on the next challenge. But this is kind of an approach that I really need to have, because in the past, I was probably fully experiencing that approach and that has backfired on me."
The 34-year-old Serbian is 34-3 on the 2021 season, having won four titles to bring his career total to 85. In addition to his Beijing bronze, Djokovic was fourth at London 2012, losing to Juan Martin Del Potro - and then lost to Del Potro again at Rio 2016 in a dramatic first-round encounter.
"I am relieved that Juan is not here," Djokovic joked of his longtime rival, the Argentine who has faced a myriad of injuries. Adding about Del Potro being back on the training court: "I am also very happy and very relieved to see him on the tennis court because I saw some images and videos of him hitting a tennis ball after many surgeries over the knees that he had any injuries. He's a great guy, great champion."
Djokovic has a potential clash with No.5 seed Andrey Rublev in the quarter-finals, while Alexander Zverev is his potential semi-final foe and No.2 seed Daniil Medvedev anchors the bottom half of the draw. Stefanos Tsitsipas, the No.3 seed, is also on the bottom half.
"I know that there is a lot of things on the line," Djokovic said. "I know there's history on the line. I'm privileged and motivated to be in this position. I work very hard to be there with my team, of course. But, you know, let's talk about history if everything goes great here. I'm going to enjoy the tournament. So right now, it's all [of my] focus goes to the next challenge first."
Djokovic on Osaka: 'We can expect her to play on a high level'
Djokovic was asked about Japanese superstar Osaka Naomi, the four-time Grand Slam singles champion, who will compete in her first-ever Olympic Games.
"Osaka is a great champion that we have in our sport," he said. "Playing in her country without crowd is obviously not ideal for her. I'm sure that she wanted to have support and people behind her. It is what it is."
"But she and Nishikori [Kei] carry a lot of responsibility and weight on their shoulders for sure, playing in Japan. And I know that people expect a lot from them, but I'm sure that also the experience that they have, even though Naomi is relatively young, she's a [four-time] Grand Slam champion... she has a lot of experience playing at the highest level. I don't think that's going to cause a lot of trouble for her."
Djokovic on Osaka Naomi: "We can expect her to play on a high level."
The world only moves forward when we move together. One month from Tokyo 2020, we celebrate the strength, resilience and determination of Olympic athletes, to bring hope, unity and inspiration to people around the world. Featuring Usain Bolt, Naomi Osaka, Tony Hawk, Nyjah Huston, Yusra Mardini, Andre Degrasse and many more. #StrongerTogether #Tokyo2020 #Olympics.