Tokyo 2020 Announces Sustainability Plan and Guiding Principle "Be better, together - for the planet and the people"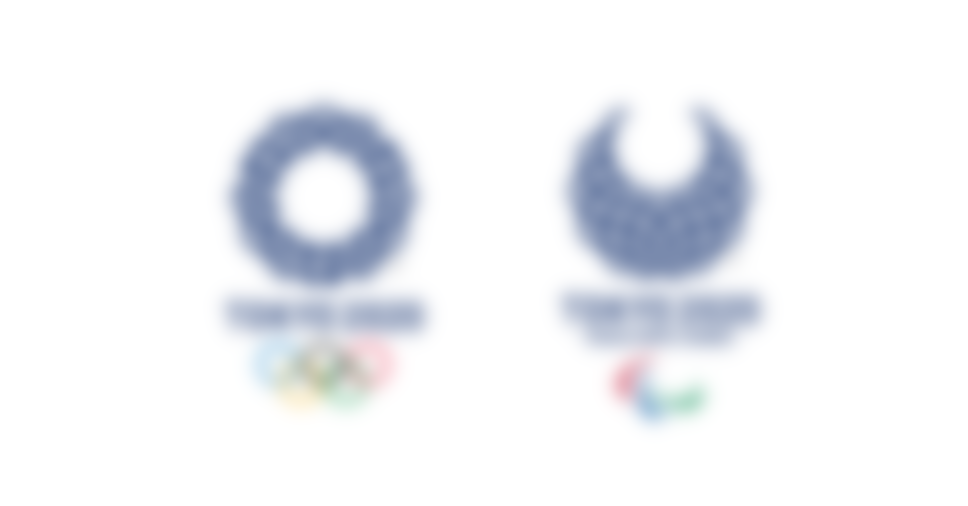 The Tokyo Organising Committee of the Olympic and Paralympic Games (Tokyo 2020) published its Sustainability Plan Version 2, together with the Plan's guiding principle. This constitutes the final strategic plan that will govern sustainability activities for the Tokyo 2020 Games.
The guiding principle reads, "Be better, together – for the planet and the people", and with this, Tokyo 2020 not only aims to ensure sustainable delivery of the Games, it also hopes to contribute to the United Nations' Sustainable Development Goals.
Related goals, targets and measures are specified in the Plan under the following five themes: Climate Change; Resource Management; Natural Environment and Biodiversity; Consideration of Human Rights, Labour and Fair Business Practices; and Involvement, Cooperation and Communications (Engagement).
The individual goals per theme are as follows:
---
Climate Change: "Towards Zero Carbon"
Rather than representing a concrete numerical target, "Zero Carbon" refers to the general thrust of Tokyo 2020's efforts to reduce carbon emissions generated during preparations for the Games and their actual operation, and its intention to deliver them with maximum use of renewable energy; both initiatives will directly support key aims of the Paris Agreement and certain of the United Nations' Sustainable Development Goals.
For example, almost 60% of competition venues will utilise existing facilities, a decision which will result in an estimated reduction of 80,000 tons of carbon emissions; notwithstanding these efforts, Tokyo 2020 plans to implement appropriate carbon-offset measures. The use of public transport networks will be maximised. Tokyo 2020 aims to ensure that 100% of electricity used in the operation of the Games is from renewable sources, and will take other measures that will boost efforts to mitigate climate change and encourage sustainable living.
---
Resource Management: "Zero Wasting"
Tokyo 2020 aims to minimise the adverse impact of resource waste and depletion on ecosystems and the environment by implementing resource management measures across all supply chains involved in delivery of the Games. 99% of items and goods procured for the Games will be reused or recycled.
Olympic and Paralympic medals will be manufactured from precious metals recovered from used consumer electronic appliances such as mobile phones donated by people across Japan. The Village Plaza, the central facility inside the Olympic and Paralympic Village, will be built using timber donated from different regions within Japan and will be reused by the communities donating them after the Games.
Tokyo 2020 will also minimise food waste and excessive packaging.
---
Natural Environment and Biodiversity: "City within Nature / Nature within the City"
The overall aim is to create a rich ecological network and support initiatives to improve the comfort and attractiveness of Tokyo, helping it to evolve into a city in harmony with nature. These initiatives include the provision of green spaces around competition venues and the protection and enhancement of existing greenery.
Main roads in Tokyo due to be used for the marathon and race walking events as well as roads in the vicinity of competition venues will be provided with tree shade for athletes and spectators. Solar heat-blocking pavement will be installed along more than 130 kilometres of these roads.
Tokyo 2020 will further ensure that all products and services are procured in compliance with relevant environmental laws and with its own Sourcing Code, to prevent environmental contamination and protect biodiversity.
---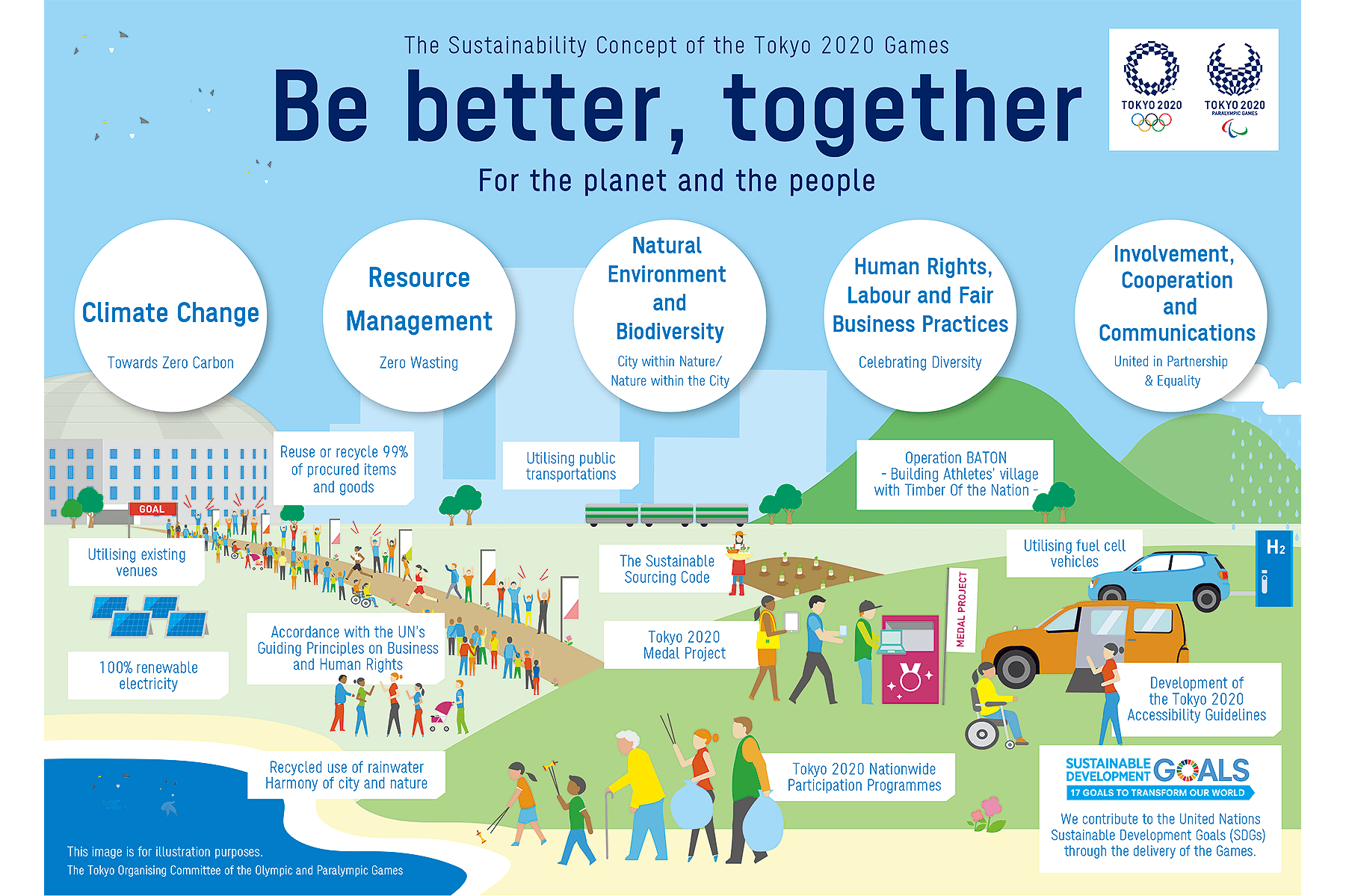 Human Rights, Labour and Fair Business Practices: "Celebrating Diversity"
In line with the Olympic Charter and the UN Guiding Principles on Business and Human Rights, Tokyo2020 aims to incorporate diversity and combat all forms of discrimination in every aspect of the Games'preparation and delivery. This will also contribute towards the realisation of the International Paralympic Committee's goal of creating an inclusive society in which everyone, regardless of ability, can play an active role; it will also help create a positive legacy of these Games.
As the Games will be delivered with the support not only of the national and local governments in Japan,but also with the help of various organisations, suppliers and partners in multiple countries, Tokyo 2020 aims to use its influence on these to help make the Games' ecosystem as a whole assume responsibility for the promotion of diversity and human rights.
---
Involvement, Cooperation and Communications: "United in Partnership & Equality"
Tokyo 2020 aims to create a sustainable Games open to everyone by encouraging the participation and cooperation of the whole of society in their preparation and delivery, as well as by sharing the experience of them with people all over Japan and overseas. This necessitates the engagement of volunteers, spectators and other members of the public, as well as efforts by the Games' many stakeholders.
It aims to achieve these aims through education and through initiatives such as nationwide participation programmes, volunteer programmes and the Olympic and Paralympic medal project. In a similar vein, in 2014 Tokyo 2020 launched its university networking programme, an initiative whereby it concludes collaboration agreements with colleges and universities in Japan aimed at promoting Olympic and Paralympic values by means of lectures, seminars and other events.
---
Comments
Tokyo 2020 CEO Toshiro Muto
"Sustainability has undoubtedly become an essential aspect of the Olympic and Paralympic Games. I am confident that Tokyo 2020's efforts to achieve a zero carbon society, to limit resource waste and encourage consideration of human rights, among other things, will become legacies of these Games.
Going forward, under the guiding principle of 'Be better, together – for the planet and the people', Tokyo 2020 will implement the Plan in cooperation with the Tokyo Metropolitan Government, the national government and our delivery partners, as well as striving to achieve the UN's Sustainable DevelopmentGoals."
Tokyo 2020 Sustainability Committee Chairperson Hiroshi Komiyama
"The Tokyo 2020 Games are a great opportunity for us to show to the world a vision of society humankind is striving for in the 21st century. The main themes of this Plan are major issues that humankind is facing.
Japan has tackled a number of these, including pollution. 'Be better, together' – let's move forward with all people, aiming for a better society. I believe it is going to be one of the Games' significant legacies for the future of Tokyo, Japan and the world."
Please see below for further details of the Plan: