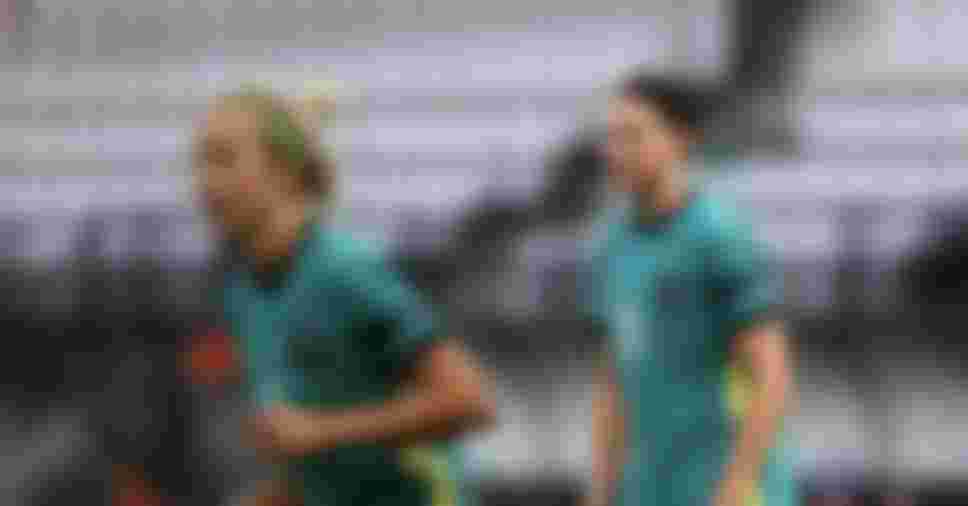 Australian footballers Emily Gielnik and Aivi Luik both had different paths to the top, but one thing is for sure, they're looking to make their Olympics dreams a reality this summer at Tokyo 2020 in 2021.
It's the heart-breaking phone call that no athlete wants to receive.
With only 18-players able to be selected on an Olympic Football squad, Emily Gielnik missed out on making the Australian women's football team for the Rio 2016 Games by one spot.
"[It] was heart wrenching and disappointing, to say the least, I felt entirely defeated at that point, I felt like I had done what I could do, and I wasn't going," the Matildas forward, who had also missed out on the 2015 FIFA Women's World Cup squad a year prior, told Tokyo 2020 in April.
"A very difficult time in my career to understand but moving past that was just as important for me so that's what I focussed on."
The Brisbane-born footballer knew she wanted to be an Olympian as soon as she pulled on the green and gold jersey – making her senior national debut against Japan, Tokyo in 2012.
"I remember that feeling of actually watching the girls at the Olympics from my couch with my family and just how passionate and excited I was to be supporting them," Gielnik said.
"I knew that's what I wanted. I wanted to be on the on the other end of that, being a part of that. So that was more so when it really sunk in that I wanted that more than anything."
Now the 28-year-old is squarely within the mix for Tokyo 2020 selection after scoring a double against Rio 2016 gold medallist Germany in Australia's 5-2 friendly loss last month.
However, Gielnik wasn't the only Matilda to miss out five years ago with Aivi Luik also named as an alternate for Rio 2016.
The 36-year-old told Tokyo 2020 it would be a dream come true to represent Australia at Tokyo 2020.
"To be able to go there and compete with the best in a tournament that has such history, I think it would be amazing, it would be a once in a lifetime kind of experience. And it was something that I always wanted as a kid."
The ability to preserve
Getting knocked down, facing challenges, and overcoming barriers is something both Gielnik and Luik know all too well.
For Gielnik, after missing out on Rio 2016, she didn't let her determination die, she continued to work hard and made the decision to leave her long-time club Brisbane Roar for Melbourne Victory ahead of the 2018-19 W-League season.
It was a move that would pay dividends as she made Australia's squad for the 2019 FIFA Women's World Cup in France.
"What I would put it down to, honestly, is just how I've approached every football season from then onwards leaving no stone unturned, just knowing my own body, knowing what it takes to stay at that top level and what's required of me in working alongside the clubs but also working on my own in terms of individual performance away from the football clubs," she said of her desire to continue being her best."
"That's really what's got to me, is just honing in on that that focus and those extra things that have that kept me in the top level and keep giving me the opportunity to come back into the Matildas squad."
Luik, who also got her start in the W-League with Brisbane Roar, had to wait a tad longer before making her World Cup debut despite making her international debut in 2010 and was part of Australia's victorious AFC Asian Cup team that year. But throughout her career she was plagued with injuries including bilateral hamstring tendinopathy.
Despite missing out on selection for both the 2011 and 2015 World Cups then Rio 2016 Olympics, the midfielder continued playing because it had been her dream to go to a World Cup.
"After that second let down, I didn't really think it was going to be in the cards for me, but I continued to play," she said.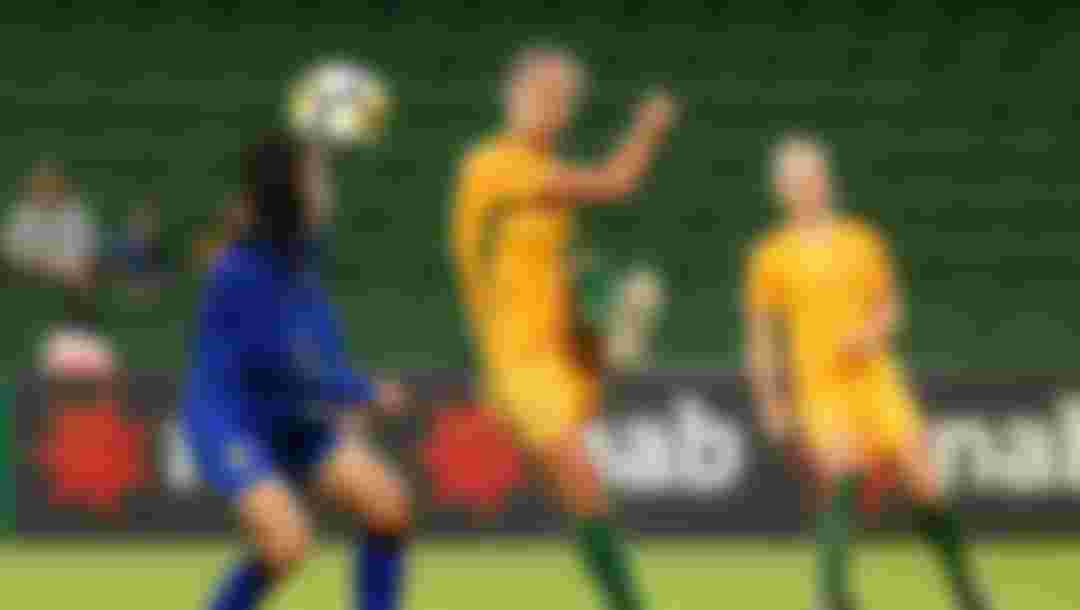 It was in 2018, seven years after her last appearance in the green and gold, that Luik took to the pitch as a Matilda once again during their 5-0 friendly win against Thailand and after a successful season with Spanish club Levante in 2019, she was on the radar of then Matildas coach Ante Milicic for the upcoming World Cup in France.
Named in the 23-player World Cup squad, it wouldn't be until Australia's final group game that the Perth-born player would take to the field.
"I thought maybe I was going on and it didn't happen so I [was] starting to wonder if maybe it wouldn't happen but I did get that debut and it felt amazing," she said.
Australia beat Jamaica 4-1 in that match.
"It was really emotional afterwards, especially to see my brother and sister in the crowd. Having them witness my dream since I was a kid was amazing. It's very hard to put into words, but it's definitely one of the highlights of my life."
Together again after 400 days
Assembling at Soest, the headquarters of the Dutch Football Federation, it was the first time since Australia had secured qualification for Tokyo 2020 in March last year during their 5-0 and 2-1 wins over Vietnam, that they were together again.
And for many, it was the first time they had seen their national teammates – many have spent the last decade playing together in the green and gold – in over a year so there was excitement.
"It was so good to see everyone again in camp, obviously, their familiar faces, but it's like you never left. It feels like we had we just saw them not long ago. So really exciting, really good vibes. We are one big family, and it was just so good to see everyone again," Gielnik said ahead of the team's first match in 400 days.
With Australian-based players unable to be selected, it was up to the Matildas playing abroad to put their best foot forward in front of Tony Gustavsson, who was appointed head coach in September last year. The former United States assistant coach took the reins of Australia's most loved national team in the New Year but due to the global pandemic hadn't been able to meet players in person.
With the playing group meeting Gustavsson for the first time, there were positive vibes around camp.
"Tony has showed us the way that he believes we can play in order to get us to the next level," Luik said of the Swedish-born coach. "That's what we all want at the end of the day and through his words, through his intensity and the belief in us, I think that's really flowed through his meetings and how he runs training sessions."
"Very good energy, good vibe and most importantly, extremely encouraging just coming in. So that really works well for me," Gielnik said. "I think me as a player, I really respond better with someone who really believes in me and has that positive energy to want you to get on the ball. So I'm really looking forward to what he's got in store for all of us."
Welcoming the pressure
From fighting for equality, recognition, and the right to play the game they love, the Matildas of today have become one of the most recognisable sport teams in Australia – and in women's football.
Following their Rio 2016 quarter-finals loss in a penalty shootout, it was at the 2017 Tournament of Nations that Australia reached new heights as they beat Japan (4-2), the United States (1-0) and Brazil (6-1) to win their first piece of silverware since the 2010 AFC Asian Cup success.
Going on to win their next four matches on home soil, the following year still saw solid performances including a fourth-placed finish at the 2018 Algarve Cup and runners-up performance at the 2018 AFC Asian Cup.
The 2019 FIFA Women's World Cup left more to be desired, as they bowed out in the quarter-finals to Norway, but their qualification for Tokyo 2020 once again brought excitement. While recent 5-2 and 5-0 losses to Germany and the Netherlands brought harsh critics from Australian media – just three months out from Tokyo 2020.
But the pressure to produce results is something the side welcome.
"I think it's something that we enjoy and welcome with open arms, because if you're a team that is not doing well, there's no pressure on you so because we've risen through the rankings and we've got a name for ourselves, now there is that pressure but it's great," Luik said.
"It means people are following us. People want us to do well, and people expect us to do well. And I think that can actually help with results in the times when the pressure can get a little much, we've got a really good playing group and we can look for support, and also from our family and friends and our fans or some of the best in the world. And I don't say that lightly.
"I think they care genuinely about our journeys and they care about our ups and downs and they really want to see us succeed."
The women's football tournament at the Olympic Games Tokyo 2020 will take place from 21 July to 6 August across Japan.
Australia were drawn alongside reigning World Cup champions the United States, Trans-Tasman rivals and 2023 World Cup co-hosts New Zealand and European powerhouse Sweden.