The art of being Anders Antonsen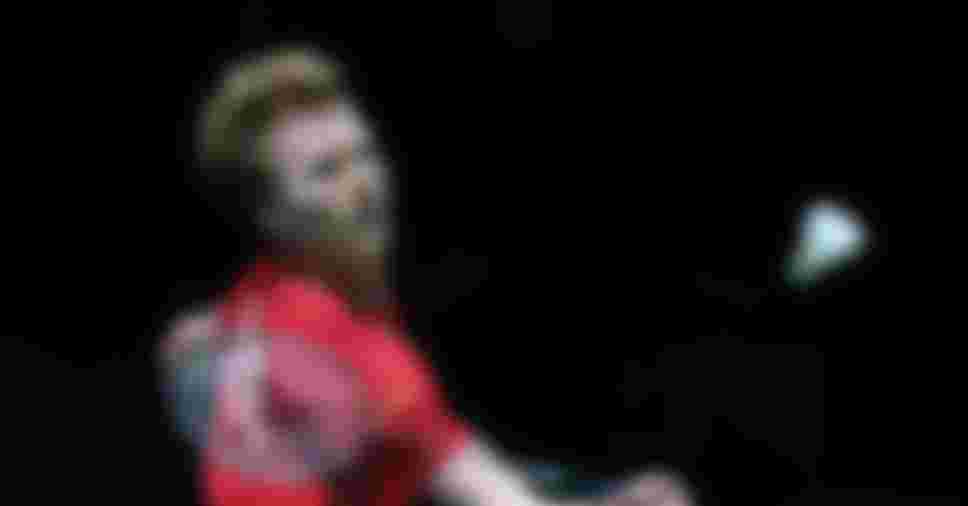 Denmark's 23-year-old shuttler spoke to Tokyo 2020 about his life, badminton and the Olympics. 
The Beijing 2008 Olympics are underway. It's the final of the men's singles badminton competition and the usual suspects, Lee Chong Wei and LIN Dan, are competing for gold.
While the world is glued to television and young badminton players are studying the athletes they aspire to become, back in Denmark's second largest city of Aarhus, an 11-year-old Anders Antonsen is busy smashing the shuttlecock and perfecting his own movements in his backyard.
Twelve years later, the 23-year-old - now among the crème de la crème of world badminton - still loves watching himself play more than others.
"The one that I watch the most is myself, and I enjoy watching my own matches and I learn from them. I just enjoy watching, but when I play good that just gives me this joy and I really, really like it," Antonsen told Tokyo 2020.
A look at the illustrious history of Danish badminton throws up legendary names including Poul-Erik Høyer Larsen, Peter Gade, Jan Ø. Jørgensen, Camilla Martin, Thomas Stuer-Lauridsen and Lene Køppen. In a game dominated by Asian countries (who have won 92 out of 106 Olympic medals), Denmark has the highest medal count out of any non-Asian nation.
At next year's Olympic Games, Antonsen will be aiming to replicate what Poul-Erik Høyer Larsen did at the 1996 Atlanta Games – win a men's singles gold medal.
Born into badminton
Antonsen was born into a family that lived and breathed badminton.
"My dad works in the badminton club and he has been doing that for the past 25 years, or something like that. He played badminton, but not on a high level. I think if you ask him he would say that it was on a high level, but it was not! He is still running the club to this day," he said.
The Aarhus Badminton club, run by Antonsen's father, was just 200m away from his family home and inevitably, a young Anders would end up there after school.
"My brother also played badminton, so it was just a natural thing. After school, I went down there. I was there for the whole day just playing and hanging around," he explained.
"I spent so much time in the club and playing down there. I mean, if my father didn't work there, I probably would have gone somewhere else. My mum was also quite involved with the club. So, I was kind of born into into badminton."
Having this upbringing made the sport a way of life for Antonsen, who learned not to be intimidated by any occasion or tournament from a young age.
From Aarhus to world tour
Becoming a professional player was a natural step for a teenage Antonsen, and it was something he made clear to his parents when he was just 16.
It turns out an after school lunch proved to be a life-defining moment, as he realised he wasn't interested in studying but wanted to play badminton professionally.
"I went to high school and I was there for three days. And then I left and walked down to to the club where my father was, and I told him that I'm not going back to school for one more day. That is not the life I want to live and that is not the dream I'm chasing. That is not definitely for me," he explained.
From that moment on, Antonsen was thrown into the cauldron of world badminton which was bursting with talent that included the likes of LEE Chong Wei, LIN Dan and CHEN Long. Over the next few years he announced himself on the global stage by winning the 2015 European Junior Championship, the Irish Open and the Belgian International - a string of performances that propelled him to the title of 2015 European Young Player of the Year.
Over the next three years, Antonsen faced some of the biggest names in the world - from NISHIMOTO Kenta to CHOU Tien Chen. It was the realisation of a childhood dream.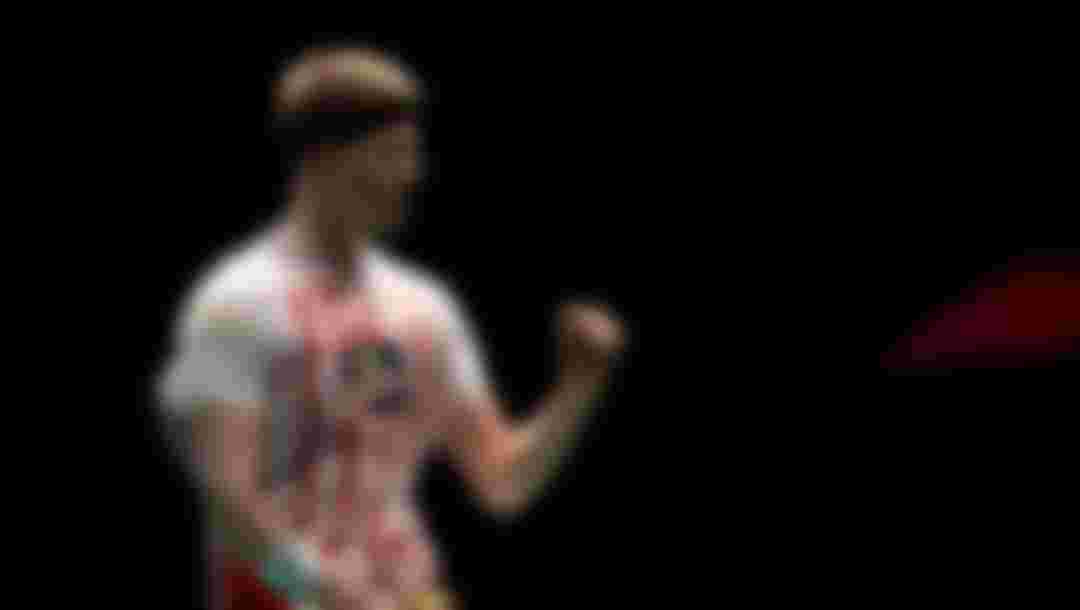 Antonsen will make his Olympic debut at Tokyo 2020 and, irrespective of his opponents, the world number three has one clear goal – to win gold.
"I've said it before and I stick to it: I'm aiming for the gold medal," he said.
"I feel it would be a little bit ridiculous to sit here and say I want to reach a quarter-final and I would be satisfied by that. I want to to reach the absolute top. Who doesn't want to win an Olympic gold medal? That is the best that you can achieve in maybe in all of sports. I know that I'm not going into the tournament as the favourite, so I have to deliver a hell of a performance during that Olympics."
One of the opponents likely to stand in his way is current world number two Chou, whom he defeated at the Denmark Open. However, the Chinese Taipei star still leads the head-to-head record between the two, having beaten his Danish opponent seven times out of their nine meetings.
Denmark Open, lockdown and a bout of nostalgia
The Denmark Open was the first international tournament to take place in the country after competitions came to a halt because of the COVID-19 pandemic. However, it was worth the wait as Antonsen, Rasmus Gemke and Chou produced some scintillating strokeplay in the Super 750 event in Odense.
After overcoming Chou in the semi-final, Antonsen was favourite to win the final against fellow Dane Rasmus Gemke - the childhood friend he had played against in the backyard while the world was watching Beijing 2008.
In what could have been a one-sided final, Gemke played out of his skin and nearly caused a massive upset. Perhaps it was their shared history that helped Gemke, who is just a few months older than Antonsen, ease his nerves and play the game of his life.
Anders recalled the final in his trademark style: "The emotions are a lot different when you play your good friend in a match like that."
"Already you're full of excitement going into a final and then when playing your childhood friend, it just makes it a little bit more difficult. And yeah, there were a lot of emotions involved in that match. Both of us were quite tired at the end of it because it just does something to your body, it's hard to explain. We've been playing each other since we started playing badminton.
"I think I came out in the first game with a little bit too defensive mindset. I was a little bit on purpose on the defensive side of the of the game. And that was maybe a little bit on purpose, but it got a little bit too defensive, I would say. And I started midway through the first game to switch it up a little bit and became a little bit more aggressive and that worked quite well," he explained.
In the end, Antonsen overcame his childhood friend 18–21, 21–19, 21–12 and claimed his first BWF World Tour title since 2019. It was more relief than happiness for the 23-year-old, despite enduring a tough lockdown - an unprecedented situation that helped Antonsen understand one key lesson.
"It was tough for sure. I'm not sure if I have any great lessons to take from a period of time other than you just have to be grateful for everything that you are able to do while you can do it, because you never know what tomorrow will bring, if it will bring a major injury or another lockdown, it could be anything."
Music, McGregor and 'The AA Show'
Antonsen is no stranger to the camera. A YouTube show called The AA Show, an active Instagram page, and a deep love for music keep the Dane busy when he's not on the badminton court.
Would Antonsen be interested in a post-badminton career in music? He doesn't rule it out, although he is yet to release any of his compositions.
"My favourite rapper is Drake. But I listen to a lot of Drake and The Weeknd, although he's not really a rapper, but more like a singer."
And when asked which guests from the world of music and sport he would want on The AA Show, Antonsen's answer is clear: Drake, Lin Dan and Conor McGregor.
Antonsen's favourite non-badminton sporting stars include Cristiano Ronaldo and McGregor. Is their 'ultra-confidence' something that attracts the Dane to them?
"Yeah, probably. Conor McGregor, he's just charismatic, funny and he has so much confidence that it's crazy. He is just a source of inspiration and actually motivates me a lot. I mean, it's just fun watching his face and his press conference and then, yeah, the stuff he says sometimes I feel it's super funny and clever as well," Antonsen said.
Overconfidence, the Olympics and Tokyo 2020
Antonsen was once asked during a live social media interaction with fans why he was always so 'overconfident' and without batting an eyelid he said, "if I am gifted with extra confidence then I see it as a positive".
The youngster from Aarhus is not fazed in the face of daunting opponents and in fact he feels that a tough situation is worth relishing.
"Confidence is something that has been labelled on me that from a very young age, I've always been really confident in my own abilities when it comes to badminton. And it's hard to explain why that is. I don't know, but it's quite obvious that I'm good at badminton and I've always been so. For me, it's quite logical that I'm confident in my badminton abilities," he said.
"I still feel nerves, of course, when I step on court. But I think I'm really good at handling nerves. I think many people don't want that... they're scared of nerves. But my approach to nerves is probably a little bit different. I mean, I like it because it shows me that this is something that I really want."
He would certainly be excused if he felt nervous at next year's Olympics, given that it will be his debut and Antonsen will have to face the likes of defending champion Chen, Chou, fellow countrymen Viktor Axelsen and world number one MOMOTA Kento.
For now, the Dane's favourite Olympic badminton match is one he watched, instead of playing himself.
"I think the match that I remember the most is 2012 [London Olympics]: Lin Dan and Wei playing the final, it was an amazing match. I don't think that I was rooting for any of them. It was a close match. Crazy, crazy," recalled Antonsen.
At Tokyo 2020, not only will Antonsen be gunning for gold but, as a lover of Japanese food and culture, he also hopes to try some sushi.
And on the subject of Tokyo, he had this to say: "It's a wonderful city. Of course, I like the food, I like I like sushi a lot, and that is one of my one of my favourite foods. And in Japan, it's just delicious. Japan is a different place when it comes to the people and how they just conduct themselves. The people are really polite. I'm really looking forward to getting back there."
Antonsen will be hoping to rewrite Danish badminton history in Tokyo and - other than sushi, interviewing Drake and becoming a global sporting brand - a gold medal is high on his wish list for the Games.