Nishiya, Leal, Bufoni, Huston back in action at SLS Championship Tour in Salt Lake City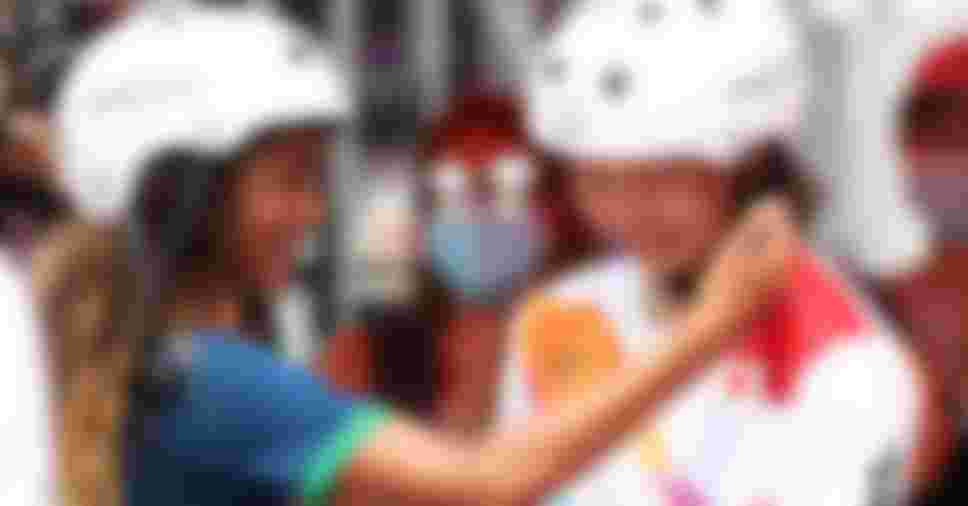 After a successful Olympic debut saw hosts Japan clinch both golds in street skateboarding at Tokyo 2020 through HORIGOME Yuto and NISHIYA Momiki, the sport's 2021 season gets underway this weekend in the United States.
The first of three stops on the 2021 Street League Skateboarding (SLS) Championship Tour takes place this Friday and Saturday (27–28 August) in Salt Lake City, Utah.
And two superstar 13-year-olds will be in action, with NISHIYA Momiki taking part alongside Olympic silver medallist Rayssa Leal of Brazil.
Here's what to look out for in Salt Lake City and who else is involved.
13-year-old Brazilian Rayssa Leal took Tokyo 2020 by storm as skateboarding made its Olympic debut.
Leal, nicknamed "The Skating Fairy," was the youngest competitor in the women's street skateboarding final packed with drama, thrills, and spills. Nishiya Momiji won the gold, sharing the podium with Rayssa Leal and Nakayama Funa.
Stars to follow at SLS Salt Lake City
Women's Olympic champion Nishiya and silver medallist Leal, as well as Brazil's men's silver medallist Kelvin Hoefler, are the three Tokyo 2020 medallists who will be in action in Utah.
Men's champion Horigome, who was also on the roster for the event, has withdrawn alongside fellow Olympians Aurélien Giroud (6th in men's in Tokyo), NISHIMURA Aori (8th in women's), and Margielyn Didal (7th in women's).
However, tour stalwarts such as Nyjah Huston, Zion Wright, Manny Santiago, Vincent Milou, Candy Jacobs, Leticia Bufoni, Pamela Rosa and Mariah Duran are all back in action.
Milou, fourth in the men's final in Tokyo, as well as Huston, Santiago, Bufoni, Rosa, and Duran will all be hoping to bounce back from their Olympic performances.
Meanwhile, Wright will look to show off his skills in street skateboarding after finishing 11th in park in Tokyo, while Jacobs makes her return after being ruled out of the Olympic competition by coronavirus.
Youth really came to the fore at Tokyo 2020 with 12-year-old Syrian table tennis prodigy Hend Zaza the youngest athlete at the Games. Youngsters dominated skateboarding with 13-year-old NISHIYA Momiji taking gold and HIRAKI Kokona, Rayssa Leal and Sky Brown all winning medals. And 14-year-old QUAN Hongchan won diving gold for China.
SLS Championship Tour 2021 schedule and season details
The Salt Lake City stop is the first of three SLS Championship Tour events this season, following a pre-season Tour Qualifier held at the end of July.
Competition begins on Friday 27 August with women's preliminaries at 12:30 pm local time (6 hours behind UTC) and the men's prelim following at 4 pm.
On Saturday 28 August, the women's final takes place at 2:30 pm, with the men's final at 5 pm.
General admission is free (first-come, first served).
Following this weekend's festivities at the Utah State Fairpark, the tour heads to Miami for its second stop in two months' time.
The Florida city will hold its event from 29–30 October.
Following that, the SLS Championship Tour final – its Super Crown World Championship – will take place from 13–14 November in Jacksonville, Florida.
How to watch SLS Championship Tour
The SLS Championship Tour stop in Salt Lake City will be streamed live in a number of countries on the SLS YouTube page.
In other territories, local rights-holding broadcasters will show either live coverage or highlights of the action.
Japan's Horigome Yuto made Olympic history by winning the first ever gold medal in skateboarding, his victory coming in the skateboarding men's street final.
The 22-year-old grew up just a few miles away from the Ariake Urban Sports Park and honed his skills there after being introduced to the sport by his father. He shared the podium with Kelvin Hoefler (BRA) and Jagger Eaton (USA).