Sara Groenewegen: The field of dreams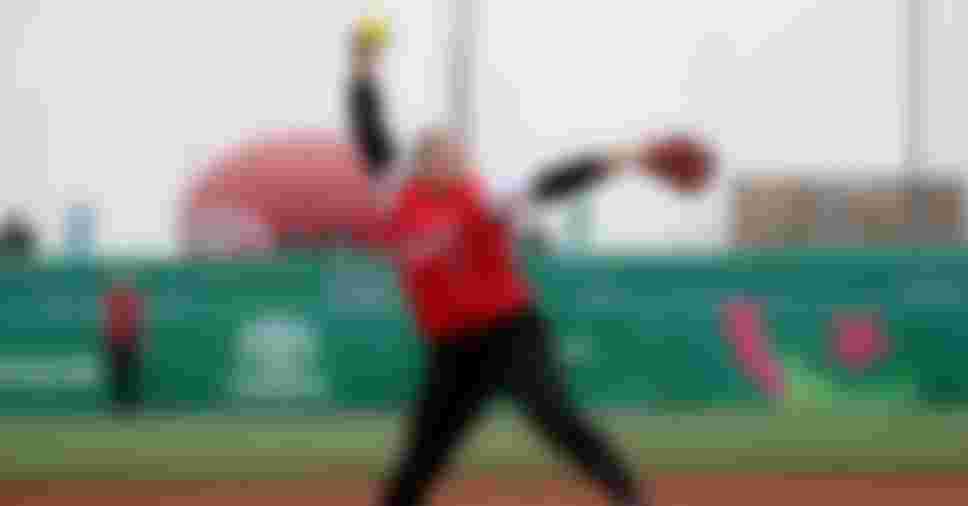 Having survived a battle with Legionnaires disease that left her in a coma for 10 days, Team Canada's softball star Sara Groenewegen is aiming for gold at the Olympics. In an exclusive interview in January 2021, Groenewegen spoke to Tokyo 2020 about her life and hopes for the upcoming Games. 
Softball City is located in South Surrey Athletic Park in the province of British Columbia, Canada. It houses four diamonds, on which the best softball nations of the world have battled for supremacy - with the pinnacle being the 2016 Women's Softball World Championship.
Only a seven-minute drive from where she grew up in White Rock, the state-of-the-art softball complex is like a second home for Team Canada's star pitcher Sara Groenewegen.
It is a field of dreams that has played host to her greatest sporting triumphs, but also the very hardest moment of her life.
Against the odds
It's fair to say that Groenewegen has always known what it's like to beat the odds. At the age of nine she was diagnosed with type 1 diabetes, a chronic condition that has been a daily challenge for the Canadian athlete.
But she stubbornly refused to let her diagnosis stop her from succeeding in the sport she loves. As she explained to Tokyo 2020 in an exclusive interview: "I may want it to go away but it's not. So how can I be better with it?"
As her talent as a softball player began to burgeon, Groenewegen had the opportunity to apply for college in the United States. In typical style, she decided not to tell the recruiters about her diabetes, preferring to be judged on her talent alone.
"It's something that I didn't want to be seen as less than," she explained. "I didn't want it to be a distraction for anybody, so I kind of slipped it under the rug. But now I want to be more open about it."
The rise to glory
Over the following years, Groenewegen was anything but "less than", becoming a mainstay on the Canadian team and a feared pitcher on the international stage.
In 2016, a year after winning a Pan American Games gold medal in Toronto that she describes as "the most special experience I've had", Groenewegen was back on home soil for the WBSC Women's Softball World Championship.
The scene was once again Softball City, the local stadium where Canada's pitcher had taken her first forays into the game. In front of a home crowd that included her friends and family, Canada won the bronze medal.
It was a historic medal for a team that were undoubtedly in the ascendency.
"We played on the field which I grew up playing on," she recalled. "To be a part of history with my team on that field means a lot and it's something I can't really describe."
I grew up playing on the Olympic team without knowing it was going to be in the Olympics.
Then in 2016, in a moment that affected Groenewegen profoundly, softball was announced on the programme for the Tokyo 2020 Olympic Games.
"I grew up playing on the Olympic team without knowing it was going to be in the Olympics," she explained. "And so when you finally get the chance to play on the highest stage, on the highest level, it was really a special moment. It made all the sacrifices I've made worth it."
It seemed nothing could stop Groenewegen's rise to glory, but just two years later the star pitcher was in a fight for her life.
Laid low on the field of dreams
A week before the World Championship, Groenewegen was back on home soil at Softball City, playing in the annual Canada Cup. Earlier that week, her insulin pump had broken and so when she saw her blood sugar levels were high, she assumed that was the reason.
"I got a little bit sick in LA but then we went back to Surrey. It was just the perfect storm of so many different variables," she remembered. "My blood sugars had been super spikey because my insulin pump had broken that week."
But when the pain became too much to bear, Groenewegen and her coach decided that she needed to go to the hospital.
"My back started hurting really badly and I had a fever of 40 degrees celsius," she explained. "We ended up going to hospital and I remember checking in and getting my wristband and then just curling up in a ball because I was in pain. And that's kind of the last vivid memory I have."
Me being stubborn and being an athlete is what saved my life.

Because being an athlete you know when things are wrong.
The first diagnosis from the doctors was a bladder infection and they recommended that Groenewegen go home to recuperate.
But Groenewegen, who as an athlete is used to making judgements on her own physical state, refused to accept the diagnosis. It is because of this stubborn determination that she is still alive to tell the story today.
"When they said they want to send me home, I said 'no, I'm staying here.' Me being stubborn is what saved my life, and me being an athlete is what saved my life. Because being an athlete you know when things are wrong, you know when you're hurt and when it's surface level.
"If I did go home, I can sit here and say that I wouldn't have made it because I was so sick."
The 3%
Everything from that moment onwards is a blur to Groenewegen.
After a rapid decline that saw her heart stop pumping blood to her lungs, she was placed on an ECMO machine. As a tube "the size of a garden hose" was passed through her body, her family began to realise the gravity of the situation.
But still the medical personnel had no idea what was wrong. Doctors gave her just a 3% chance of survival, telling her family: "We don't know what's going on. I would say your goodbyes because we can't fix what we don't know is broken."
Looking back, Groenewegen can only imagine how painful that news must have been to hear.
"That night I don't remember, but I'm sure it haunts my family," she explained.
What followed were 10 days spent in an induced coma as doctors struggled to understand what was wrong with her. Finally - and fortuitously - she was transferred to another hospital where one of the doctors was a lung specialist. He realised immediately what was wrong.
Sara Groenewegen had contracted Legionnaires disease, a bacterially transmitted form of pneumonia that is potentially fatal.
"If I didn't get transferred to that hospital things wouldn't have turned out this way," she said.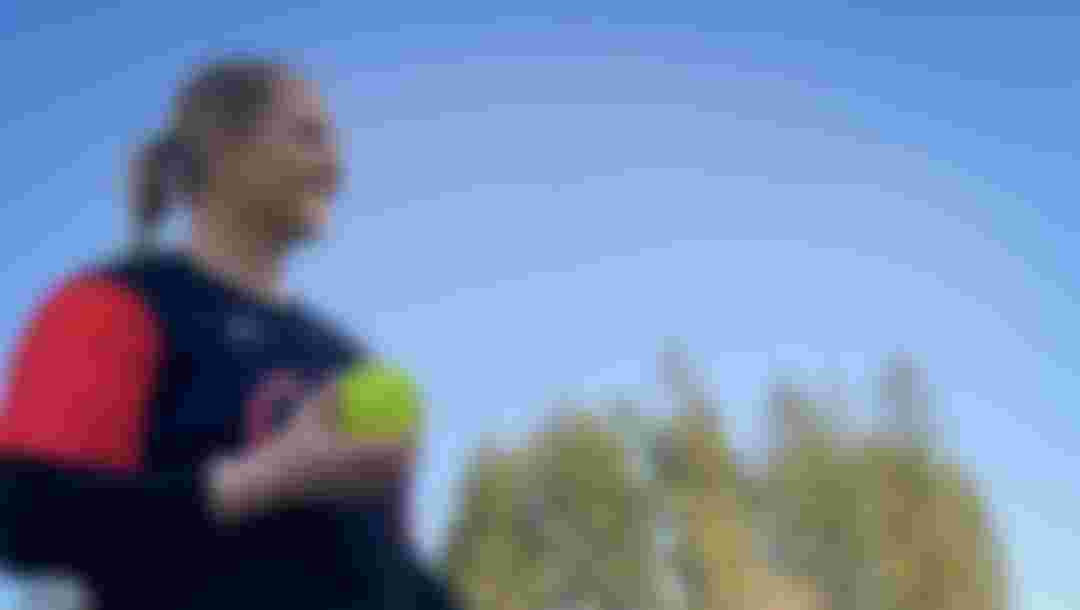 Returning to the field of dreams
There are comebacks. And then there are comebacks.
10 days after being placed in a coma, Sara Groenewegen opened her eyes. One of the first people she saw was her dad. It was an incredible moment of relief - but not for the reasons you might imagine.
"Probably the biggest thing that happened was that in my hallucinations I thought my dad had passed away. So when I saw him for the first time, I was like 'Oh my god. Hey Dad, how good to see you!' Because I thought he was the one drifting away, but it was probably me."
After a short stay, Groenewegen was sent home with strict instructions to rest in bed. But the softball star had other ideas.
"When you tell me I can't do something, I'm like, "Nah, I'm gonna do it," said Groenewegen, laughing.
Just a month and a half later, she was back in training. But that was just the beginning of her comeback. There was still the small matter of Olympic qualification to secure.
Once again, her date with destiny took place in Softball City.
"Again it was on that field - the same field we had the 2016 world championship and the field that I was playing on when I got sick, we had the chance to qualify for the Olympic Games."
After a win against Brazil, Groenewegen and Canada booked their spot at Tokyo 2020. The cycle was complete and the hometown hero was on her way to the Olympics.
"It was a full-circle moment when we qualified. It was a huge team effort and I'm just super grateful for that."
From 2020 to Tokyo 2020
2020 should have been the year that Sara Groenewegen stepped onto the Olympic stage to fulfill a lifelong dream. But this was anything but a normal year.
Instead of boarding a plane to Tokyo, the Canadian athlete - along with the rest of the world - had to deal with the disruption caused by the COVID-19 pandemic. It led to her forgoing an opportunity to play in the USA to safeguard her own health.
"I think everyone always has their eyes on the U.S. but, for me, that decision was made 100% based on my safety and my health," she said.
Now, with the Tokyo 2020 Olympics on the horizon, Groenewegen has the chance to make a name for herself on a different field.
Exactly 7,603 kilometres away from Softball City in the Yokohama Baseball Stadium, Japan is gearing up for the first Olympic softball competition in 13 years. And Groenewegen is filled with hope and excitement about the prospect of playing at Tokyo 2020.
"There's nothing but gold on our mind," she said. "We have pretty high expectations of ourselves but that's because we've put in so much work and we know what we're capable of."
It will mark a remarkable turnaround for an athlete who beat the odds and can now contemplate claiming the greatest sporting prize on Olympic softball's very own field of dreams.