Q&A: Rhythmic gymnast Margarita Mamun talks becoming an Olympic champion, the Averina twins and Simone Biles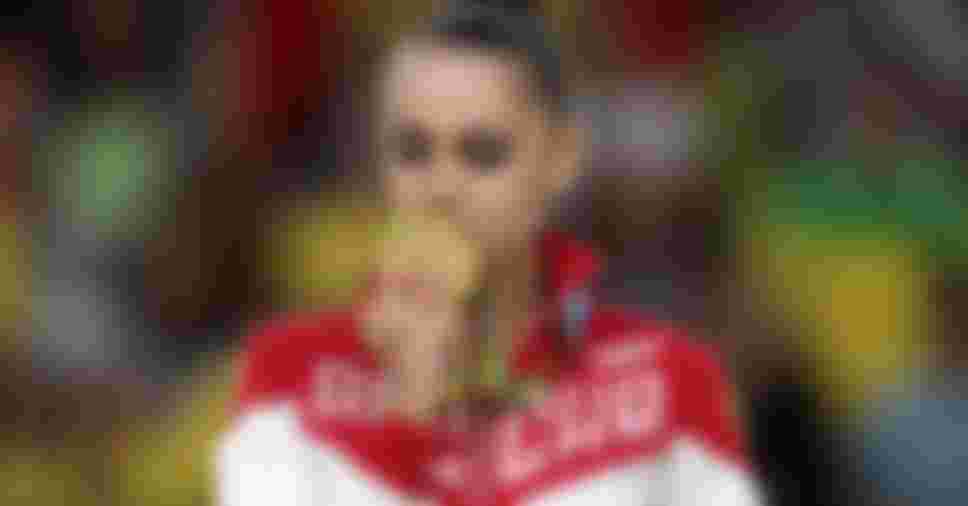 At Rio 2016, Margarita Mamun won gold in the all-around individual final. Now retired, she's in Tokyo to show support for the Averina twins competing for ROC in rhythmic gymnastics. 
Rhythmic Gymnast Margarita Mamun spent five years representing Russia on the international stage.
In 2016, at the Rio Olympics, she made an impressive comeback against Yana Kudryavtseva to win gold in the individual all-around final.
After retiring in 2017, she's now showing her support to the up and coming ROC stars competing in rhythmic gymnastics at Tokyo 2020.
Here, Olympics.com talks with Mamun about becoming an Olympic champion, dealing with pressure, the Averina twins, and Simone Biles' withdrawal from artistic gymnastics.
The 2016 All-around champion in rhythmic gymnastics shares why she believes ROC will win gold and silver at the Tokyo 2020 Games. Seven-time world champ Margarita Mamun believes the 'complexity' of the Averina twins' elements will see them dominate the Olympic events, but what does she believe are the differences between Dina and Arina, and hear her thoughts on fellow Rio champ Simone Biles in this exclusive interview.
Olympics.com: Rita, can you tell us what this Olympics will be like for you, when there is no pressure to compete, and you don't have to fight for gold anymore?
Margarita Mamun: "Actually me and my husband Alexander caught ourselves thinking that we miss the Olympics, and that it's very strange that these Olympic Games are taking place without us. My husband had three cycles of Olympic games - Beijing, London, and Rio. I have Rio, and since Tokyo is the next after Rio Olympics... for me, it's certainly very strange that they happen without me. It's the first games where I will be an Olympic champion, a mum, and for me it's quite strange. Why do the games take place without me as an athlete? I'm very happy to go there anyway, to dip into this atmosphere, maybe from a different angle. What we miss is exactly the emotions - this Olympic spirit, all the sensations when you take the medal and stand on a pedestal. Of course, this is one of the most vivid emotions in your life."
After Rio, you also went to cover the PyeongChang 2018 Games as a presenter, and there you met Alina Zagitova, who you were often compared to, how did that go?
"I was compared to Alina even before this interview and I was interested in getting to know her. It was great, but if you compare Alina at that point and now - she was still a baby back then. It was a very pleasant and very cool experience.
I watched Alina's and Zhenya [Evgenia] Medvedeva's win from the side, right there on the rink, there were still spectators, and that's when I realised how big is the scale around the Olympics. That's when I realised how honourable it is to be an Olympic champion because I saw all this victory as a spectator. I was so worried about it and I got to appreciate it from the sidelines. And that's when I knew how great it was that I was an Olympic champion. I was told that I would realize this over the years, but it was by visiting that event and cheering for the girls that gave me my own rebirth. This was the stage of realizing that I won."
What motivated you the most to win that gold medal in Rio?
"I knew there was only one chance, one opportunity to perform well, not to let anyone down. Especially myself and my team of coaches. I've made mistakes and had losses in my sporting career. I knew how difficult it was and how difficult it is to deal with it. It hurts. And I didn't want to repeat such things, especially during the Olympics.
My coach, Amina Zaripova, performed in Atlanta in 1996 and she then finished fourth, and when we were training, there was a week left before my performance at the games. I was very upset and Amina told me: 'Rita, when I performed and finished fourth, for me it was the end, that's it, and I remember that day as the worst one in my life. But I want you to remember this day as the best day of your life. So you have to stand up now and make it so good that you don't have to regret anything.' I will remember these words always. But I'm happy because I remember that day as one of the best days of my life and it's all thanks not only to my performance but also because of the team that did the main work."
You said that every day before Rio, you felt the pressure. How did you deal with it?
"I remember my most nervous competition, it was in Stuttgart, 2015 pre-Olympic World Championships. This was more nervewrecking than the Olympic Games themselves. That is to say, the nerves started and pre-Olympic excitement has already started well before the beginning 2016. I think it became clear that I have pre-Olympic excitement during that World Champs in Stuttgart. It didn't work out for me there at all, I was one centimeter away from not making it to personal all-around final. I was competing against Alexandra Soldatova at the time and I was very worried. But I want to note all the support from fans. This, too, gave me a lot of motivation, hundreds of emails that I received. They certainly helped a lot."
For Olympic Day 2020, we invited YOU to #StayActive with top-class athletes in live workouts around the globe. Enjoy the best of an action-packed day with appearances from some of the biggest hitters in the world of sport.
We recently spoke to Svetlana Romashina, who told us: there are two sports for ROC - artistic swimming and rhythmic gymnastics, where everyone says: 'Our girls will be able to deliver as always.' And she said that sometimes it almost feels like the victory and the gold medal are being diminished by that, do you feel the same way?
"I'll even point out that when I've had failures, there was an immediate interest. At the first World Champs in Kiev, I was then a three-time world champion, but I was the fifth in the all-around competition. And when I came to the interview, they said: 'well let's talk about losing, about the fifth place.' I said: 'How about talking about my 3 world championship titles?' It was very hurtful.
We expect that the artistic swimmers and rhythmic gymnasts will take gold. It's no surprise. But the Olympic Games, Sasha (her husband) always told me - it's a different kind of competition and there are very different things going on there. Miracles happen because not everyone can deal with the moral component, with the psychological component. There are such surprises where the leader can be one person but the other ones wins.
This was the case with Alina Kabaeva in Athens, where she went as a leader but Yulia Barsukova won. This was the case with Evgeniya Kanaeva in Beijing, where the leader was Olga Kapranova, but Evgeniya won. That was our case in Rio and that's absolutely unpredictable. And that's why it's more interesting. It's clear that gold stayed with us anyway. The leaders changed. But I think Olympic gold can't be outshined by anything else."
Do you keep in touch with Yana Kudryavtseva? The two of you have become such an example of what a rivalry should be after Rio...
"Yeah, we're lucky in that regard... I think the reason is our characters. Now we speak a lot less, not as before, because before we lived together and trained together, went to the competition together. Right now, everyone has got their own family and of course we don't communicate as closely as we used to, but we're always happy to see each other."
You mentioned earlier Alexandra Soldatova, how are things with her?
"You see, when everyone has their own family - only the closest friends remain, people who can be counted with your fingers. Sasha is just beginning her adult life, because she's just finished with the sport. When you come out of that glass dome, when you get out of rhythmic gymnastics, you just start living, understanding how life and the world really are. So we see each other sometimes and write between each other, but unfortunately we're not so close. Everyone has their own lives."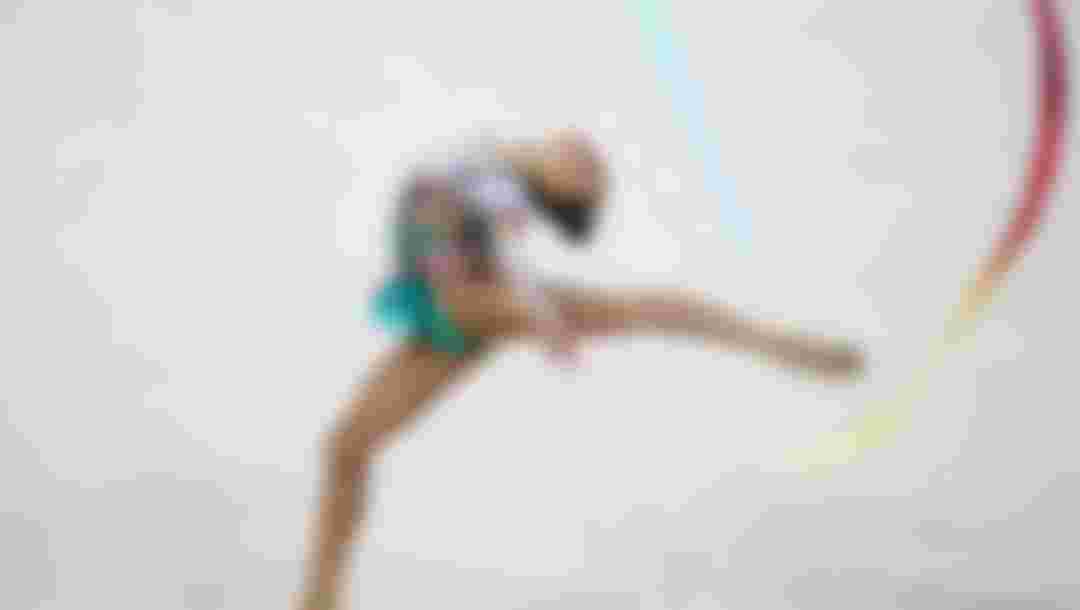 2017 Bongarts/Getty Images
How do you think you would feel this time watching the Averina twins compete?
"When girls perform, I feel like I'm going to be very nervous. When I was in Rio, I was cheering for Sasha (her husband), I didn't know what to do with myself. He felt the same for me. But I watched it on TV because we were training and prepared for the performance, he watched it in the stands. And it's very difficult. He said it was easier to go perform than watching you and knowing you can't help with anything.
I understand that in Tokyo, it will be very difficult for me to watch the girls and I will be very worried. But I hope my presence there gives a little bit of confidence and peace of mind to them. At least someone from the audience will be near them, cheering for them from the stands, only if I am allowed to. Because all of it is very supportive, of course. When I performed myself, I remember hearing: 'Stop. Hold on. Keep it till the end.' On one hand, it will be easier for girls that there will be no pressure on the podium, but there will be no help on the other hand either. But in any case, everyone will perform within the same conditions. So we'll just have to cheer and worry."
Let's talk about Dina and Arina [Averina]. What makes them so special, and why are they among the best rhythmic gymnasts in the world?
"Everything worked out so well for them. Now the assesment is open, there are no cards, the gymnasts are not limited. These rules are especially for them. I think I find it hard to imagine for me and Yana (Kudryavtseva), but Dina and Arina fit in these rules harmoniously. They know how to work with these rules. They constantly increase the complexity of their exercises, withstand the incredible tempo. It's amazing, too. Sometimes it's easier to increase the speed for gymnasts who are not so tall. Dina and Arina are the same height as me, but they have such a body type where they can perform sharp elements, fast risks, most importantly - they can do complex elements. Their complexity is what makes them stand out."
Can you talk about Dina and Arina seperately and explain how they are different, in what ways?
"In fact, they are really different. Dina is.... it's difficult to pick the right words. I've been asked this before, but she's more determined, possibly angrier in terms of sporting nature. And Arina seems softer to me. She's the same strong and stubborn. But she is... I would even say her facial features are somewhat softer, but the way in which she expresses herself in her programs is too. Each one of them has their own set of elements. I just went to the Challenge Cup in Moscow, which was at the beginning of July. I noticed that Dina started to have a 'turn in lateral'. It's been a long time since somebody did it. Arisha (Arina) kept her signature puff turn, with many spins. This is going to be interesting, it will be an interesting struggle because Arisha won the European Championships and in gymnastics the pre-Olympic European Championship means a lot. So it's very interesting to see how it will be. I think Dina and Arina will go back to back. Also Linoy Ashram is there, ready to step in. So this is the whole point - we won't know how it will turn out until the very last moment."
So the struggle will be real with all that competition...?
"Dina and Arina will be required to do their programs without any mistakes. This is what their fight is all about, but of course, the competition is very high - Linoy Ashram, Boryana Kaleyn. She was also on the podium at the pre-Olympic Europe champs, so the competition is very intense, also in the group exercise. You look at the grades and get surprised - with every competition they get higher and higher, the difficulty is bigger too. So I don't know.
In the group exercise there will be Nastya Bliznyuk, it will be her third Olympic Games. For Anastasia Maksimova and Anastasia Tatareva it would be their second Olympic Games. When I asked the girls, for example we talked with Nastya Bliznyuk, she said it was less scary to go to her first Olympics. In Rio it was much scarier than the first ones. You already know what to expect, what a stir around they make, what kind of pressure it is, the whole level of responsibility. This psychological responsibility is more and more straining."
What is the main advice you would give Dina and Arina before they compete?
"I said it to them before - the main thing is to keep your Olympics calm. That's the most important. It's all worked out and done, a lot of work was done by the team. The main thing is just doing it. But it can only happen with this very cold, сold-blooded calmness."
What do you think of recent Simone Biles' withdrawal from the team event? Do you think there should be more emphasis on the athletes' mental health?
"I was following. It was such a powerful act from her - to withdraw. She really thought about her team and it's great. I understand Simone. Psychological and mental health is not being taken seriously. People don't understand that you have to treat it like a physical component. Simone had a lot of pressure, a lot of attention. This often happens, even if we take a very recent example of Naomi Osaka - it's the same thing. It's a big pressure that not everyone can handle. Especially such pressure that the stars to the world's sports go through and I understand them very much. I don't understand people who say: 'it's whatever, it's not serious it's all.' All sorts of different comments are out there. I understand that there are people with psychological traumas, there are all kinds of diseases or not diseases, just the difficulties that you have to deal with not alone. Even foreign singers and actors, there were many examples of those. In America, Simone is a big star and of course, this needs all the attention and it's a pity, of course - we would have liked to look at her gymnastics because she's really the strongest in the world. But the most important thing is health."
After claiming her seventh Olympic medal, Biles spoke of how she wasn't expecting to make the podium, and that it "meant the world" to have one more opportunity to compete at the Olympic Games.