Maïva Hamadouche: 'I want to become the first professional world champion to win Olympic gold'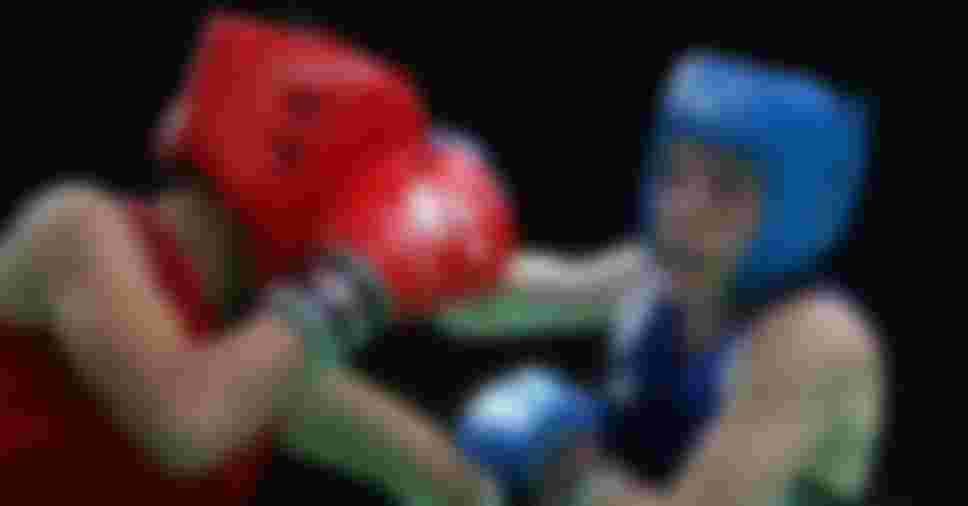 French boxer Maïva Hamadouche wants to become the first athlete to hold a professional world championship belt and an Olympic gold medal. The challenge will be difficult, as the two boxing styles are very different. 
Her goal is unprecedented.
"I want to become the first reigning professional world champion to win Olympic gold," said the French boxer in an exclusive interview with Tokyo 2020.
"If I continue to work as I am, I can't see any girl who could stop me. Of course, there is a lot of adversity and it's true anything can happen in nine minutes. But I can't see who could beat me."
An unprecedented goal for an unprecedented Games. What better place to write history?
"I'm taking risks and moving forward"
The first lines of this story were written in spring 2019. Hamadouche had already made five defences of her IBF junior lightweight title (one of four international boxing federations) having won the belt in 2016.
That same year, the International Association of Amateur Boxing (AIBA) allowed professional boxers to compete in the Olympic Games, where different rules are applied.
At Rio 2016, three male boxers attempted to achieve the goal Hamadouche has set for herself, but each of them failed. So you can imagine the challenge that faced Hamadouche when the French Boxing Federation approached her with a proposal that she rejoin the team to attempt to win Olympic gold. The will was there, but there was plenty of things for her to consider.
"I needed to prove that I was in the French team legitimately, and that wasn't so easy," she admitted. "I asked myself a lot of questions. If I return to the amateurs, I would be watched and waited for. I can't come back and get destroyed in the first fight."
"It's a dangerous path but at the same time it's an opportunity. If we want to move forward, we need to take risks. That's what I do and I'm moving forward."
Boxing on two fronts
Even though professional and amateur boxing look similar, they are in fact very different to one another.
"It's like comparing 200m and 800m races in athletics," explains El Veneno, as she is nicknamed.
In Olympic Boxing, fights last for three rounds of three minutes for both men and women. Professional bouts can last up to 10 rounds of two minutes for women, and 12 rounds of three minutes for men.
"In the Olympics, there isn't so much strategy. You need to keep a high pace and you can't push on your feet so much when you hit. It's different to professional boxing, where we have 10 rounds and everything is about efficiency and tiring your opponent," she explained.
As a result of this, Hamadouche changed her training drastically while continuing with her professional career. She juggles both types of preparation, and specifies that she needs "two big weeks of adaptation before fighting as an amateur or a pro".
My coach doesn't just expect me to qualify.

He expects me to win the qualifier in order to make my mark in people's minds.
Amateur European silver
Hamadouche's journey to the Olympics began in 2019 and a couple of months later she was fighting in the Amateur European Boxing Championships. It was a tough tournament where some of the world's best boxers competed, including Finland's Mira Potkonen, who won bronze in the lightweight at Rio 2016.
Even though Hamadouche was convinced about her own skills, it didn't mean her comeback was without pressure.
"I had a lot of pressure in my first fight. I've been world champion for six fights, what if I lose my first fight? It would put my status as champion in doubt," she explained. "I sweated a lot during that first fight!"
After only three weeks of preparation, she reached the final where she lost on points to Potkonen. But the silver medal did legitimise her place on the French team: "Thanks to my medal, I got my place on the team."
The next step will be the European Olympic Qualifier in 2021, where she will aim to book her ticket to Tokyo 2020. However the pressure is on to not only qualify, but deliver a performance that will leave people talking.
"Anthony Veniant, who trains the female boxers in the French team, doesn't just expect me to qualify. He expects me to win the qualifier in order to make my mark in people's minds. He wants me to become the next Olympic champion."
A goldsmith's mission
In order to reach this level, Hamadouche has been working hard to assimilate the skills and rhythm required to succeed in amateur boxing.
"At first it was complicated. Sometimes I thought it wasn't possible."
But over time, she has proven that she is able to do so. Today, she feels comfortable with both styles of boxing and has found that amateur boxing even has some benefits in the professional world.
"I worked very hard for a year... and now I'm finding the balance. My boxing skills are becoming very interesting in both disciplines and I'm starting to take advantage of the mixture."
"In amateur boxing, we learn a lot of the technical aspects. It's a work of precision, detail. It's like a goldsmith: a small shift of the foot, a precise punch with a coin-size target, timely execution... Olympic Boxing teaches me a lot about that side of things."
With a professional boxing record that is already stunning, Olympic gold at Tokyo 2020 would represent an incredible achievement for Hamadouche as well as a revolution for the sport of boxing. An unprecedented reward for a versatile champion who recently accepted a position as the Olympic goldsmith.