Jasmine Camacho-Quinn wins 100m hurdles gold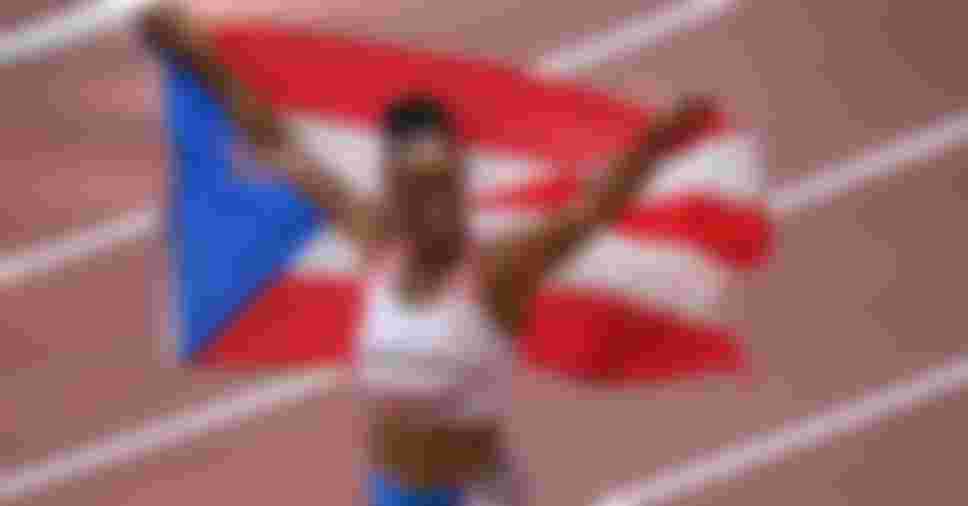 Jasmine Camacho-Quinn beats world record holder Kendra Harrison in thrilling women's 100m hurdles final to become second Puerto Rican to win an Olympic medal
Jasmine Camacho-Quinn sped to the women's 100 hurdles title in Tokyo and became the second Puerto Rican to ever win gold medal.
The 24-year-old clocked a time of 12.37 seconds at Tokyo's Olympic Stadium, followed home by the USA's Kendra Harrison.
In a tight finish for the silver medal, the world No. 2 crossed the line in 12.52, just 0.03 ahead of Jamaica's Megan Tapper, who took home the bronze.
Camacho-Quinn did not improve on the Olympic record of 12.26 she set in the semi-finals, but she did win the first athletics gold in Puerto Rico's history and the country's second-ever medal. Tennis player Monica Puig won Puerto Rico's first gold medal in 2016.
The medal was a kind of absolution for Camacho-Quinn, whose first Olympic experience was a heart-breaking one – she was disqualified in 2016. 
In Rio, the Puerto Rican sprinter was among the leaders in her semi-final, until she clipped the eighth hurdle. 
Unable to maintain her form and composure, Camacho-Quinn knocked down the ninth before stumbling and falling to the track.
Her journey to get to the Olympic Games in Tokyo has had "its up and downs" and has "been a roller-coaster".  
In her words, "everything happens for a reason".
"I was really running for the world record," explains the Puerto Rican recalling the race. "I hit the hurdle, but everything happens for a reason.
"I came through with the gold. My first gold medal." 
"I think honestly all of us, we all should be rewarded for this. We made it," she added.
In 2016, Harrison also had a year to remember - the American runner set a world record of 12.20 in the 100m hurdles, but she failed to qualify for the Olympics in Rio due to finishing fourth in the US trials.
"I missed out in 2016 so to come here and get a medal for my country, I couldn't be happier," said Harrison.
"It feels great. You put so much work into this and you train so hard. To come out here and capture it, I couldn't be happier."
"One of my downfalls is when I come up against the stronger athletes and I knew it would be a tough race with Jasmine (Camacho-Quinn)," she added, "but I couldn't be happier."