Habiba Marzouk: Gymnasts are unstoppable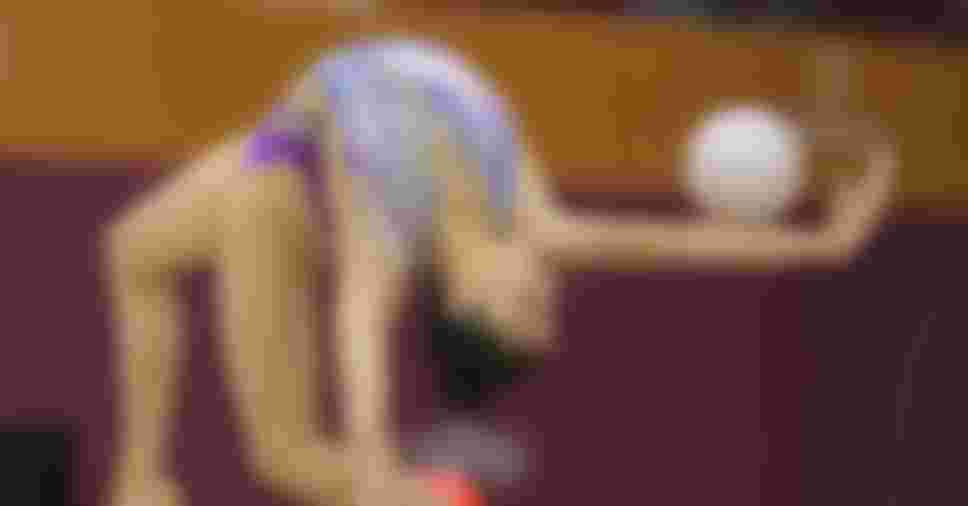 The rhythmic gymnast is out to change perceptions at Tokyo 2020 after becoming the first Egyptian in eight years to qualify for the Individual all-around competition at the Olympic Games.
It was one year ago (13 March) that teenage sensation Habiba Marzouk qualified for the Olympic Games Tokyo 2020 after winning the individual all-around competition at the 15th African Rhythmic Gymnastics Championships.
On top of that, the then 17-year-old made a clean sweep of the competition with Egypt winning six of six gold medals (team, all-around, ball, hoop, ribbon, clubs) in front of a home crowd in Sharm El Sheikh.
Speaking with Tokyo 2020, the now 18-year-old noted that it was the best achievement of her career.
"The feeling that years of hard work is finally paying off is indescribable. I've worked so hard the past few years to qualify and gained a lot of experience through the process and this led me to where I am today," Marzouk said.
"I still can't believe till this moment that I will officially be an Olympic gymnast in less than six months!"
Egypt has been on the rise in the world of gymnastics, with the President of the Egyptian Gymnastics Federation Dr. Ihab Amin revealing that the Federations Board of Directors hope to send 10 gymnasts – rhythmic and artistic – to this year's Olympiad. So far Marzouk along with artistic gymnast Nancy Mohamed and Egypt's rhythmic team have secured their tickets to the Japanese capital with the latter creating history by doing so.
It's become a goal of the Cairo-based athlete to prove that a gymnast from the continent is there to compete against the top-ranked nations.
"They believe that our goal is just to participate in big tournaments and make an appearance, but I want to change this," said the top-ranking African gymnast at the 2019 World Championships.
"I want my scores to appear on the scoreboard next to the world's top gymnasts and hear people saying that we came to compete and not just to participate. That's my main goal!"
A life revolving around gymnastics
It's all coming to a pinnacle for Marzouk.
And while it originally started as a hobby when she was three-years old, it wasn't long until her life started to revolve around rhythmic gymnastics.
For Marzouk, rhythmic gymnastics, which she describes being more of an art at times than a sport, has not only given her so many things, from binding friendships to incredible memories, but also allowed her to express her emotions all while telling a story during her performance.
"My favorite thing about it is that it allows me to show my emotions in a beautiful way that people could enjoy. It gives you the chance to perform and send a message to the audience and compete and fight for a spot at the same time," she explained.
"I've made friends anyone could wish for; I've travelled to countries that I would never think of visiting alone and made memories that would last a lifetime. I made an amazing relationship with my coach who is now my ultimate best friend.
"And above all, I became a better person because of this sport. It has always made me feel different and unique and for that I owe it everything."
However, while growing up she had always watched the Olympic Games Opening Ceremony with her family, she had never imagined herself being there until her first international medal which came during the the 2016 Zhuldyz Cup in Astana, Kazakhstan.
Her medal count has also grown with two bronze medals (ribbon and clubs) at the Rhythmic Gymnastics FIG Luxembourg Cup 2018 as well as a silver (ball) and two bronze (hoop and clubs) at the 2019 Christmas Cup in Zagreb. She also has two Rhythmic Gymnastics World Championships under her belt, finishing 59th (2018) and 58th (2019) respectively.
"I felt that it wasn't that far and that if I put it as a goal in my mind, I can fight for it and achieve it one day and thankfully after hours and hours of hard training I get to proudly represent my country and continent."
Tokyo 2020 on the horizon
It was just 11 days after securing her Olympic qualification, becoming the first Egyptian rhythmic gymnast since Yasmine Rostom at London 2012, that Tokyo 2020 was postponed.
During the first four months of the pandemic, Marzouk was unable to enter the gym, switching to online training, which admittedly wasn't an easy transition.
"It was hard and definitely not with the same intensity of the normal training, but we managed to stay fit and in shape," she said then adding, "Of course when we returned to the gym our performance level was down, but online training made it easier for our bodies to get back in shape quickly."
Now with the Olympic Games in sight, the level of training has increased as well as the intensity, with Marzouk currently training twice a day, six days a week.
While it can be a bit tough at times, there is no stopping the teenager from reaching her full potential.
"As they say: 'no pain, no gain' and we will keep on fighting and doing our best to prove ourselves," she commented.
When the Tokyo 2020 Olympic Rhythmic Gymnastics competition takes place at Ariake Gymnastics Centre, nestled in Tokyo's bay district, the competition is set to be fierce.
One of the highlights of the all-around individual competition is the story behind each gymnast's routine, from their song selection to the use of the apparatus and how each move is executed and connected together throughout the performance.
It's truly a unique part of rhythmic gymnastics. So, when asked by Tokyo 2020 for insight into her routine, Marzouk was able to give a little hint to those watching the competition of what they should expect.
"Every one of my routines have a different style and sends a different message especially the lyrics of my music for ball and ribbon [which] this year emphasises on how this sport has changed my personality for the better and made me strong enough to face any challenge," she said.
"Gymnasts are basically unstoppable," Marzouk hinted.
Beyond of the Olympic Games
After graduating from high school last year, the 18-year-old will start her first year of medical school in 2021.
And with her life revolving around rhythmic gymnastics since she can remember, it might not come as a surprise to where her future endeavours lie.
"I hope one day to have a master's degree in sports medicine [because] the biggest challenge that has faced me throughout my career and still is, is injuries," Marzouk explained. "The pain makes us athletes sometimes feel weak and powerless.
"My goal is to open a sports facility one day where athletes can recover find the mental and physical support they need."
With excitement building in Egypt after recent successes at international competitions in the lead-up to this year's Olympic Games, Tokyo 2020 will be a time for the northwestern African nation to show they're an unstoppable force in the world of rhythmic gymnastics.
You can watch Habiba Marzouk represent Egypt on the world's biggest sporting stage when the rhythmic gymnastics competition takes place between 6-8 August 2021.