Happy Valentine's Day: French Olympians Elodie Clouvel and Valentin Belaud teach the art of adaptation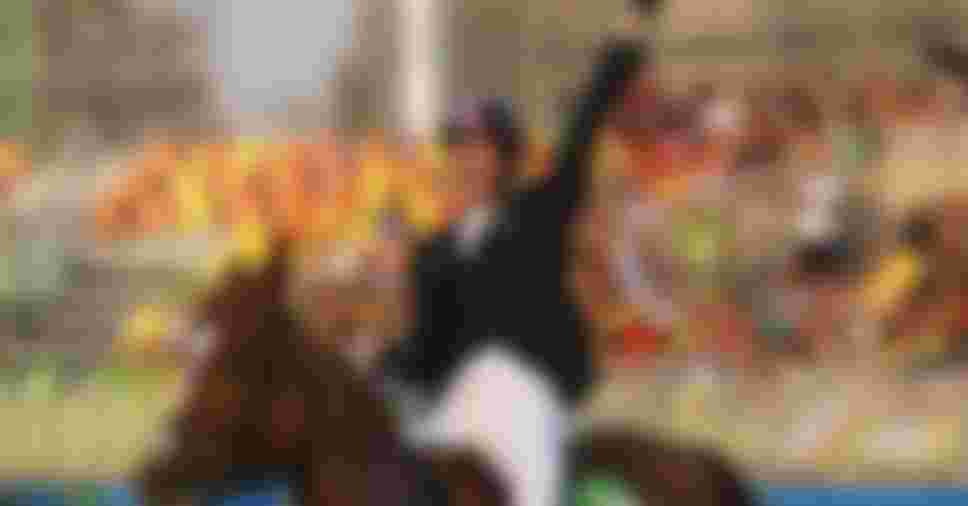 Elodie Clouvel, silver medallist at Rio 2016, and Valentin Belaud, double world champion, are the leading couple in French modern pentathlon, a sport where adaptation is key. It turns out it's quite a good skill to have in this unprecedented time.
Modern pentathlon is one of the Olympics' most fascinating disciplines. Not only because it's a combination of five sports, but because those five sports are so different from each other. Fencing (épée), swimming (200m freestyle), equestrian (horse jumping), shooting and running (combined) — you cannot have any weak points. At least if you want to be on top.
"To become Olympic Champion, you have to be excellent in every sport. In the contemporary modern pentathlon, there is no room for any weak points." Those are the words of Rio 2016 French silver medallist Elodie Clouvel. Along with her boyfriend Valentin Belaud, who became the youngest world champion ever in 2016 and regained his title in 2019, they could be Tokyo 2020's new golden couple. And that's what they aiming for. Having been together for 5 years, they are helping each other to remain among the best pentathletes in the world.
The couple agreed to talk to Tokyo 2020 about their sport, passions and life today, as they live temporarily in France's countryside during the lockdown, preparing themselves as much as they can.
Fifty shades of adaptation
When they heard the news about the lockdown in March 2020, Clouvel and Belaud immediately rented a large house in Landes, France, to continue with their preparations. Even though they couldn't swim or ride a horse, they adapted to the situation. In reality, not much changed for them as they both explained that in modern pentathlon "we constantly adapt ourselves". So they adapted.
Isolated from the COVID-19 outbreak, the French couple shared their feelings about the situation: "We acted fast as soon as we learnt about the lockdown," explains Valentin Belaud. "Our federation is supporting us and here we can train for shooting, fencing and running. But we can't swim or ride a horse."
That is quite an issue, but they have adapted to the situation. It actually does not change a lot for them as they both explained that in modern pentathlon "we constantly adapt ourselves". So they adapted.
Adaptation is key in modern pentathlon. At the Olympics, the fencing ranking round is on the first day, then all of the others sports are on the second day, including a fencing bonus round. That means that in a single day, within less than six hours, the athletes have to compete in five sports at an intense level, with each sport requiring different skills that may be technical, tactical, mental, intellectual or physical.
To reach the top level, your week has to resemble the schedule of a multi-sport training camp. But not only for one week in summer. Every single week. For Valentin and Elodie, a week is scheduled with that in mind:
Every morning: Swimming followed by fencing or shooting
Every afternoon: Running or combined running and shooting
Twice a week: Equestrian
We want to have a running, swimming and shooting session every day.
Adapt the team
To reach the summit of your sports, you need to pay attention to the details. It is something that Valentin and Elodie understand well, as besides their sport coach, they also have a psychologist to strengthen their mental capacities and a dance coach. Yes, a dance coach. They don't plan on competing in breakdance at the Paris 2024 Olympics Games (yet?), but this coach is here to make them more efficient.
"Thanks to our dance coach, we save energy on every single move and gesture," says Valentin Belaud. "Every athlete trains hard and improves a lot, but we can go further in our training by eliminating the parasitical elements."
Adapt to someone else
Something else that is specific to modern pentathlon is the fact that success does not only depend on you, as opposed to the other combined olympics sports, triathlon and decathlon.
In fencing, you have to fight against someone. And that someone is multiplied by 35. All athletes have to fight against every competitor in a "sudden death" mode. Adaptation, you say?
"Fighting against someone is totally different to the other sports" begins Rio silver medallist Elodie Clouvel, the first French pentathlete to win an Olympic medal. "In order to touch them you have to lead your opponent to a place you want them to be."
After that, you need to deal with a horse. A horse that is not yours. The pentathletes meet their mounts 20 minutes before the competition starts. Another definition of adaptation…
Adapt yourself
But one question remains. How do you wake up one morning and say "I want to do modern pentathlon?" Well, you don't wake up with this idea but it does appear to you. For Valentin Belaud, it was due to a problem with hyperactivity. As well as a somewhat practical issue:
"I tried judo, table tennis, climbing, running… but at some point, my parents wanted me to choose because it was not very practical to drive me everywhere. The problem is that I couldn't choose. I'm a hyperactive person and I needed to do so many things, so I chose modern pentathlon at the age of 8. It is such a rich discipline and I loved it. And as I could do three sports in one afternoon, my parents loved it as well!"
For Elodie Clouvel, it was a type of "pentathlon calling". First she was a top swimmer, trained by the famous French coach Philippe Lucas. As she failed to qualify for Beijing 2008 and she "always dreamt about becoming Olympic Champion", she listened to the call of the French Pentathlon Federation at the age of 19. She didn't know how to ride horse, how to wield a sword or how to hold a gun, but she trained. And she managed to win silver at the Rio 2016 Olympic Games. Did anyone mention adaptation?
The Modern Pentathlon and a "shared craziness" brought French athletes Élodie Clouvel and Valentin Belaud together for life.