Chris Thompson: Fighting off the ropes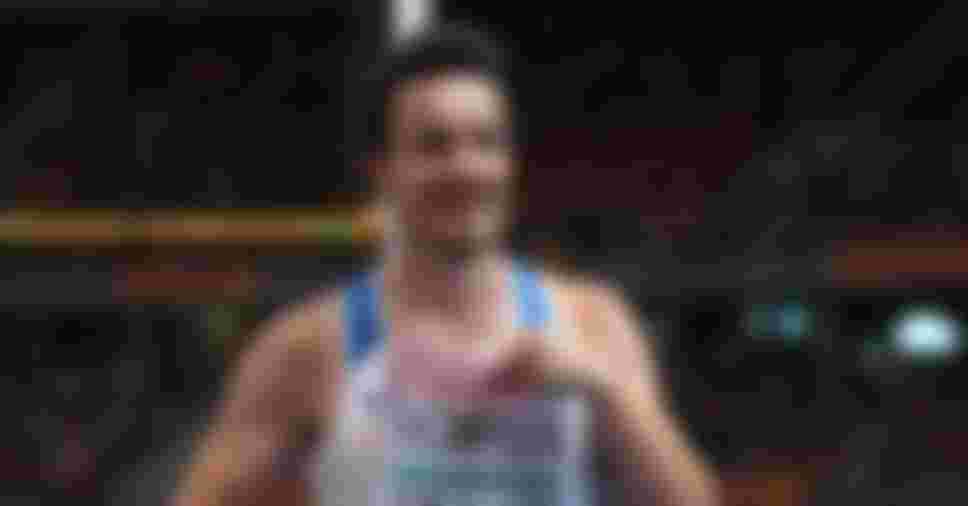 In June of this year, the British marathon trials winner spoke exclusively to Tokyo 2020 about the greatest week of his life, the birth of his first child five days before race day, and how age has taught him to fight like Tyson Fury. 
Boxing might seem like a strange starting point for an interview about marathon running. But for British marathon trials winner Chris Thompson, it's the perfect analogy for a performance that booked his ticket to the Tokyo 2020 Games.
Some boxers come out slugging right from the opening bell, throwing bruising punches to pummel their opponents into submission. Some have perfected the art of counter-punching, sneaking in short shots to catch their opponent off balance and nullify their attacks.
Others, in a similar fashion to Thompson, have learnt to bide their time. They bob, weave and play rope-a-dope, hanging in there through the pain in the hope that their greatest strengths – spirit, experience and stamina – will give them the opportunity to shine through the later rounds.
"You know, I can fight, I can swing punches with the best of them. But I won't be coming out like a Mike Tyson swinging rights for seven rounds," Thompson explained in an exclusive interview with Tokyo 2020. "I'll be a little bit more calculated, maybe a bit more like a Tyson Fury, just jabbing away to see where the land lies after seven or eight rounds."
It must have been an hour and 40 into the race when I got the first glimpse of the gap closing.

And then suddenly I had a way back into the race.
On the ropes
It's a strategy that has been born out of experience. Now one of the elder statesmen of the sport, Thompson's marathon victory caused surprise within the British marathon running community – not least because of the manner of the triumph.
With 15 km to go, he found himself lagging far behind the leading pack. Lesser runners would have given up, and there's no shame in that; the marathon is a gruelling race that searches the deepest recesses of your soul, just waiting to pounce on a weakness.
While the front-running group had the advantage of company and pacemakers – including the already-qualified Team GB athlete Callum Hawkins – Thompson was running a lonely race, with only his own strength of will to push him along.
In boxing terminology, he was on the ropes.
"I thought it was gone, I thought it was gone," he said, doubling down on his words to emphasise the surety of his memory. "I really had to find reasons to keep ploughing on, because even though I felt OK, I certainly didn't feel like that's a gap I could close down myself."
But like the wily, battle-worn boxer who bides his time, waiting for the tiniest chink in his opponent's armour, Thompson hung in there. "It must have been an hour and a half, an hour and 40 into the race when I got the first glimpse of the gap closing. And then suddenly I had a way back."
Battling back
From having what seemed like no chance of victory, Thompson began to see a glimmer of hope ahead of him.
Like Muhammed Ali counterpunching from the ropes in the Rumble in the Jungle, or Tyson Fury lifting himself from the canvas in the final round against Deontay Wilder, the 2010 European Athletics Championships silver medallist was back.
"The last 25 minutes of that race, I was a mental machine. I felt like superman in my mindset because everything had flipped and I felt so empowered by everything," Thompson recalled. "And that's a marathon for you, because you're going to have down points, you're going to be out, and you're going to have high points.
"And I had the high points at exactly the right moment."
As Thompson ran through the finishing tape first in a time of 2:10:52 – a personal best that met the Olympic qualifying standard of 2:11:30 – he couldn't contain his emotions. He had booked a ticket to the Tokyo 2020 Olympic Games in the most unlikely of fashions.
But that wasn't even the most impressive aspect of the victory.
The greatest week of his life
Preparation is one of the essential aspects of running a good marathon. It spans months of your life, not days and weeks. When Great Britain's Paula Radcliffe broke the women's marathon world record in 2003, she was training up to 320km per week. Men's world record holder, Eliud Kipchoge of Kenya runs between 200 and 230km every seven days.
However, running is only part of the story. Good nutrition can make or break a marathon attempt and, as many athletes testify, rest is as important as anything to a runner's performance.
This is what makes Thompson's victory even more impressive.
When she watched me come back, she was just in complete shock.
Just four days before the Olympic marathon trials were due to begin, Thomson's wife Jemma Simpson, a fellow Olympian who competed at Beijing 2008, gave birth to the couple's first child, Theo. And it's safe to say, having a baby is not conducive to getting a lot of sleep.
"I think that's part of the reason why I was so shell shocked," explained Thompson. "Because the last thing you'd think about doing at that point is a marathon!"
Simpson, watching from home, saw her husband fall behind in the race and thought to herself, "that's it" – a completely justifiable reaction, considering the week the couple had just been through. But as Thompson dragged himself from the canvas, drawing upon memories and experience to pull himself to the front of the race, the reaction back home turned to shock.
"She was as flabbergasted as me. As she watched me drop off [from the leading pack] in her mind she thought, 'well, that was probably going to happen, it was a step too far.' We were trying to bite off more than we could chew. So, when she watched me come back, she was just in complete shock."
And the surprise wasn't reserved for Simpson. Thompson is equally clueless as to how he pulled off one of the greatest victories of his career.
"I still don't know... people ask me how I did it, and I don't know. It's a level of reserves you don't realise you have."
I've learnt the hard way that if I prepare for the Olympics worrying about what other athletes are going to bring to the table...

it always ends in misery.
More than a puncher's chance
Marathon races are gritty, gruelling affairs, much more akin to an old school 15-round boxing match than today's less lengthy affairs.
But they do say that the last thing a fighter loses is their punch.
In Tokyo, Thompson is hoping the race is as gnarly and unaccommodating as possible. He knows that in a straight speed shoot-out, he'd be fighting on the back foot, but when the conditions get tough, there's a chance – just a chance – that his fighting spirit can see him rise to the top of the pack.
"If we went there and it was just really fast, conditions were perfect and it became a time trial, then there's no getting around it, I am an older athlete and the spring chickens of the race will come to the forefront.
"But when there are variables that mean preparations are brought into play and race awareness, my attitude is that the harder the environment is, it will slow everyone down and find the weakest part of athletes."
One thing's for sure, Thompson won't be looking over his shoulder at the other runners on the starting line in Sapporo – no matter what reputations they bring with them. When he fights, it will be on his own terms, using every trick he's learnt over two decades in the game.
"I've learnt the hard way that if I prepare for the Olympics worrying about what other athletes are going to bring to the table... it always ends in misery," he explained, referencing his first Olympic appearance where zealous overtraining led to injury and disappointment at London 2012.
"I won't know until after the race how close I will get to my optimum performance, but I'm going to enjoy the fact I'm a two-time Olympian, I tell you."
The Tokyo 2020 men's marathon race takes place tomorrow Sunday 8 August 2021 at Sapporo Odori Park.