Andrew Pozzi: Far away from home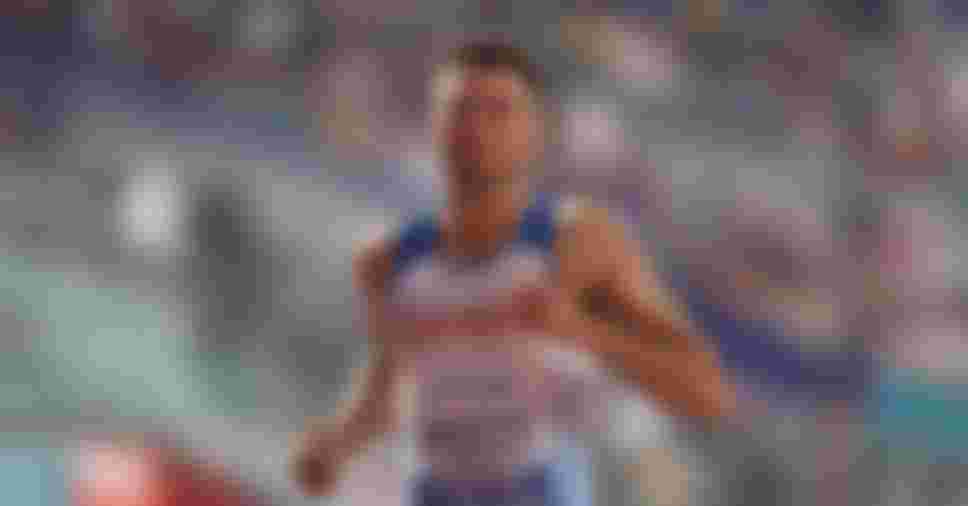 Great Britain athlete and current indoor World and European 60 metres hurdles champion Andrew Pozzi left the UK for Italy to follow his Olympic dream. But with the outbreak of COVID-19 he found himself in lockdown a long way from home.
Moving to Italy 
At Olympic level, the difference between winning and losing can come down to the smallest of margins. It's a fact that Great Britain hurdler Andrew Pozzi was acutely aware of in his quest to win an Olympic gold medal in Tokyo. 
It is also the reason he uprooted and moved to live and train in Formia, Italy under the watchful eye of legendary Cuban Santiago Antunez - coach of two of the past five Olympic 110m champions (Dayron Robles Beijing 2008 and Anier Garcia Sydney 2000). 
Antunez had officially retired from working Cuba's athletes in 2013, but was persuaded to oversee the development of a group of highly promising elite athletes in Italy. In 2018, Pozzi grasped the opportunity to move to Formia and begin life under the mentorship of a trainer who knows everything about what it takes to win an Olympic gold medal. 
"I thought the chance to work with him had passed," Pozzi commented to Sky Sports. "I'd known about him, but thought he'd officially retired five years ago! I've a good friend who's a really good athlete called Paolo Dal Molin and after seeing a photo of him with Antunez I messaged and asked 'are you working with him?' Paolo said yes, but also asked if I fancied working with the group and Antunez."
The answer Pozzi came back with was a resounding yes, and he was soon planning his relocation to Formia. 
While the move from Loughborough to Italy may have been made hastily, the belief the relocation gave Pozzi, with an Olympics only two years away, was invaluable: 
"I genuinely believe I can win a medal at Tokyo," Pozzi said at the time. "If it was just about reaching finals, I probably would have stayed in the UK. I know, somehow I know I can achieve this at the highest level and that makes moving to Italy easier."
Training culture shock
Over the next two years, Pozzi's approach to training was completely overhauled by his new Cuban teacher. For Antunez, speed is not the priority, technique is everything. As Pozzi explained to Athletics Weekly:
"He said, from his perspective, that in Europe there's a real rush to make everything quantifiable – you have to run super fast on the track, you have to lift heavier and heavier weights in the gym – but he feels coordination, mobility and technique is very overlooked."
This change in mindset even led Pozzi to take up some very unorthodox training techniques in his search for perfection, including dancing.
"In the winter we were doing a lot of rhythm-based exercises. We had salsa music on and all this stuff. You have various hurdles out, there's music playing and for a set period of time you're going back and forth over these hurdles. It's for hip mobility, for rhythm and it was very strange. I wondered what I'd let myself in for in the first couple of weeks."
Despite initial reservations, the transformation of Pozzi's training routine went hand-in-hand with a change in focus. Antunez inspired a confidence in him, increasing his belief that he could win medals. As Pozzi recounted: "based on what he knew of myself as an athlete and what he could see from our early work together that was entirely the aim."
And after an injury-disrupted 2019, Pozzi's partnership with Antunez seemed to be paying dividends in 2020. On 21 February, Pozzi ran a season's best time of 7.48 seconds over 60m at the World Athletics Indoor Tour meeting in Madrid to maintain an unbeaten start to the year.
Less than a month later, everything had changed.
Pozzi's Olympic dreams began to crumble as the world faced up to the biggest crisis of a generation: COVID-19.
Life under lockdown 
On 9 March, 2020, as the harrowing effects of coronavirus spread across the country, Italy imposed one of the strictest lockdowns in the world. At the time, no other country in Europe was as badly affected, and the athlete was caught in the middle of the drama. 
Pozzi found himself under lockdown, far from his home in the UK and restricted to only two hours of training per day - something of a privilege given the situation. 
"The Italian Olympic Committee have enabled a small number of athletes to continue training if they are working for the upcoming Olympic Games," Pozzi told Sky Sports in mid-March. 
"I get to spend a couple of hours a day training at my base in Formia - behind closed doors and under social distancing rules. It's very quiet at the centre now as most staff have also been ordered to stay at home. The atmosphere is very different, but I'm extremely grateful to be able to continue work and also have some time outside of the house."
In what has become a familiar story for many people currently living through coronavirus restrictions, isolation and the loss of small everyday freedoms are the things that struck Pozzi most when asked about life under lockdown: 
"I'm used to being very independent and moving here with a big language barrier has always meant less socialising than when I trained in the UK, but the lack of contact with anyone has become increasingly challenging."
Returning home
By the end of March the situation with COVID-19 was changing rapidly in the UK and Pozzi made the decision to travel home. Initially, he noticed a marked contrast between the response in Italy and his home country:
"On the plane everyone was wearing masks, but it was a contrast to when I arrived in the UK. I know everyone here is taking it seriously and is disciplined, but in Italy it was on a different level."
And, of course, something else that will have a dramatic impact on Pozzi's life changed over the last weeks - the dates of the Tokyo 2020 Olympic Games. But even though he would have liked to compete this year, Pozzi believes the decision to postpone the Games was completely justified:
"I was working on they would go for October this year in 2020. I think I would have liked that as I've prepared really well for an Olympics this year and it would have worked well, but I totally understand the decision and I think it's correct."