During the Tokyo 2020 Games, we will implement a number of traffic measures such as the following:
Traffic and Transport Management during the Tokyo 2020 Games
During the Tokyo 2020 Games, we will work to provide safe, smooth transportation for Games personnel and spectators while facilitating the continuation of life in the Tokyo metropolitan region.
If no specific measures were undertaken in terms of road traffic and public transportation during the Games, it is anticipated that regular traffic volume would worsen and would lead to expressway and rail service congestion.
To address these challenges, partners and organisations will work together to provide highly reliable transportation services during the Tokyo 2020 Games while maintaining daily activities by implementing Traffic and Transport Management and creating a favourable transportation environment with the cooperation on the part of numerous businesses and residents.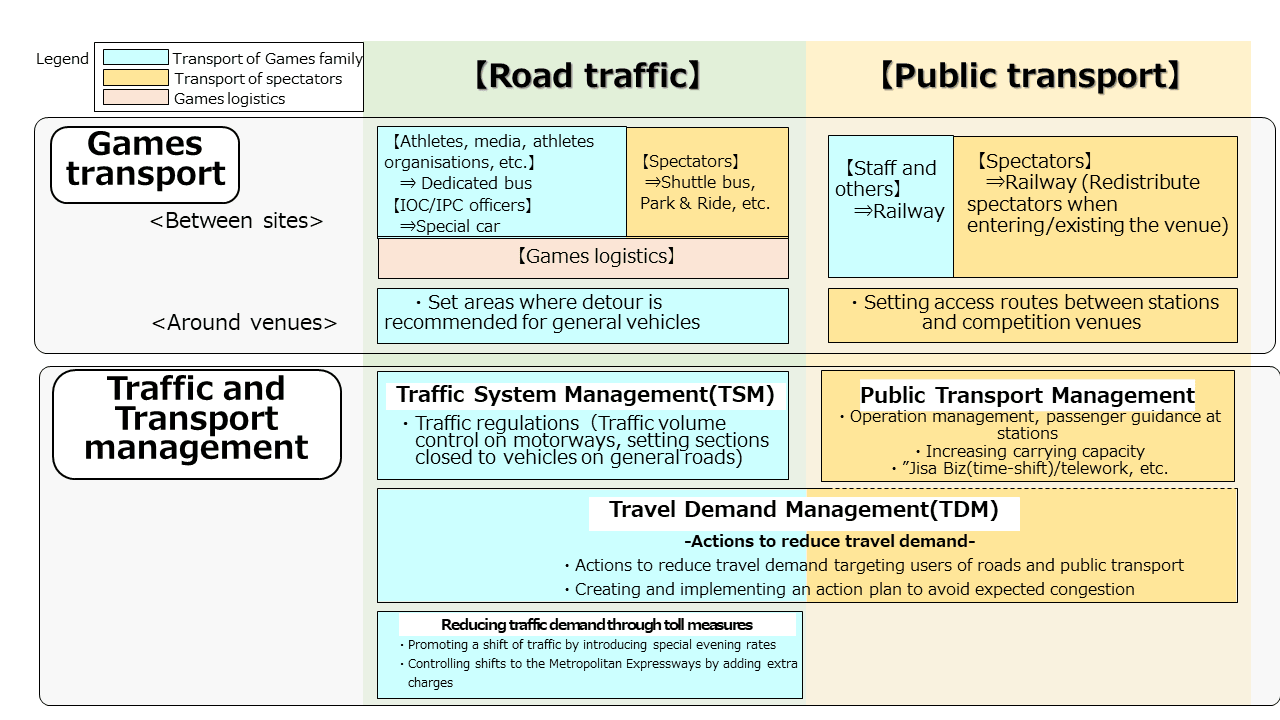 Objectives during the Games
We have established the following objectives for the Games:
In terms of road traffic, we will strive to implement favourable traffic conditions to ease road congestion at hours needed for Games operations.
Road traffic
General traffic
We aim to reduce the volume in TDM high-priority areas* by 30%. In addition, we aim to reduce the total volume of general traffic in Greater Tokyo (inside Metropolitan Inter-City
Expressway) by 10% from the volume prior to the Games.
Additional traffic reductions on the Metropolitan Expressway
Because the Metropolitan Expressways are the trunk routes of the Olympic Route Network
(ORN) and the Paralympic Route Network (PRN) in Greater Tokyo, we aim to achieve as small traffic volume as weekends by reducing traffic volume by up to 30%. (Create by using TDM and traffic demand adjustments through payment measures and the like)
Public transportation (Railway)
・In terms of public transportation (rail service), we will adopt measures to address traffic congestion.
*The 2020 TDM Promotion Project identified 16 priority initiative zones in order to maintain healthy economic activity in the central area of many competition venues and facilitate the surge of people and traffic passing through congestion points on roads and rail lines.
For more information, see TDM high-priority areas, in Japanese only.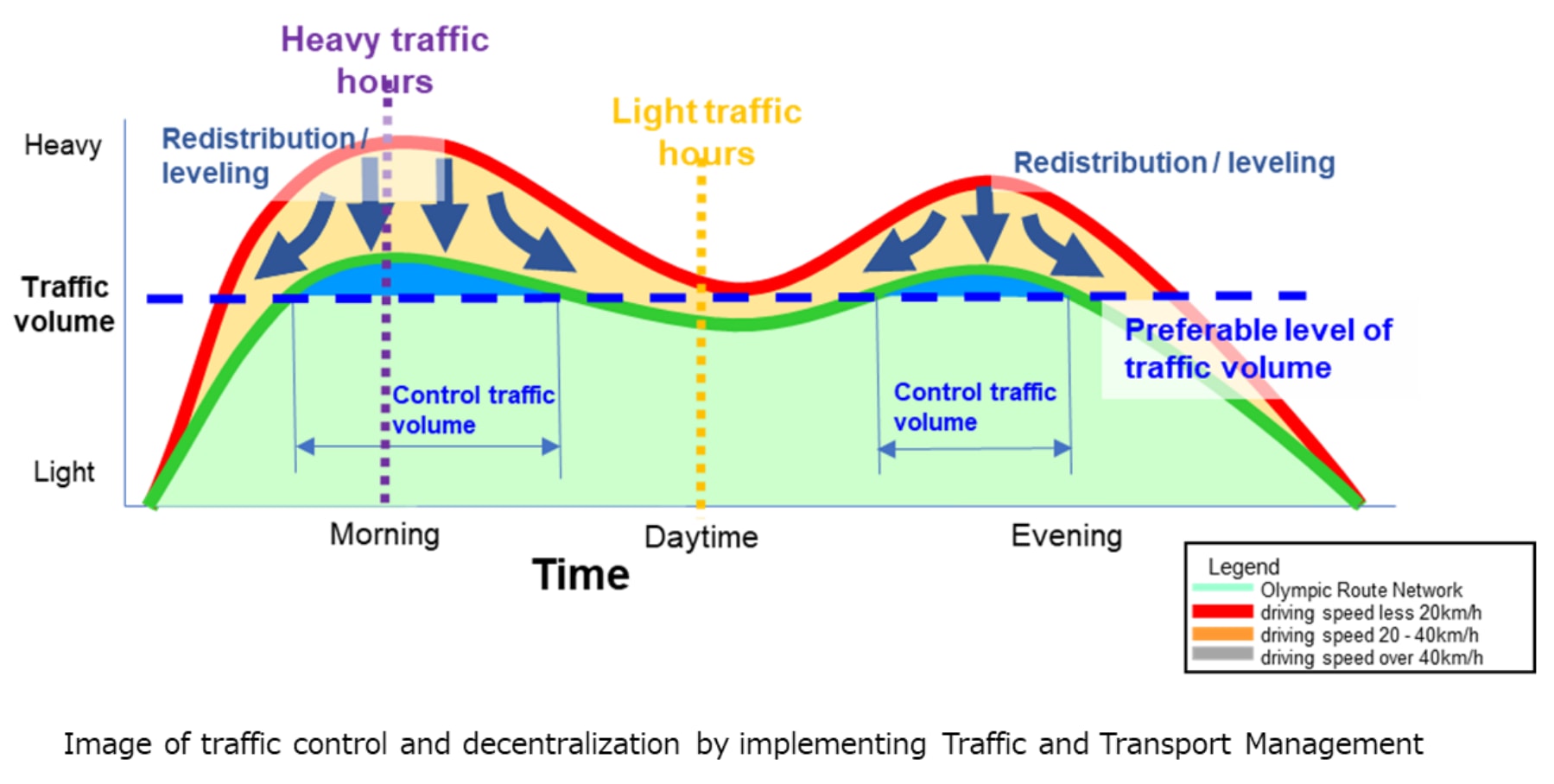 Travel Demand Management (TDM)
Travel Demand Management (TDM) refers to initiatives designed to ease congestion on roads through the regulation of transportation demand by promoting changes in peoples' transportation habits, limiting traffic volume, and levelling out concentrated use, for example by promoting efficient use of cars and use of alternatives such as public transportation. At the Tokyo 2020 Games, TDM spearhead efforts to regulate transportation demand including not only road traffic, but also rail service and other public transportation.
2020 TDM Promotion Project
Working with the Tokyo Metropolitan Government and the Japanese Government, the Tokyo 2020 Organising Committee is working to provide safe, smooth, efficient, and highly reliable transportation. To do so, it launched the 2020 TDM Promotion Project to implement Travel Demand Management initiatives designed to ease congestion during the Tokyo 2020 Games while taking advantage of the Tokyo 2020 official programme.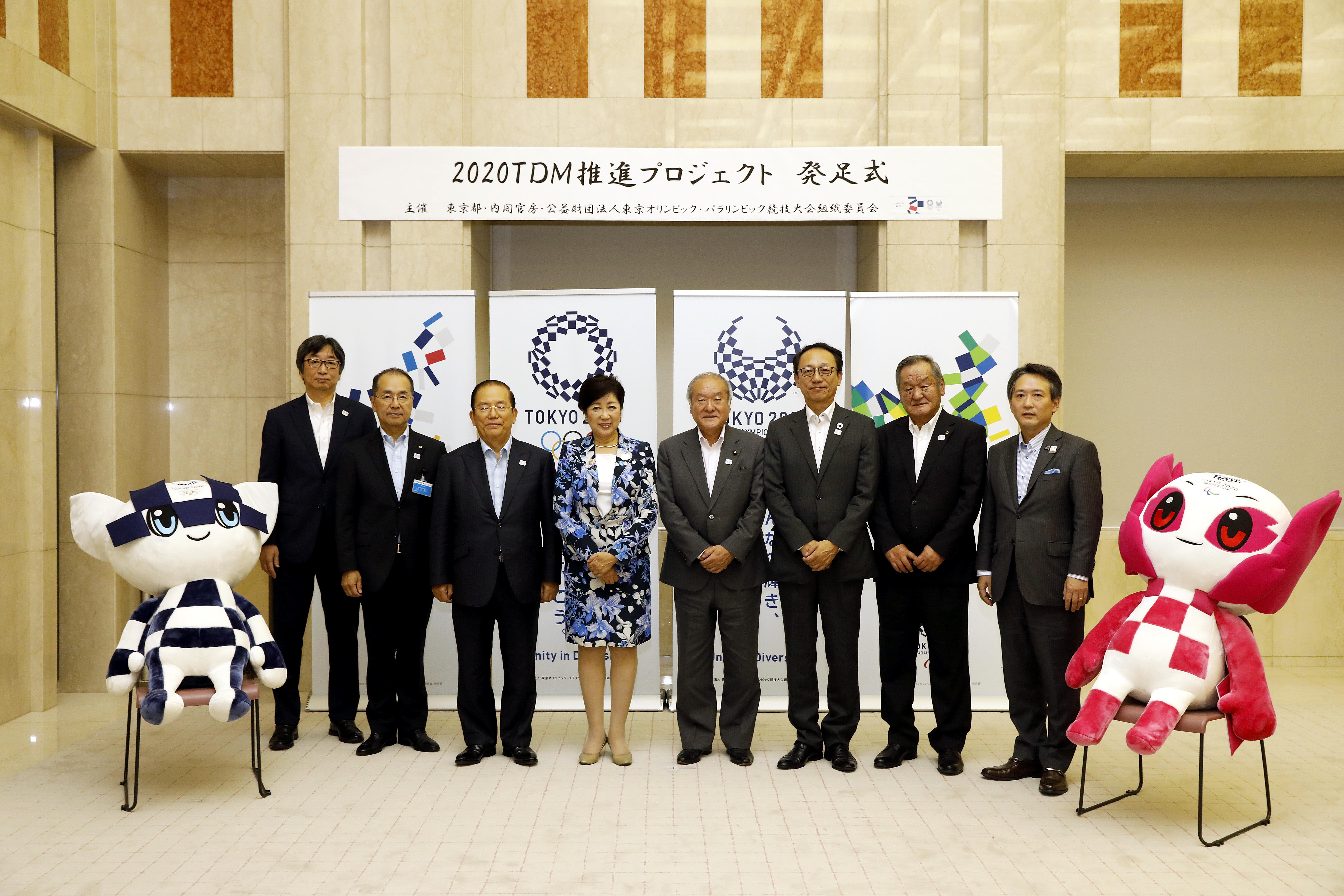 The Bureau of Olympic and Paralympic Games Tokyo 2020 Preparation, Tokyo Metropolitan Government, is registering companies and other parties that wish to cooperate to implement these initiatives.
2020 TDM Promotion Project website (Bureau of Olympic and Paralympic Games Tokyo 2020 Preparation, Tokyo Metropolitan Government)(in Japanese only)
Reducing traffic demand through toll measures
1. Approach to toll measures
Even if overall traffic volume declines as a result of TDM, it will be necessary to take additional measures to keep the Metropolitan expressway free of congestion. If there is tendency for traffic volume to surge due to the increase of the number of Games-related vehicles and other related use, then a sustained reduction and dispersion of traffic demand will be necessary during the Games, which will last about one month.
Additional measures may include license plate regulations and HOV lanes, but due to structural problems on the Metropolitan expressway (for example, two lanes in each direction), we believe toll measures which access the existing ETC system are most appropriate.
It will be important to formulate toll measures based on different factors such as effectiveness in keeping traffic flowing on the expressway, the impact of traffic restrictions including those imposed by TSM, the effect of traffic congestion on regular roads, and the extent of the economic burden imposed by tolls.
2. Approach to implementing toll measures
With regard to the Metropolitan expressway, which forms the core of the ORN/PRN in the Tokyo metropolitan area, we will promote dispersed use of vehicles by offering evening discounts and only increasing toll prices during daytime hours to accommodate increased traffic demand during the Games and to sustain the effectiveness of TDM throughout the Games dates.
Smooth operation of Games transportation > Application limited to Games dates
The following measures will be applied over the 35-day period from Monday19 July 2021 to Monday 9 August (a public holiday) and from Tuesday 24 August to Sunday 5 September:
Promoting shifts in traffic by introducing night-time discounts
50 per cent night-time discount for ETC-equipped vehicles (all lanes on the Metropolitan expressway)
To balance transportation needs while maintaining daily urban urban life, additional tolls will not be applied to these distribution vehicles, which lack alternative routes, but will apply only to personal and other vehicles to limit any shift from regular roads to the Metropolitan expressway during daytime hours.
Toll measures will not apply to the following vehicles: public transit vehicles in cases where it would be difficult to switch to an alternative mode of transportation, distribution vehicles, vehicles transporting individuals with impairments (individuals with physical, mental or psychological impairments), and social welfare vehicles (vehicles used exclusively in Class 1 or Class 2 social welfare programs).
Personal and other vehicles will be subject to an additional toll of ¥1,000 in the Tokyo area.
Target vehicle types
The evening discount will apply to all vehicles to move traffic out of congested time periods (except cash paying vehicles).
The additional toll will have exceptions as outlined below:
Policy on Metropolitan Expressway toll measures at the Tokyo 2020 Games (※Link for HP of Bureau of Olympic Paralympic Games Tokyo2020 Preparation )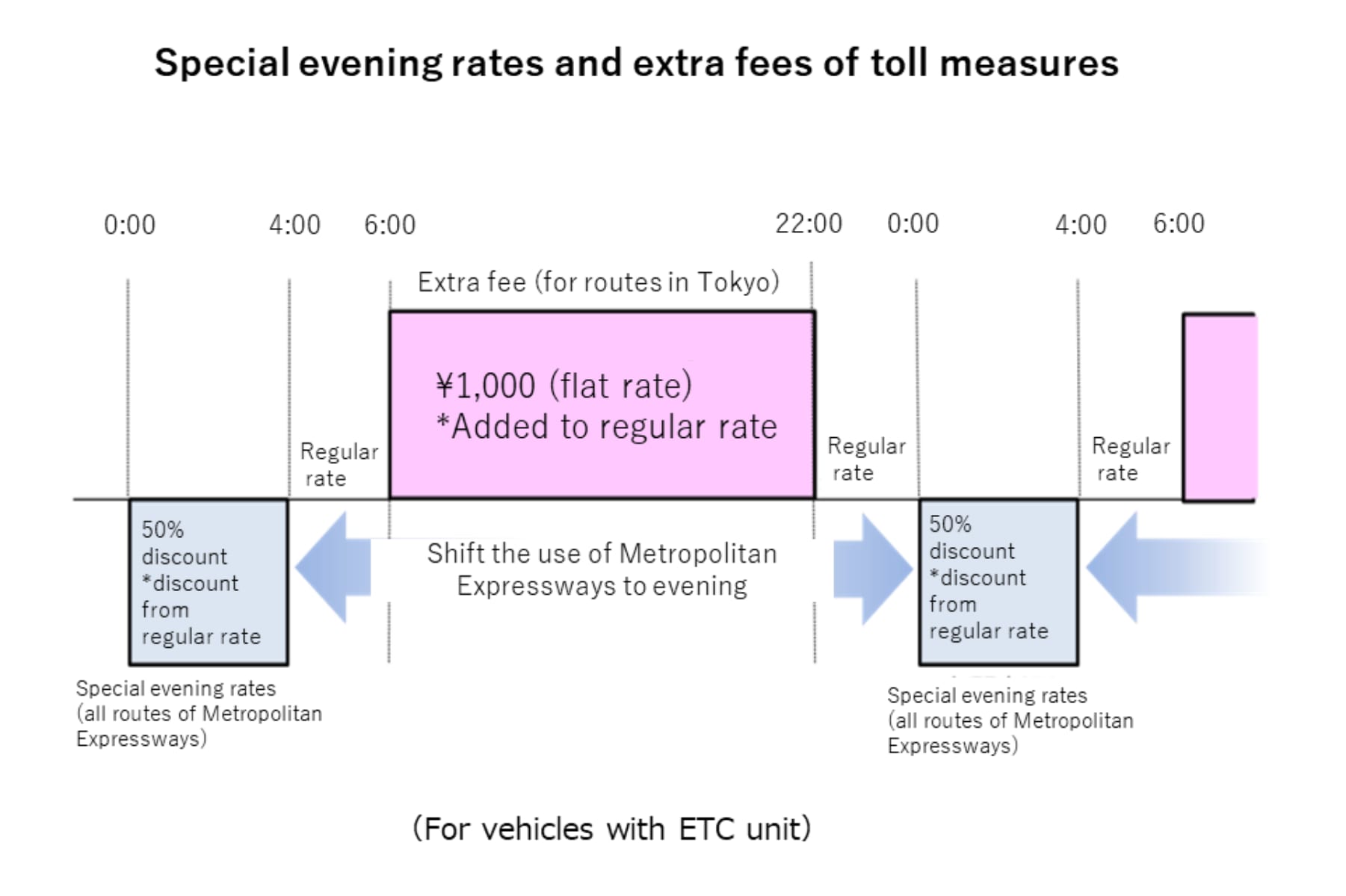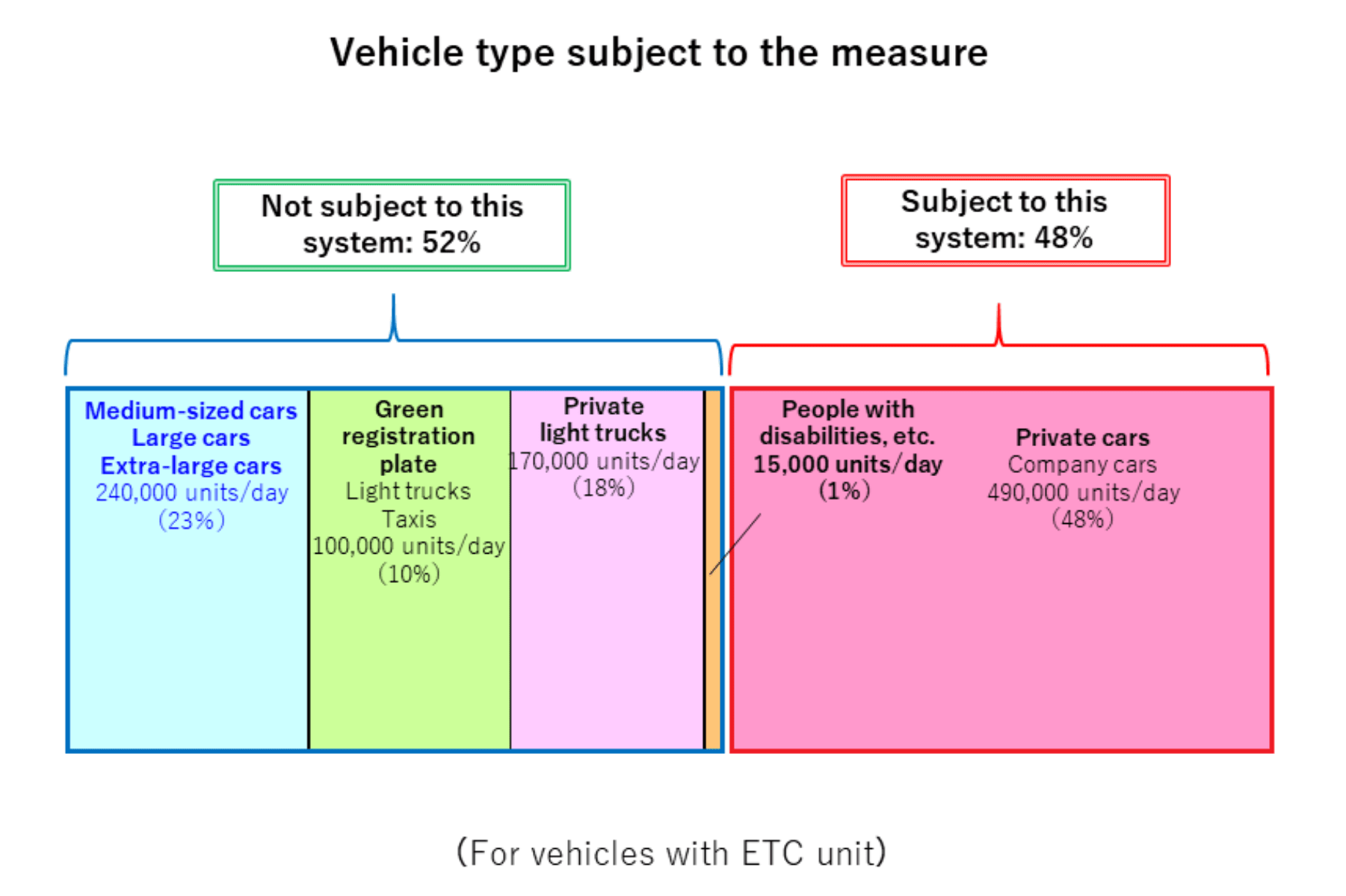 Traffic System Management (TSM)
Traffic System Management (TSM) refers to initiatives undertaken to maintain smooth traffic flow by limiting traffic and restricting entry in areas where traffic is heavily concentrated on roads, even after overall traffic volume has been reduced by means of TDM. To provide safe and smooth transportation for Games personnel, we will create a transportation environment for the Olympic Route Network and Paralympic Route Network by reducing traffic volume in downtown areas and progressively implementing restrictions, for example limiting vehicles allowed to pass through-lane toll plazas and closing on-ramps according to traffic volume.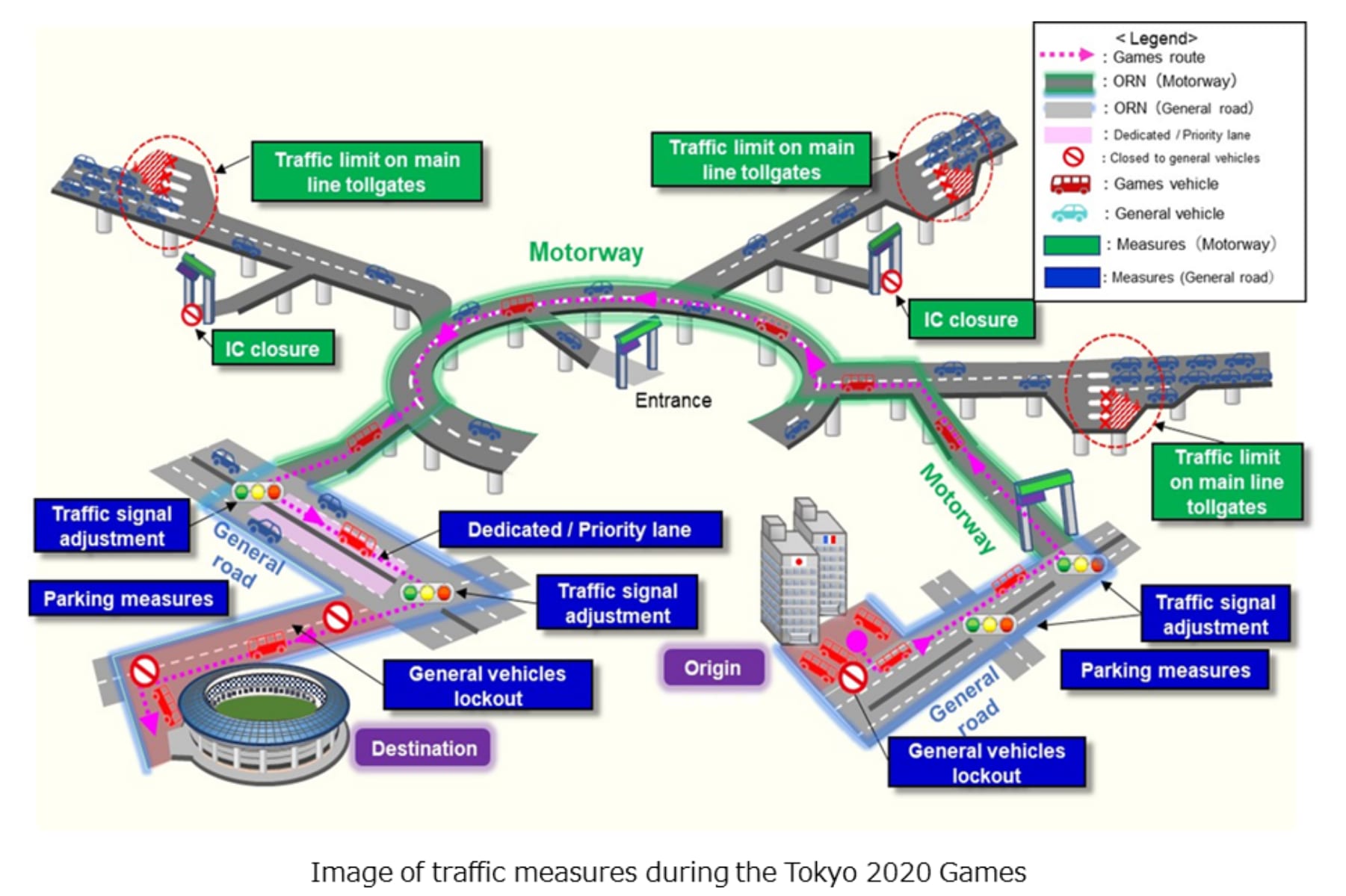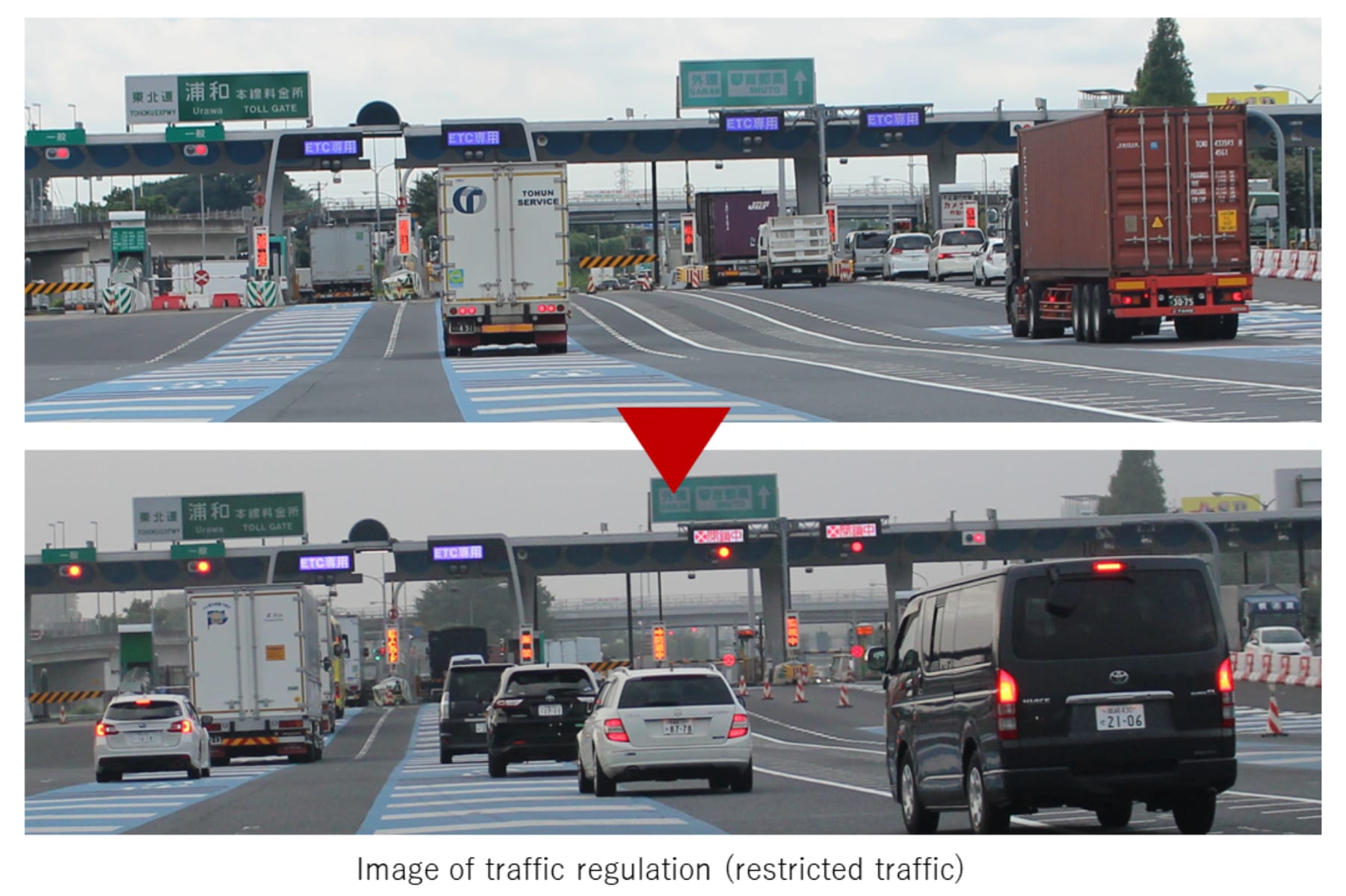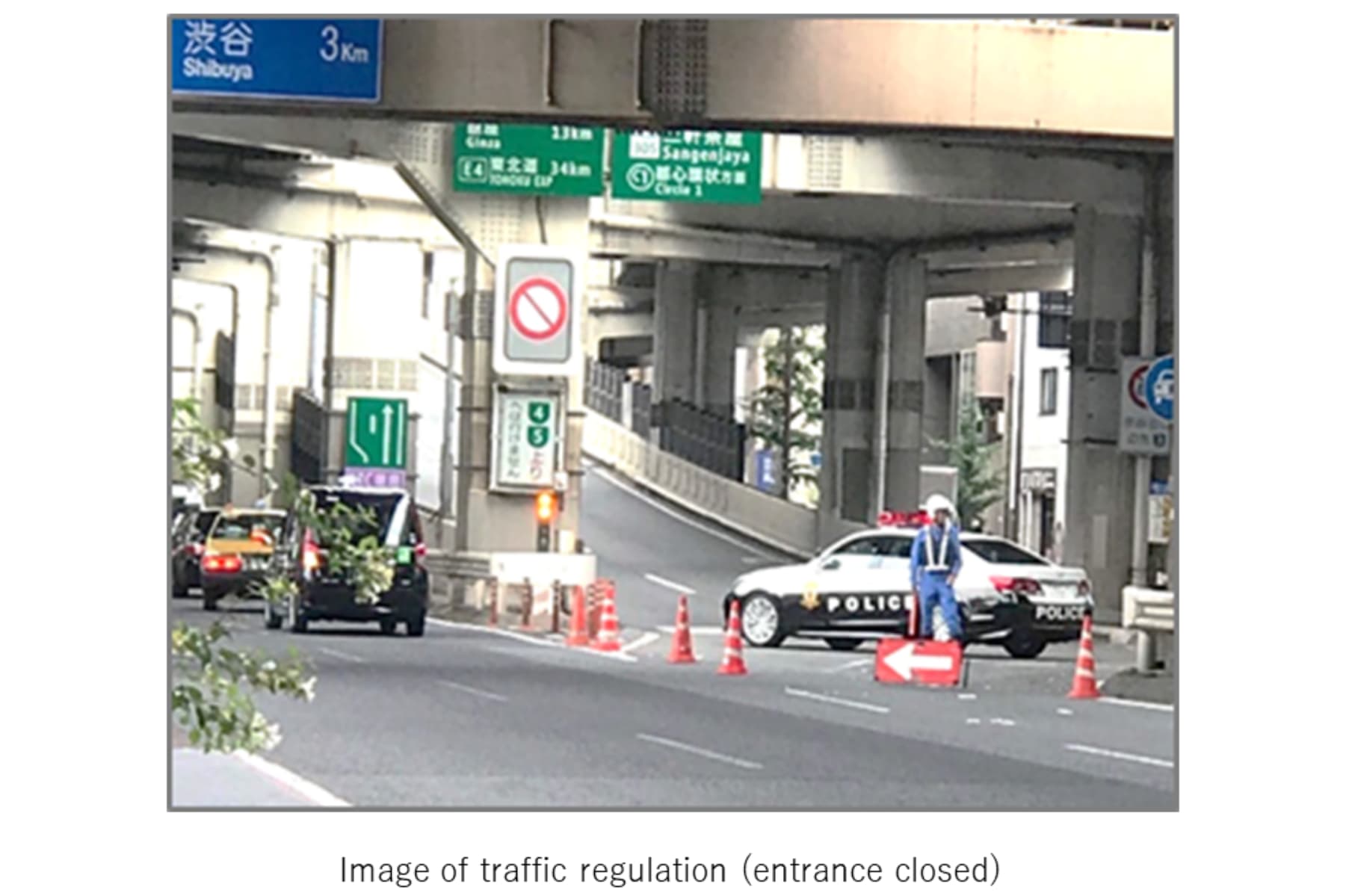 Traffic measures
1. Wide-area measures
We will encourage vehicles in large areas to utilise detours by installing horizontal banners on pedestrian overpasses over major roads such as radial and loop roads and communicating the same information using traffic information displays.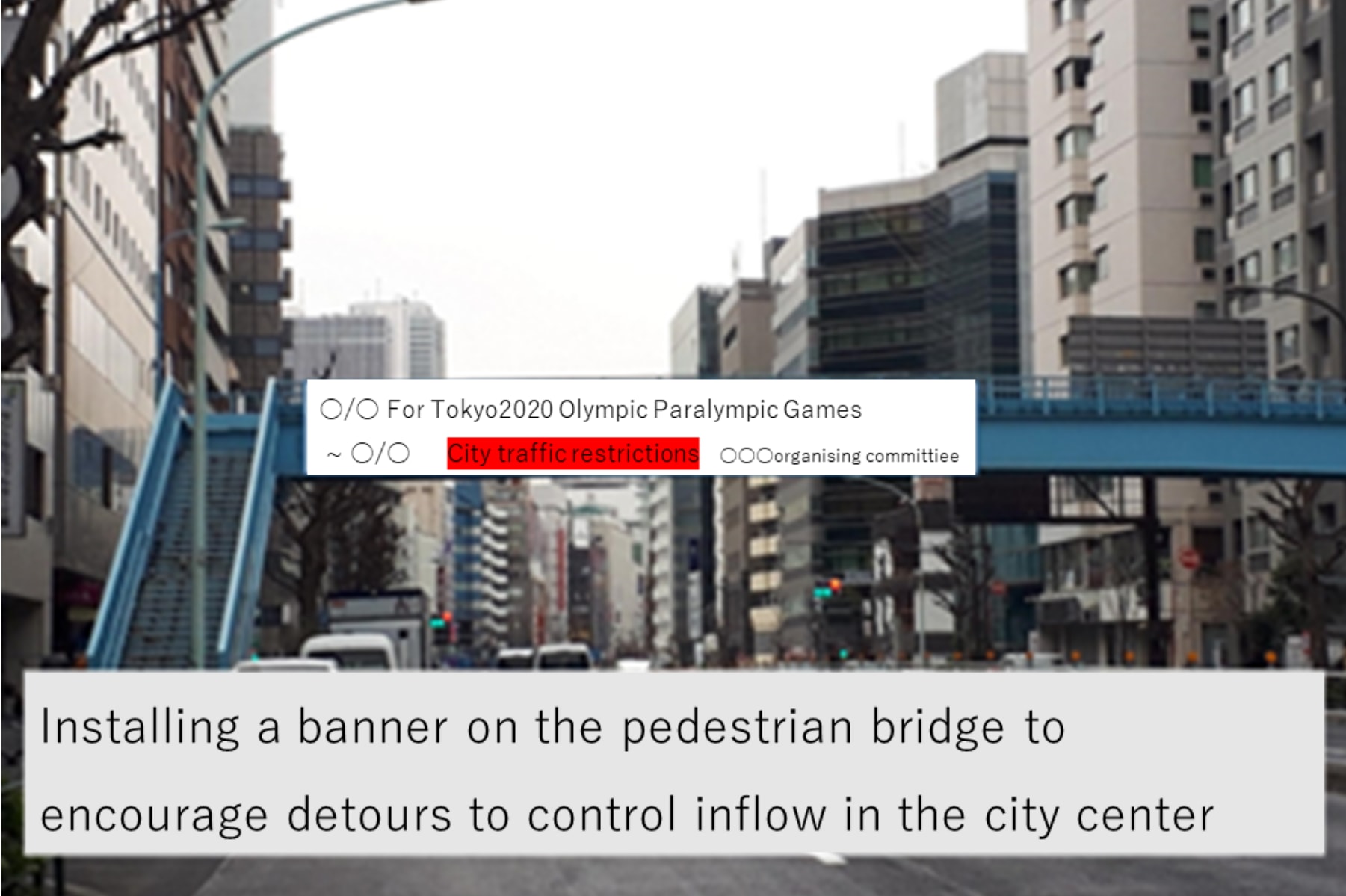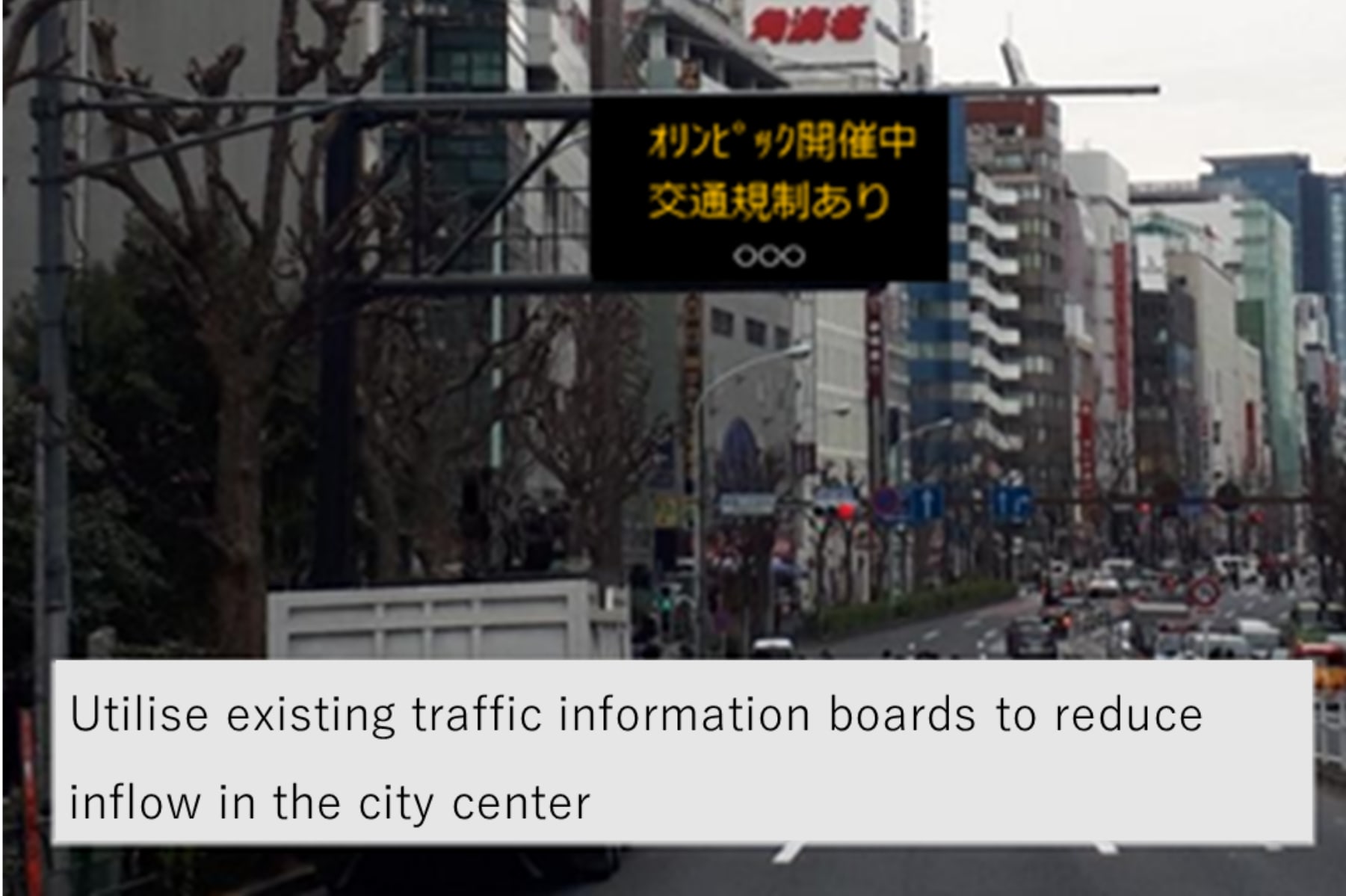 2. Traffic measures near venues
Detour areas
We will establish and restrict access of vehicles entering venue areas and will create a road delineation (primarily roads with separate sidewalks) around the venues including transportation-related areas (eg. off-venue shuttle bus embarkation/disembarkation areas, off-venue personnel parking areas, etc.).
Those roads will comprise what is known as the traffic perimeter.
We will install detour signs along the established traffic perimeter and on major roads with assigned personnel to guide traffic as necessary, and we will restrict entry of vehicles into the established traffic perimeter.
Restrictions on access to the traffic perimeter will not apply to people living or doing business inside the traffic perimeter.
Traffic restriction areas
There will be traffic restrictions in areas immediately surrounding venues and we will limit traffic passing through those areas with personnel assigned to guide traffic.
Restrictions on access will not apply to people living or doing business inside the traffic perimeter (with some exceptions).
Exclusive-use lanes, priority lanes, etc.
We will establish exclusive-use and priority lanes for Games-related vehicles in areas around venues and take steps including parking measures and traffic signal coordination based on local conditions.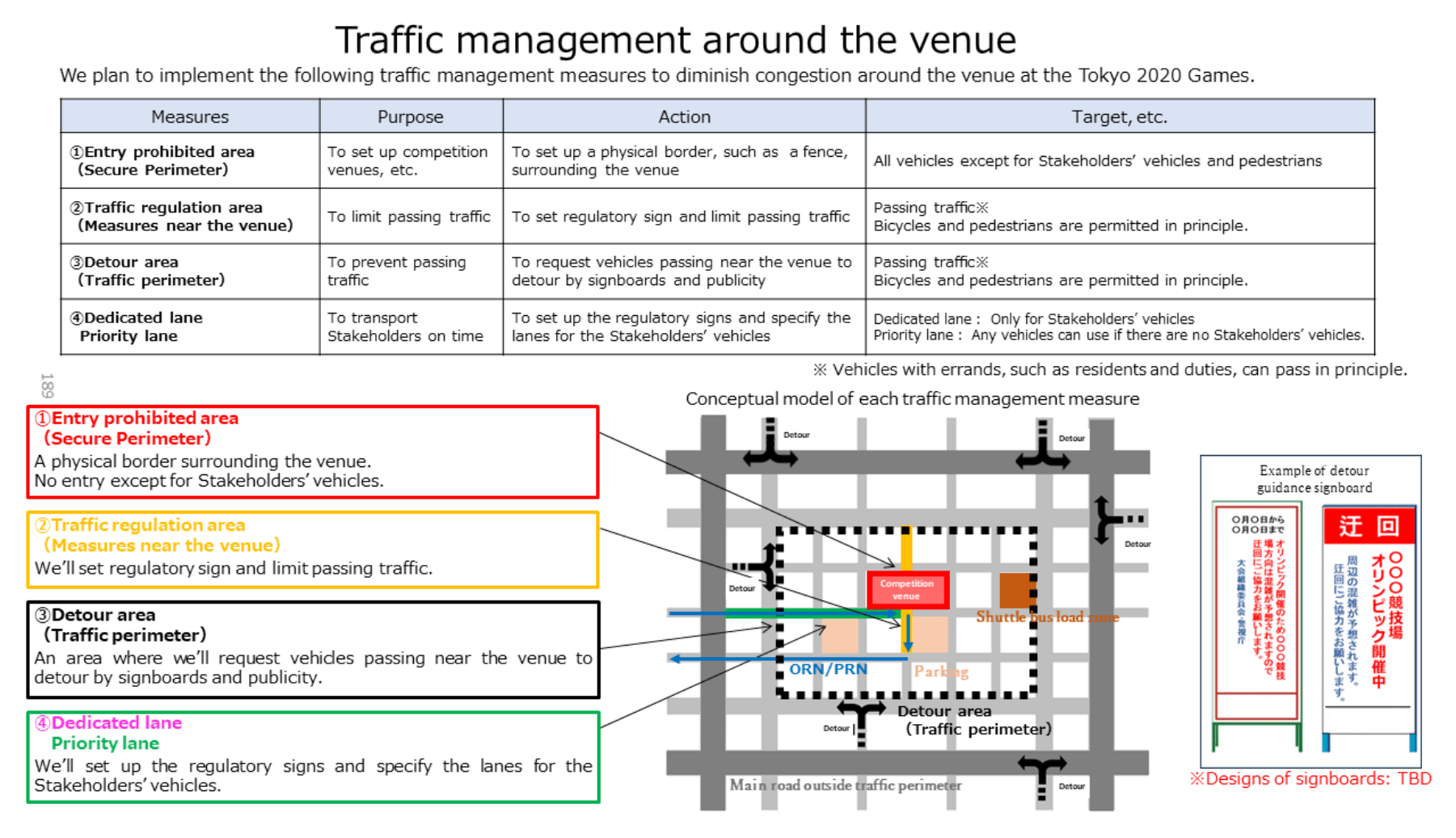 For more information about traffic measures for individual venues, see venue pages.