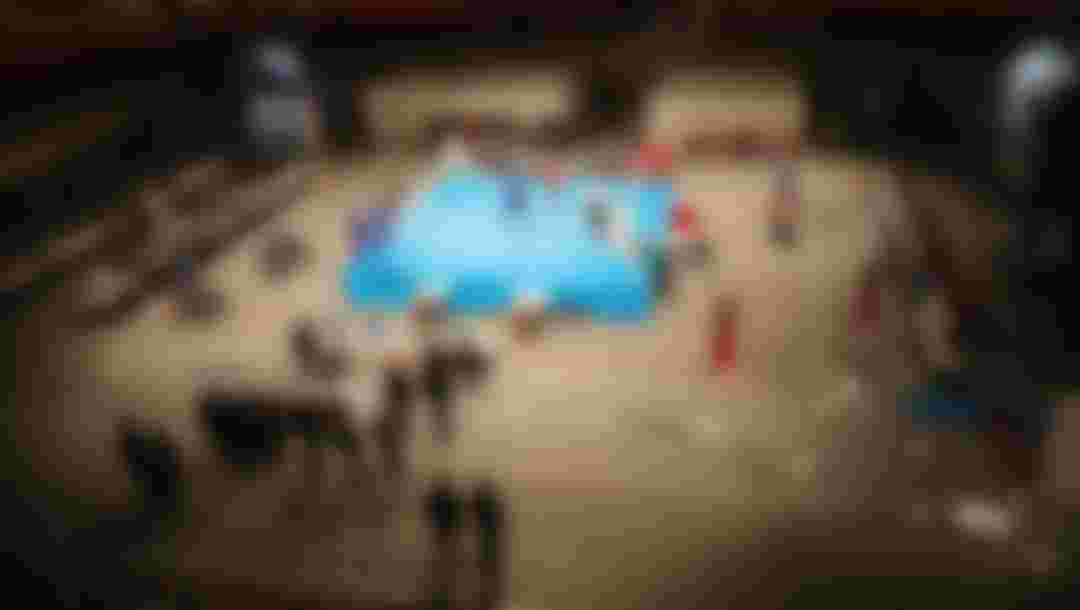 Tokyo 2020 / Ryo ICHIKAWA
A test event is a dress rehearsal to confirm and improve the competition and Games operation capabilities in order to ensure their successful operation during the Olympic and Paralympic Games. Test events have usually been held prior to past Games and will also be carried out in preparation for the Tokyo 2020 Games. Test events will be organised by the International Federations and the National Federations as well as by the Tokyo 2020 Organising Committee.
"READY STEADY TOKYO"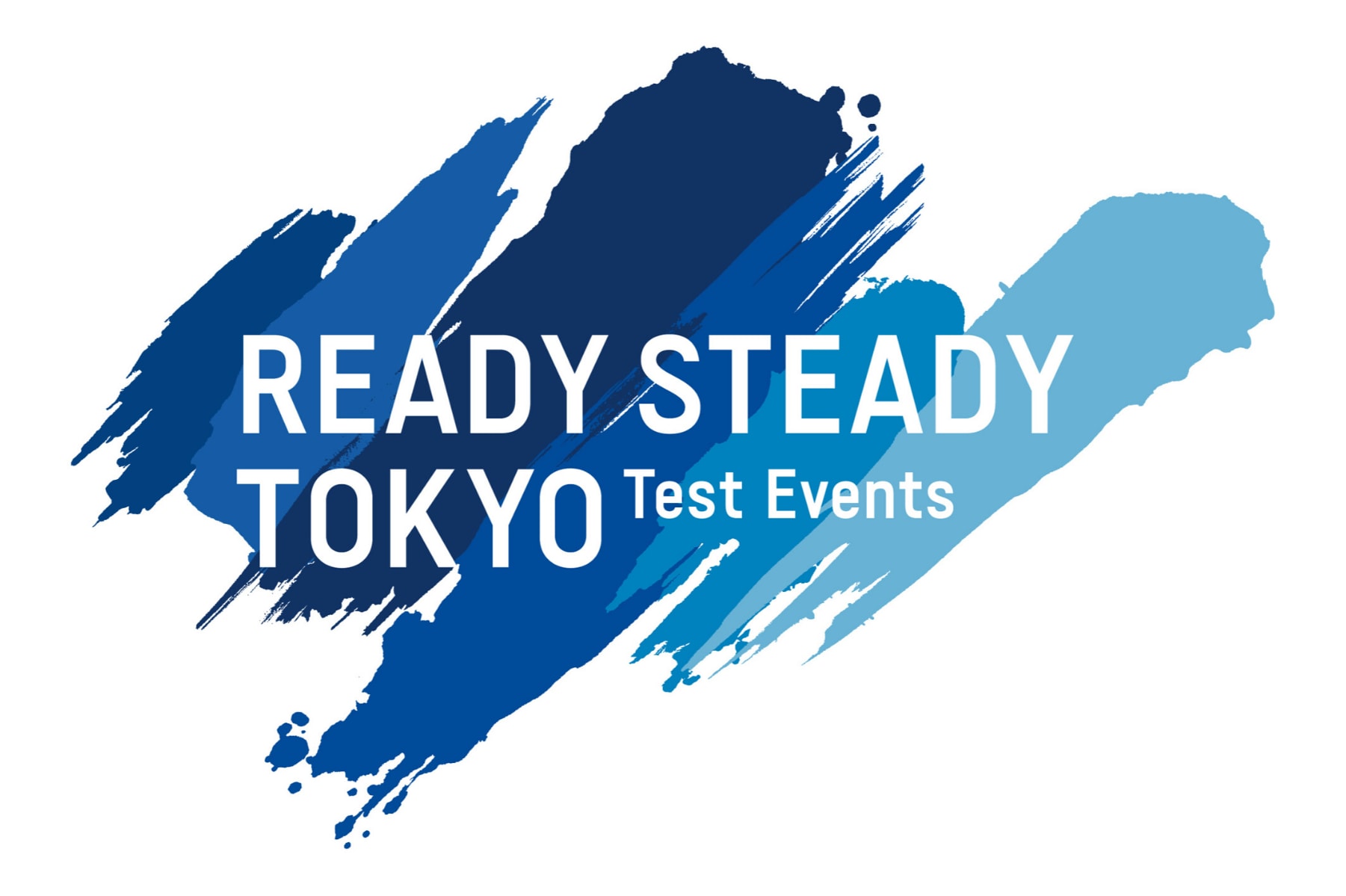 "READY STEADY TOKYO" is the official brand name and logo for the test events Tokyo 2020 will be organising.
The brand name—"READY STEADY TOKYO"—aims to express the excitement that continues to build as the Olympic and Paralympic Games Tokyo 2020 edge closer. It derives from the "ready, steady, go!" used to start a race, with "STEADY" additionally signifying Tokyo 2020 is keeping to its charted course as it heads towards its goal of hosting an incredible Games. The overall message of the brand name is "We are ready for Tokyo 2020. Let's stay focused as we move forward to a successful Games."
The design of the new logo, expressed using brush strokes that echo Japanese calligraphy, is inspired by the passion and powerful movements of athletes moving through the water and kicking up earth as they compete.
Test Event Calendar
Please refer to the following schedule for the Tokyo 2020 Games test events. (As of April 23, 2021)
Sports
(Disciplines)
Events
Date/Venue
Organisers
Sailing
Sailing's World Cup Series Enoshima
9-16 Sep. 2018 Enoshima Yacht Harbour
World Sailing / Japan Sailing Federation
Aquatics (Water Polo)
Japan Swimming Championships
5-7 Oct. 2018 Tatsumi Water Polo Centre
Japan Swimming Federation
Modern Pentathlon
UIPM 2019 Pentathlon World Cup Final
27-30 Jun. 2019 AGF Field / Musashino Forest Sport Plaza
Union Internationale de Pentathlon Moderne (UIPM) / Modern Pentathlon Association of Japan (MPAJ)
Weightlifting
READY STEADY TOKYO - Weightlifting
6-7 Jul. 2019 Tokyo International Forum
The Tokyo Organising Committee of the Olympic & Paralympic Games / Japan Weightlifting Association
Archery
READY STEADY TOKYO - Archery
12-18 Jul. 2019 Yumenoshima Park Archery Field
The Tokyo Organising Committee of the Olympic & Paralympic Games
Surfing
READY STEADY TOKYO - Surfing
18-21 Jul. 2019 Tsurigasaki Surfing Beach
The Tokyo Organising Committee of the Olympic & Paralympic Games
Cycling (Road)
READY STEADY TOKYO - Cycling (Road)
21 Jul. 2019 Start : Musashinonomori Park Finish : Fuji International Speedway
The Tokyo Organising Committee of the Olympic & Paralympic Games
Badminton
DAIHATSU YONEX JAPAN OPEN 2019 BADMINTON CHAMPIONSHIPS
23-28 Jul. 2019 Musashino Forest Sport Plaza
Nippon Badminton Association
Volleyball (Beach Volleyball)
FIVB Beach Volleyball World Tour 2019 4-star Tokyo
24-28 Jul. 2019 Shiokaze Park
Fédération Internationale de Volleyball
Rowing
2019 World Rowing Junior Championships
7-11 Aug. 2019 Sea Forest Waterway
World Rowing Federation
Aquatics (Marathon Swimming)
READY STEADY TOKYO - Aquatics (Marathon Swimming)
11 Aug. 2019 Odaiba Marine Park
The Tokyo Organising Committee of the Olympic & Paralympic Games
Equestrian (Eventing)
READY STEADY TOKYO - Equestrian (Eventing)
12-14 Aug. 2019 Equestrian Park / Sea Forest Cross-Country Course
The Tokyo Organising Committee of the Olympic & Paralympic Games / Japan Equestrian Federation
Golf
25th 2019 Japan Junior Golf Championship
14-16 Aug. 2019 Kasumigaseki Country Club
Japan Golf Association
Triathlon
2019 Tokyo ITU World Olympic Qualification Event 2019 ITU World Triathlon Mixed Relay Series Tokyo 2019 Tokyo ITU Paratriathlon World Cup
15-18 Aug. 2019 Odaiba Marine Park
ITU World Triathlon Olympic Qualification Event Executive Committee
Hockey
READY STEADY TOKYO - Hockey
17-21 Aug. 2019 Oi Hockey Stadium
The Tokyo Organising Committee of the Olympic & Paralympic Games
Sailing
READY STEADY TOKYO - Sailing
17-22 Aug. 2019(with pre-competition activities 15-16 Aug. 2019) Enoshima Yacht Harbour
The Tokyo Organising Committee of the Olympic & Paralympic Games / Japan Sailing Federation
Basketball (Basketball)
International Basketball Games 2019 / International Women's Basketball Games Mitsui Fudosan Cup
22-25 Aug. 2019 Saitama Super Arena
Japan Basketball Association
Judo
World Judo Championships Tokyo 2019
25 Aug.-1 Sep. 2019 Nippon Budokan
International Judo Federation
Karate (Kata/Kumite)
2019 Karate 1 - Premier League Tokyo (READY STEADY TOKYO - Karate on the following day of 2019 Karate 1 - Premier League Tokyo)
6-8 Sep. 2019(9 Sep. 2019) Nippon Budokan
World Karate Federation (The Tokyo Organising Committee of the Olympic & Paralympic Games)
Canoe (Sprint)
READY STEADY TOKYO - Canoe (Sprint)
12-15 Sep. 2019 Sea Forest Waterway
The Tokyo Organising Committee of the Olympic & Paralympic Games
Athletics (Marathon)
Marathon Grand Championship
15 Sep. 2019 Meijijingu Gaien (Start / Finish)
Japan Association of Athletics Federations
Powerlifting
READY STEADY TOKYO - Powerlifting
26-27 Sep. 2019 Tokyo International Forum
The Tokyo Organising Committee of the Olympic & Paralympic Games / JAPANESE PARA-POWERLIFTING FEDERATION
Taekwondo
READY STEADY TOKYO - Taekwondo
27-28 Sep. 2019 Makuhari Messe Hall A
The Tokyo Organising Committee of the Olympic & Paralympic Games
Goalball
2019 Japan Para Goalball Championships
28-29 Sep. 2019 Makuhari Messe Hall C
Japanese Para-Sports Association
Wrestling
READY STEADY TOKYO - Wrestling
3-5 Oct. 2019 Makuhari Messe Hall A
The Tokyo Organising Committee of the Olympic & Paralympic Games
Baseball/Softball (Softball)
52nd Japan Women's Softball League - Division 1 Section 8 in Fukushima
5-6 Oct. 2019 Fukushima Azuma Baseball Stadium
Japan Softball Association / Japan Women's Softball League Organization
Cycling (Mountain Bike)
READY STEADY TOKYO - Cycling (Mountain Bike)
6 Oct. 2019 Izu MTB Course
The Tokyo Organising Committee of the Olympic & Paralympic Games
Cycling (BMX Racing)
READY STEADY TOKYO - Cycling (BMX Racing)
12-13 Oct. 2019 Ariake Urban Sports Park
The Tokyo Organising Committee of the Olympic & Paralympic Games
Tennis
The 94th Mitsubishi All Japan Tennis Championships
23 Oct.-3 Nov. 2019 Ariake Tennis Park
Japan Tennis Association
Canoe (Slalom)
READY STEADY TOKYO - Canoe (Slalom)
25-27 Oct. 2019 Kasai Canoe Slalom Centre
The Tokyo Organising Committee of the Olympic & Paralympic Games
Boxing
READY STEADY TOKYO - Boxing
29-31 Oct. 2019 Kokugikan Arena
The Tokyo Organising Committee of the Olympic & Paralympic Games
Table Tennis
ZEN-NOH 2019 ITTF Team World Cup, Tokyo
6-10 Nov. 2019 Tokyo Metropolitan Gymnasium
International Table Tennis Federation
Para Badminton
HULIC DAIHATSU Japan Para-Badminton International 2019
13-17 Nov. 2019 Yoyogi National Stadium
Japan Para-Badminton Federation Inc.
Handball
JAPAN CUP 2019 Shibuya(WOMEN) / 71st Japan Handball Championship, Men's Division
21-24 Nov. 2019 Yoyogi National Stadium
Japan Handball Association
Gymnastics (Trampoline)
34th FIG TRAMPOLINE GYMNASTICS WORLD CHAMPIONSHIPS
28 Nov.-1 Dec. 2019 Ariake Gymnastics Centre
Fédération Internationale de Gymnastique / JAPAN GYMNASTICS ASSOCIATION
Fencing
H.I.H. Prince Takamado Trophy JAL PRESENTS FENCING WORLD CUP 2019
13-15 Dec. 2019 Makuhari Messe Hall B
Fédération internationale d'escrime / Federation Japonaise d'Escrime
Football
Emperor's Cup JFA 99th Japan Football Championship
1 Jan. 2020 Olympic Stadium
Japan Football Association
Boccia
Boccia Operational Test (tentative)
29 Feb.-1 Mar. 2020 Ariake Gymnastics Centre
The Tokyo Organising Committee of the Olympic & Paralympic Games
Sport Climbing
READY STEADY TOKYO - Sport Climbing
6-8 Mar. 2020 (The spare day on 8 Mar.) Aomi Urban Sports Park
The Tokyo Organising Committee of the Olympic & Paralympic Games
Wheelchair Rugby
Operational Test - Wheelchair Rugby
3-4 Apr. 2021 Yoyogi National Stadium
The Tokyo Organising Committee of the Olympic & Paralympic Games
Rugby
Operational Test - Rugby
22 Apr. 2021 Tokyo Stadium
The Tokyo Organising Committee of the Olympic & Paralympic Games
Aquatics (Swimming)
READY STEADY TOKYO - Aquatics (Swimming)
24-25 Apr. 2021 Tokyo Aquatics Centre
The Tokyo Organising Committee of the Olympic & Paralympic Games
Cycling (Track)
READY STEADY TOKYO - Cycling (Track)
25 Apr. 2021 Izu Velodrome
The Tokyo Organising Committee of the Olympic & Paralympic Games
Para Swimming
READY STEADY TOKYO - Para Swimming
26 Apr. 2021 Tokyo Aquatics Centre
The Tokyo Organising Committee of the Olympic & Paralympic Games
Volleyball (Volleyball)
International Volleyball Games~Tokyo Challenge 2021~
1-2 May. 2021 Ariake Arena
Japan Volleyball Association
Aquatics (Diving)
FINA Diving World Cup 2021
1-6 May. 2021 Tokyo Aquatics Centre
Fédération Internationale de Natation
Gymnastics (Artistic)
Operational Test - Gymnastics (Artistic)
4 May. 2021 Ariake Gymnastics Centre
The Tokyo Organising Committee of the Olympic & Paralympic Games
Athletics (Marathon)
Hokkaido・Sapporo Marathon Festival 2021
5 May. 2021 Sapporo Odori Park
Hokkaido・Sapporo Marathon Festival 2021 Committee
Gymnastics (Rhythmic)
READY STEADY TOKYO - Gymnastics (Rhythmic)
8 May. 2021 Ariake Gymnastics Centre
The Tokyo Organising Committee of the Olympic & Paralympic Games
Athletics
READY STEADY TOKYO - Athletics
9 May. 2021 Olympic Stadium
The Tokyo Organising Committee of the Olympic & Paralympic Games
Para Athletics
READY STEADY TOKYO - Para Athletics
11 May. 2021 Olympic Stadium
The Tokyo Organising Committee of the Olympic & Paralympic Games
Skateboarding
READY STEADY TOKYO - Skateboarding
13-14 May. 2021 (The spare day on 15 May.) Ariake Urban Sports Park
The Tokyo Organising Committee of the Olympic & Paralympic Games
Basketball (3x3 Basketball)
READY STEADY TOKYO - Basketball (3x3 Basketball)
14-16 May. 2021 Aomi Urban Sports Park
The Tokyo Organising Committee of the Olympic & Paralympic Games
Cycling (BMX Freestyle)
READY STEADY TOKYO - Cycling (BMX Freestyle)
17 May. 2021 Ariake Urban Sports Park
The Tokyo Organising Committee of the Olympic & Paralympic Games
Shooting
READY STEADY TOKYO - Shooting
17-21 May. 2021 2021 Asaka Shooting Range
The Tokyo Organising Committee of the Olympic & Paralympic Games
Aquatics (Water Polo)
Operational Test - Aquatics (Water Polo)
TBC
Tatsumi Water Polo Centre
The Tokyo Organising Committee of the Olympic & Paralympic Games
Aquatics (Artistic Swimming)
Operational Test - Aquatics (Artistic Swimming)
TBC
Tokyo Aquatics Centre
The Tokyo Organising Committee of the Olympic & Paralympic Games