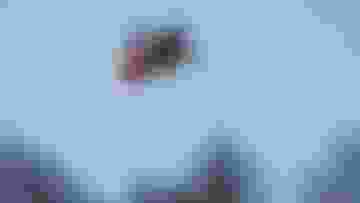 After first featuring as a demonstration sport at the 1988 Calgary Games, freestyle skiing was introduced to the Winter Olympic programme in 1992, with new events - including ski cross, halfpipe, and slope-style - added to the competition format over the years.
There are 13 events in freestyle skiing at Beijing 2022, including two new events: men's and women's freestyle skiing Big Air and mixed team freestyle skiing aerials.
Here you'll find our preview for freestyle skiing at Beijing 2022, including the history of the sport, the top skiers to watch, venue information, and more!
Top 5 Men's Freestyle Skiing Aerial Flips
Top Olympic freestyle skiers at Beijing 2022
The two biggest names in freestyle skiing right now are Perrine Laffont (FRA) and Mikael Kingsbury (CAN).
Kingsbury, the 2018 Winter Olympic gold medalist in men's moguls, is the most accomplished mogul skier of all time. He owns the records for most men's moguls World Cup titles, career World Cup moguls victories, and has won the most medals at the Freestyle World Championships of any male competitor in history. He is also the defending world champion in the moguls and dual moguls.
Laffont, who also won gold in women's moguls in PyeongChang, has won the last two freestyle overall Crystal Globes (awarded to the season standings leader by discipline and overall), and won gold at the 2021 World Championships in the women's moguls.
Mikael Kingsbury: Every Olympic medal race
On to the halfpipe, where 2018 Olympic champion Cassie Sharpe (CAN) is in a rich vein of form after picking up medals in the superpipe at the X Games for the last three years (silver in 2021, bronze in 2020 and gold in 2019). However, she could face a strong challenge from Ailing Gu (CHN), who, at just 17, won gold in both the halfpipe and slopestyle at the 2021 World Championships.
Two-time Olympic gold medalist (2014, 2018) David Wise (USA) is the standout name in the men's field - though he could face a challenge from compatriot and two-time world champion Aaron Blunck, as well as from 2018 Olympic bronze medalist and 2021 world champion Nico Porteous (NZL).
The slopestyle competition appears to be wide open, but big names that should qualify and make some noise in Beijing include reigning world champion Andri Ragettli (SUI), who holds the most World Cup season titles for any freeskier in World Cup history; 2019 World Champion James Woods (GBR); and reigning Olympic and Crystal Globe champion Sarah Hoefflin (SUI).
2017 and 2021 ski cross World Champion Sandra Näslund (SWE) is a favourite for the women's ski cross in Beijing, while reigning world champion Alex Fiva (SUI) and Francois Place (FRA) should challenge defending Olympic champion Brady Leman (CAN) in the men's event.
Sharpe's second run is enough for Women's Halfpipe Gold | Freestyle Skiing
Olympic freestyle skiing schedule at Beijing 2022
The freestyle skiing competition will take place from 5 February - 14 February 2022
Olympic freestyle skiing venue at Beijing 2022
Freestyle skiing events will take place at two venues at Beijing 2022. The Genting Snow Park, located in the east of Chongli County of Zhangjiakou, will host most of the events, while Shougang Park will host the big air and aerials competitions.
Olympic freestyle skiing competition format at Beijing 2022
The freestyle skiing competition at the Winter Olympics features thirteen events:
Men's & Women's Aerials
Men's & Women's Moguls
Men's & Women's Ski Cross
Men's & Women's Halfpipe
Men's & Women's Slopestyle
Men's & Women's Big Air
Aerials Mixed Team
The aerials events, halfpipe, slopestyle and moguls are all 'judged' events - athletes receive a score from a group of judges based on the skill of their tricks and form they display on each of their runs in the competition. In the case of big air, competitors are also scored on the height and distance of each of their jumps.
Unlike the other freestyle skiing events, ski cross is a timed event rather than a judged one (the first athlete to cross the finish line wins!).
Freestyle Ski Slopestyle | Sport Explainer - Lausanne 2020
Olympic freestyle skiing history
Freestyle skiing rose to prominence in the 1960s in the United States, as the advances in ski equipment led to development of new and exciting skiing techniques that differed greatly from the alpine skiing commonly seen in Europe. Skiers started to incorporate acrobatic tricks and jumps into their runs, and in 1979 freestyle was recognised as a discipline by the International Ski Federation (FIS).
Freestyle skiing first made its debut at the 1988 Calgary Games - albeit only as a demonstration sport, with events for men and women in moguls, aerials, and ballet. Four years later at the Albertville Games, the mogul event gained medal status, as did the aerial event at Lillehammer 1994. Ski cross made its Olympic debut at the 2010 Vancouver Games. Slopestyle and halfpipe were added to the freestyle skiing programme at the 2014 Sochi Games.
Canada and the USA have dominated the freestyle skiing competition at the Winter Olympics, winning 25 medals apiece. Canada, however, takes the top spot in the rankings by virtue of their 12 golds, compared to nine for the USA.
The top medalist in the sport in Games history is Kari Traa (NOR), who has won one gold, one silver and one bronze. Alexandre Bilodeau (CAN) and David Wise (USA) are the most successful freestyle skiers in Games history with two golds each.
Freestyle Ski champ David Wise on his gold medal airport security game